Angels Tender Contract to Kendrys Morales: Is He the New DH or Trade Fodder?
December 12, 2011
Rob Tringali/Getty Images
Amidst all the glitter and glamour of the Los Angeles Angels' press conference for newly acquired All-Stars Albert Pujols and C.J. Wilson on Saturday, GM Jerry Dipoto was asked about the status of former Halos star Kendrys Morales.
Dipoto responded that he and owner Arte Moreno "absolutely expect to tender Kendrys Morales."
Morales hasn't played a game since his mid-2010 left leg injury sustained during a walk-off home run celebration.
Prior to his injury, Morales had been a dream replacement at first base in the wake of Mark Teixeira's departure for New York following the 2008 MLB season.
In his five years of big league experience—all in Anaheim—Morales has hit 57 home runs and 192 RBI in 1,136 at bats. His career batting average is .284 and his career OPS is .838.
Before his 2010 season was cut short, Morales had a breakout year in 2009 with a .306 batting average, 34 HR, 108 RBI, and an improbable OPS of .924. Morales also finished fifth in the 2009 AL MVP race.
Though the Angels were stuck paying Morales for the one-and-a-half seasons he missed due to injury, their willingness to tender a contract demonstrates the club feels he is still worth it—even with Pujols as the every day first baseman.
The Angels now have two options.
First, Morales could move into the designated hitter role currently occupied by the likes of Bobby Abreu and Torii Hunter.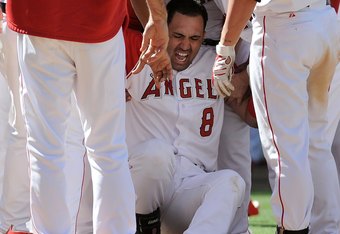 Harry How/Getty Images
After the Angels parted ways with DH Vladimir Guerrero following the 2009 season, they filled the vacant role with a rotating cast of veterans who had largely played other positions during their various careers.
By installing Morales as their new DH, the Angels would employ a designated, designated hitter—or DDH. Other than Guerrero during his southern California tenure, prominent DDHs who have enjoyed success include David Ortiz and former Mariners great Edgar Martinez.
Martinez fell into the DH role after missing the entire 1994 season due to injury. It was just his eighth year in the big leagues and he went on to experience a wonderful career as a DDH, earning six All-Star selections, four Silver Sluggers and one Roberto Clemente Award since his 1995 conversion.
Morales could flourish in the role, as the combination of Pujols and Morales could quickly become one of the most dangerous threats in the American League.
As for their second option, the Angels could keep Morales around as a potential trade target.
If Morales returns as projected in 2012 and bounces back to a resounding start, he will likely draw interest from other big league teams looking for a power hitter.
When ready, the Angels could then broker a trade with Morales as the centerpiece, addressing any need the Angels might encounter down the road.
These are two very different objectives for keeping Morales, and while the first option is certainly the most intriguing and exciting, bringing Morales back in 2012 is yet another move Moreno and Dipoto have gotten right this offseason.