T.J. Yates vs. Tim Tebow: Which Young Passer Has a Better Shot at a Playoff Win?
December 11, 2011
Doug Pensinger/Getty Images
There's nothing worse than watching your team, a team that has never seen the postseason, run out to a 7-3 start, despite losing perhaps the NFL's best receiver, only to then also lose a starting quarterback. And a backup quarterback.
Of course, it helps when your defense is the league's best. Not probably the best, not likely the best. The best. Plain and simple.
It also helps when your rookie third-string quarterback has Ben Tate and Arian Foster in the backfield—the NFL's most elite tandem. That's how you turn 7-3 with a first-string guy into 10-3 with a backup's backup.
Northwest of Houston, the Denver Broncos have arrived at a similar destination, though their path cut a few curves of its own. 
Kyle Orton was the quarterback through a 1-4 start, leading Denver to the AFC West basement before giving way to Tim Tebow and an impossibly brilliant 7-1 spike. The Broncos have become a different team. Their defense has suddenly become a unit to fear, and their offense does more work in the final two minutes of every game than most teams do in the first 58. 
And so here we are, with two long shots sitting atop their divisions, both winners of seven of their past eight games, both with quarterbacks who entered the season behind two other guys.
Both likely headed to the postseason. 
But what then? Making it to the playoffs would be a rather nice turn of events for either franchise, but that's no team's ultimate goal. Getting there is only half the battle, even if it takes longer than half the time.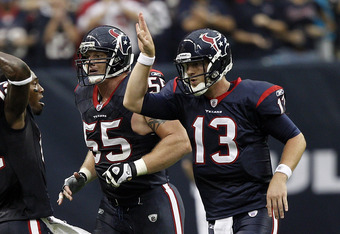 Bob Levey/Getty Images
Houston and Denver are smart bets to win their respective divisions, both by virtue of poor competition and uncanny comebacks. Both clubs rely heavily on strong ground games and stalwart defenses. Both have overcome seemingly insurmountable odds in a consistent and sometimes nonchalant style.
But both of these teams won't be winning first-round games.
As it stands today, Denver would draw Pittsburgh in the first round. Houston would host the New York Jets. And although the Broncos and Texans would both hold higher seeds, at first glance, it sounds like they'd also both be underdogs.
And, with the Jets and Steelers across the line, neither of our surprise teams would be able to rely solely on the ground game. They'd need plays from Yates and Tebow, respectively.
And although the Steelers might be a better unit as a whole, the secondary in New York has better talent on the edges. The Steelers have the better pass-rush.
And although neither game would be a rematch, the Texans knocked off the Steelers earlier in the season, as the Broncos did the Jets.
Of course, TJ Yates wasn't around for the Pittsburgh game. Tebow was the pinnacle player against New York. Still, both have impressive wins on their resumes. Tebow's now beaten the Jets and Bears defenses. Yates has kept Houston ahead of Cincinnati and Jacksonville.
Like all playoff games, the final outcome won't be decided by one player. Tebow's been money in the fourth quarter, and Yates has done his fair share of late-game damage, but neither guy has been fully responsible for their team's recent success.
Both passers will continue to lean on their ground games and their defenses, a near push at this point, though the Texans have slight edges at least in both spots.
They just don't have the edge under center.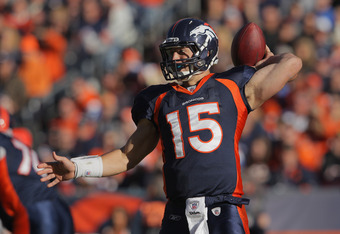 Doug Pensinger/Getty Images
First of all, Yates is a rookie. He's played in three games. Tebow's in his second year. He just capped his eighth straight start. He's 8-3 overall. He's playing with an added advantage due to his mobility, and he's becoming more of a passer every week.
Yates, on the other hand, is still catching up on the fly. He's acclimating himself to the professional game as he goes, and he's doing it without his best receiver. And although he's been able to squeeze wins from the Bengals, Jaguars and Falcons, his lack of time on the field could end up being the deciding factor.
In Houston, Yates is starting to scoop together a small hill of confidence from his teammates. In Denver, the Broncos, veterans and rookies alike, have totally bought in. They're believers, 100 percent.
Still, it may not matter at all. Against the Jets and Steelers, it's entirely possible that both teams could exit early. Especially with quarterbacks making their first postseason starts opposite men who have played in multiple AFC championship games in Mark Sanchez and won multiple Super Bowls in Ben Roethlisberger.
But if it comes down to betting on an underdog and rolling the dice on the team that simply has a "better shot" at winning a playoff game, it's an easy call. In fact, at this point, betting against Tebow and the Broncos might be dumber than betting against the Steelers.