Notre Dame Football: Why Jonas Gray Is the Irish Offensive MVP
December 11, 2011
Justin K. Aller/Getty Images
Even as Michael Floyd put up one of the great statistical seasons in Notre Dame history, Jonas Gray emerged as the Fighting Irish's offensive MVP during the 2011 regular season.
After the most inauspicious of beginnings, Gray bounced back to have an outstanding year as the most dependable contributor to Brian Kelly's offense. Gray was a steadying force for a unit that otherwise fluctuated with the play of its turnover-prone triggerman. Those quarterbacking inconsistencies certainly had a hand in preventing Floyd from earning this title; however, that doesn't necessarily mean that all of his shortcomings were outside of his control.
Football is the ultimate team game. Specifically, the contributions of both running backs and wide receivers are inescapably dependent on opportunities provided by others. Conventional football wisdom dictates that a wide receiver's ability to impact that game is reliant on others moreso than any other position, but I'd argue that a receiver actually has just as much, if not more, potential for controlling his own involvement as a running back.
Theoretically, a great receiver has a chance to catch the ball on nearly every passing play. There will be the occasional screen or hard play-action scheme in which a great receiver may be relegated to blocking duties, but beyond that, he's almost always going to be an option when the quarterback drops to pass. In fact, it's likely that a great receiver will be the primary target on many, if not most, of his teams pass attempts.
He still must depend on his coach to call passing plays, but regardless of whether or not a particular play is designed to go his way, a great receiver should have the ability to separate from his defender and make himself available for his quarterback.
The passer and play-caller certainly have an impact on a wideout's production, but he does have the ability to excel of his own volition.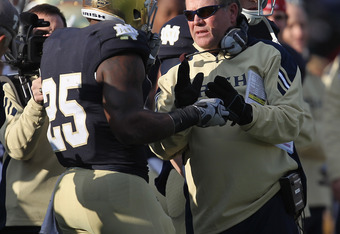 Jonathan Daniel/Getty Images
While running backs don't depend nearly as much on quarterback play (I'm assuming that pretty much any quarterback is capable of executing a hand-off), they are even more at the mercy of play-calling than their teammates on the outside.
Most passing plays, by their nature, provide the quarterback with multiple options. Conversely, play-calling in the running game is largely black-and-white. The running back either gets the ball, or he doesn't. The option is a notable exception here, but that scheme isn't generally a part of Notre Dame's offense. Absent that, a running back's ability to produce rests completely on the decisions of his play-caller.
Without having much of a role in the passing game, Jonas Gray could only do the best he could with the opportunities he was given. Though he didn't receive the lion's share of carries, Gray was consistently productive and actually became progressively more effective as his role increased.
Gray averaged at least four yards per carry in every game this season.
He received more than 10 carries in six games this season and delivered at least 60 yards in each of those games. He received at least 15 carries on three occasions and delivered more than 90 rushing yards in each of those games. Gray received more than 20 carries only once, but he ran for 136 yards and two touchdowns on that day.
Floyd put up a staggering overall stat line (95 receptions, 1,106 yards and eight touchdowns), but in games when the Irish needed him most, he couldn't always answer the bell.
USC's 101st-ranked pass defense was able to limit Floyd to just four catches for 28 yards in one of the most important games of his career. The Irish quarterbacks were less than stellar in that game, but Floyd is the type of transcendent talent that should be able to rise above that and dominate a weak pass defense.
Jonas Gray didn't get much of an opportunity in that game either, but he, unlike Floyd, made the most of his chances. Gray was given just four carries against the Trojans, but turned those touches into 38 rushing yards, including a momentum-shifting 25-yard touchdown that blew the roof off of Notre Dame Stadium in a way that "Crazytrain" never could.
That momentum eventually fizzled with Dayne Crist's back-breaking fumble, and the Irish ultimately lost the game, but Gray certainly can't hang his head when looking back on his individual contribution.
A few weeks prior, a lackluster Pittsburgh pass defense put the clamps on Floyd and the rest of the Notre Dame offense. After starting the game as the focal point of the Irish attack, Floyd was held to a total of 4 catches for just 27 yards.
Notre Dame was scuffling, a snake-bitten 1-2 team in desperate need of a victory on the road.
The Irish trailed 3-0 after the offense bungled its way through a disastrous first quarter. As the second quarter began, the non-existent Notre Dame punt return game positioned the Irish at their own 21-yard line, and Jonas Gray took it upon himself to change things.
Gray took a handoff from Tommy Rees and broke free for a 79-yard touchdown, the first scoring play of his Notre Dame career. While he only received a total of three carries in the game, that run gave the Irish all of the offense they needed, helping Notre Dame squeeze out 15-12 win that stabilized a season teetering on the brink of disaster.
I don't mean to argue that Gray deserves MVP recognition based just on one play; that play is just the most compelling illustration of his tendency to make the most of his opportunities, especially those opportunities that intersected with the most important moments for his team as a whole. Even beyond his season-saving scamper in Pittsburgh, Gray's 2011 campaign was full of clutch deliveries.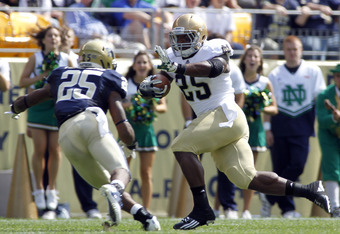 Justin K. Aller/Getty Images
When Notre Dame was losing or the score was tied, Gray averaged just shy of 10 yards per carry and scored six touchdowns.
When the Irish were in the red zone, Gray converted nine of his 18 carries into touchdowns.
When Notre Dame needed a first down, Gray delivered better than just about any back in the nation. He moved the chains on 38 of his 114 carries, a rate of 33 percent. That conversion rate bests the rates of Heisman finalists Trent Richardson and Montee Ball, as well as that of national rushing leader LaMichael James.
Though Gray didn't really become a major part of the offense until after the Pittsburgh game, he was an irreplaceable part of the team from that point forward. When he went down against Boston College, the Irish running game went with him.
Notre Dame managed just 57 yards on 31 carries against Stanford the following week. The Cardinal's fifth-ranked rush defense certainly had something to do with that, but averaging fewer than two yards per carry is an embarrassment, no matter who the opponent.
Jonas Gray did more with his opportunities than anyone could have expected. He was consistently excellent and elevated his game when his team needed him most. When he went down with an injury, the Notre Dame rushing attack flat-lined.
By just about any measure you choose, no offensive player was more valuable to the Fighting Irish.