5 Things We Learned in Panthers' 31-23 Loss to Atlanta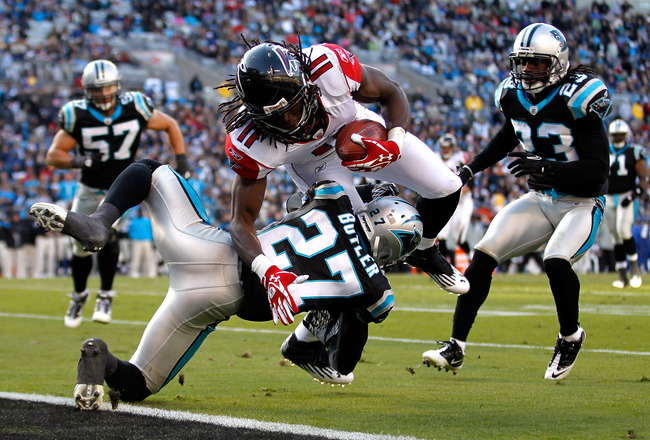 Streeter Lecka/Getty Images
The Panthers blew a comfortable halftime lead to the division rival Falcons on Sunday. This comes as a huge disappointment to the Panthers who had been playing very well in recent weeks.
Cam Newton threw two interceptions in the second half and the Panthers surrendered 24 unanswered points. They now fall to 4-9 and remain in the NFC South cellar.
There were a lot of positive signs early on, but as we analyze this loss, we'll see exactly how Carolina managed to turn a 23-7 lead into a 23-31 deficit.
Penalty Woes Return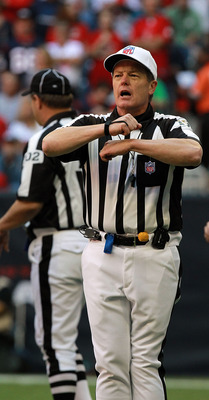 Ronald Martinez/Getty Images
The Panthers had played much more disciplined football in the past two weeks—both wins—but the team may have been riding too high because they looked a little too cocky today. That won't fly when you're facing the Atlanta Falcons instead of the Colts or Buccaneers.
Multiple holding penalties, caused by blown assignments on the offensive line, put the Panthers in tough situations and Newton didn't handle them well. The veterans have to step up and play a better mental game or this will be a recurring issue for the younger players as well.
Turnovers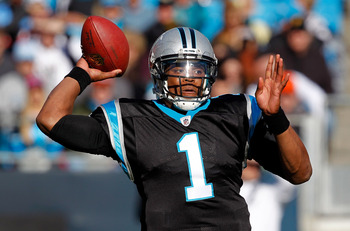 Streeter Lecka/Getty Images
I'm looking at you, Mr. Newton. The Panthers had a healthy lead when Newton forced his first interception and the second one gave complete momentum to Atlanta.
The Panthers have not won a game where they turn the ball over and the coaching staff needs to let the players know that. It shouldn't be the end of the world if the ball is turned over, but the players need to know the situation and understand when it's time to take a chance and when it's better to say "Let's move on to the next play."
DeAngelo Williams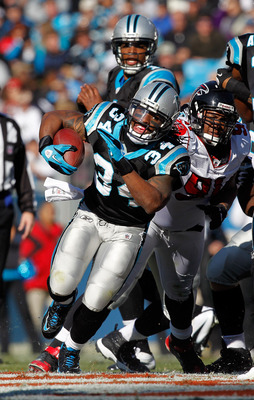 Streeter Lecka/Getty Images
Williams may need a haircut—as you see him being pulled down by his dreads in the photo to the left—but save that, he's doing everything right.
Williams has taken a lot of flack for not living up to the huge contract he was given in the offseason, but I have been an avid supporter of him throughout the season. He's given the offense a huge lift when needed and today he broke off a 74-yard touchdown run that was a much more impressive play than it initially appeared.
There were a lot of Atlanta defenders in position on that play, but Williams managed to read his blocks and chose the right hole. One broken tackle later and he's in the end zone. This guy is a keeper, no question.
Pass Defense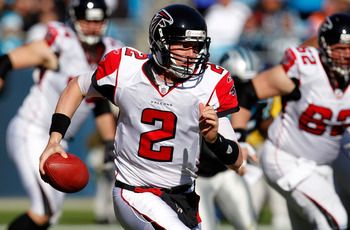 Streeter Lecka/Getty Images
Matt Ryan threw four touchdowns today and exploited an inexperienced secondary. While the defensive backs for Carolina do not lack in playing time, they are adjusting to a new defense. As long as Ron Rivera is implementing his scheme, there will be some growing pains.
Those pains were felt today. In the second half, Ryan was on fire, picking up huge chunks of yardage and easily capitalizing in Panthers territory. Morris Claiborne is looking more and more attractive as a possible draft option for Carolina.
Rush Defense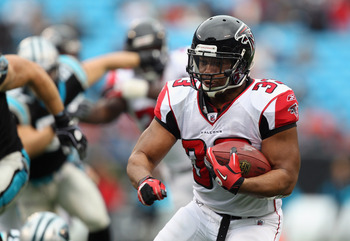 Streeter Lecka/Getty Images
The Panthers did something unexpected today, and this time it was something positive. They held Michael Turner to no touchdowns and less than 100 yards for the first time in the past two seasons.
Turner was quiet on the day, his longest run being 13 yards. This is even more impressive when you consider that out of the Panthers' week one starting front seven, four are on the injured reserve.
Replacement defensive tackles Andre Neblett, Frank Kearse and Jason Shirley all played well and Greg Hardy and Charles Johnson contained Turner and Jason Snelling all day, making it easy on the linebackers, who hardly had to make any plays for a change.
Keep Reading

Carolina Panthers: Like this team?