NBA Rumors: Detroit Pistons Must Enter Chris Kaman Sweepstakes
December 11, 2011
Harry How/Getty Images
It's no secret that the Detroit Pistons need to find themselves a legitimate big-man, and current Los Angeles Clippers' center Chris Kaman may be just the right guy for the job.
The Pistons are in rebuilding mode, and at this point, to deny that would be unrealistic.
They just bought out Richard Hamilton, who was considered one of the heros of the 2004 championship team, and they will most likely be starting a rookie at point guard in former Kentucky standout Brandon Knight.
They have a new coach in Lawrence Frank and are trying to develop a new attitude of Pistons basketball.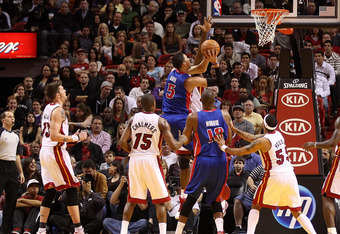 Mike Ehrmann/Getty Images
The Pistons re-signed Tayshaun Prince to be a leader and veteran presence and are looking to work with young players like Jonas Jerebko, Austin Daye, Knight and Greg Monroe.
It's a rebuilding process, but there is a ton of potential.
The one thing they are missing, though, is a center that can do more than just fill space down low, and that is exactly why they need to go after Kaman.
Kaman is currently in his last year under contract with the Clippers, but Rich Bucher of ESPN The Magazine is reporting that the Clippers are going to match the offer the Golden State Warriors are making to restricted free-agent center DeAndre Jordan.
Bucher feels that re-signing Jordan will essentially cause Kaman to seek a trade, which is great news for the Pistons.
They will have the cap room to bring him in, especially if they use their amnesty clause, and rotoworld.com is reporting that the Pistons have "kept close tabs" on Kaman.
With news that he may be looking for a trade, the Pistons need to do more than just keep tabs on him—they need to go get him.
Kaman has career averages of 11.8 points, 8.3 rebounds and 1.4 blocks per game, and I believe those numbers would flourish playing in the Eastern Conference.
He is also much more than just a big body and he would be a great complement down on the block for a skilled passer like Monroe, who would fit perfectly at power forward next to him.
Finally, factor in Kaman being a West Michigan native and going to college at Central Michigan, and it all makes far too much sense.
The Pistons need to put themselves in the Chris Kaman sweepstakes.
If they can bring him in, the Pistons will go from a rebuilding project to a potentially dangerous product.