Jon Jones, Top 10 Submissions in the UFC in 2011
There have been a ton of fantastic submissions this year and we just saw two of them at UFC 140.
Jon Jones choked Lyoto Machida unconscious and Frank Mir landed a technical submission on Antonio Rodrigo Nogueira.
How do they stack up to the rest of the best?
With the UFC's increased number of shows and fights, there certainly was not a lack of competition this past year. In fact, we still have another event before the end of the year, which could still steal some of the show.
These are the top 10 submissions in the UFC this past year.
Begin Slideshow

»
Stefan Struve triangle choke on Pat Barry
Terry Etim guillotine choke on Eddie Faaloloto
Chris Lytle guillotine choke on Dan Hardy
Joe Lauzon kimura on Curt Warburton
Urijah Faber guillotine on Bowles
Jon Jones guillotine on Ryan Bader
Clay Guida guillotine on Takanori Gomi
Christian Morecraft guillotine on Sean McCorkle
And many more.......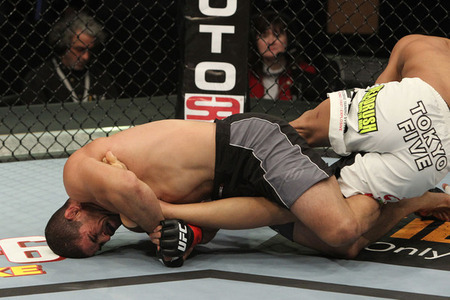 Surprisingly, Palhares did not even win "submission of the night" over David Branch, who had never been submitted before.
This kneebar is the only leg-lock to make this list as they are a rarity among submission finishes.
Palhares is savage in attacking his opponent's legs, and in 2011 he was able to add another leg-lock victory to his mantle.
Guillotine chokes are one of the more common submission victories, but Tito Ortiz finds his way onto this list for injecting new life into his career by polishing Bader off in under two-minutes.
It was an underdog victory for the emotional veteran and former champion.
One of the top up and coming featherweights, Diego Brandao won the Ultimate Fighter tournament with a brutal armbar over Dennis Bermudez.
He was able to snatch it up from a difficult position before bending Bermudez's arm back to injurious levels.
Joe Lauzon was supposed to be a tune-up fight for top contender Melvin Guillard, but in MMA, anything can happen.
Especially when you have the finishing instincts of Joe Lauzon.
After being rocked on his feet, Guillard was finished off on the ground by a rear-naked choke. The whole fight lasted 47 seconds.
Chris Weidman looks like a future champion at 185 pounds.
He applied a D'Arce choke onto Tom Lawlor that was equal parts beautiful and brutal.
A couple minutes after the fight started, the referee pulled Weidman off a lifeless Lawlor, who had been choked completely unconscious.
*The submission of the night honors went to Urijah Faber, but Weidman's finish was equally or more impressive in terms of submission ability.
Nate Diaz showed why he is still one of the top fighters in the lightweight division by dominating former Pride champion Takanori Gomi.
Diaz seamlessly transitioned from a triangle attempt, to a possible gogoplata set-up, to the fight ending armbar.
It was a beautiful display of jiu-jitsu and one of the best armbars of the year.
Utilizing one of the lankiest builds in the sport, Pablo Garza lept into a triangle-choke position on Yves Jabouin.
Jabouin tried to fight through the attack, but Garza kept with it, and slowly cinched the choke tighter and tighter until he elicited the tapout.
Chan Sung Jung's spectacular submission on Leonard Garcia will go down in history as the first ever twister submission in the UFC.
After watching some of Eddie Bravo's tutorials on YouTube, Jung mastered and applied the unique spine-torquing submission on Garcia—a veteran who had only once before been submitted.
Lyoto Machida is a martial arts master, and was submitted for the first time when champion Jon Jones applied a unique and adapted standing guillotine.
There was not even a chance to tap out as Machida was rendered unconscious and collapsed to the floor with a completely lifeless body.
It was shocking and brutal and one of the best submissions ever at the highest levels of mixed martial arts.
Did we ever think we would see the day when Antonio Rodrigo Nogueira submitted?
The "submission magician," long considered the premiere submission artist among heavyweights, lost his rematch against Frank Mir via technical kimura submission where his arm was visibly broken.
Frank Mir has long been considered perhaps the most brutal submission artist at heavyweight, and he put an exclamation point on that title with his come from behind finish of the legendary "Big Nog."