Why Josh McDaniels Would Be a Terrible Choice for Chiefs' Next Head Coach
December 11, 2011
Chris McGrath/Getty Images
If there is anyone that the Chiefs should listen to when it comes to potentially handing the reigns of their team over to Josh McDaniels, it would be a sportswriter from Denver. 
Please heed these words: Do not do it, Kansas City!
The time for piling onto Josh McDaniels is over in Denver, and in fact, some have even moved on to a point where forgiveness is in order. However, the lunatic fringe that believes that the success of Tim Tebow somehow redeems McDaniels as a head coach, and even might give rise to the thought that he was let go prematurely from Denver, is ridiculous.
The proof of that can come in many different forms.
For starters, would Josh McDaniels have created a game plan where Tim Tebow only threw the ball eight times against Kansas City? Definitely not. But had Tebow tried to force the issue more through the air, the outcome might have been vastly different for the Broncos.
The decision to draft Tim Tebow by McDaniels may turn out to be a smart one for the Broncos, but one could argue that the growth of Tim Tebow only began happening after McDaniels departed.
Further evidence can be seen in the stunted growth of Sam Bradford in St. Louis when McDaniels took over the offense. In fairness, some of Bradford's disappointments have been due to injury and a lack of a solid receiving group, but Bradford has been a huge let down this season so far under McDaniels.
The big selling point on the resume of Josh McDaniels might be the main reason that the Chiefs are interested in hiring him: reuniting with Matt Cassel. McDaniels' shining moment came in turning Cassel into the toast of the NFL after Tom Brady was injured and eventually got him the job in Denver.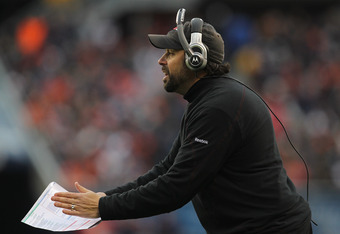 Jonathan Daniel/Getty Images
There is a lot of speculation that, had Cassel and McDaniels been reunited in Denver right off the bat, both men's fortunes would be vastly different. That dream never played out, and now both are seeking a change of fortune, as they have fallen on hard times recently.
The Chiefs are reeling after injuries to both Jamal Charles and Matt Cassel have derailed their entire offensive attack, but should that be totally Todd Haley's fault? Furthermore, could Josh McDaniels do a better job with the Chiefs in their current state? The likely answer seems to be no, considering that the Denver Broncos, and presumably the St. Luis Rams soon, are worse off for their time spent with McDaniels. 
If Todd Haley is not the man that the Chiefs thought he was and not the head coach of the future in Kansas City, that's fine. Haley deserves to be held accountable for the lack of preparedness that his offense has shown dealing with injury. However, to say that McDaniels is the right man to steady the ship and help the Chiefs break through to the NFL's elite is laughable. His methods and tactics have been nothing but a failure in both of his stops since New England, and a tenure in Kansas City would only set back a third franchise.