UFC 140: Memorable Moments from Jon Jones vs Lyoto Machida Fight Card
For the full fight card:
Jon Jones defeats Lyoto Machida via submission at 4:26 of Round 2
Frank Mir defeats Antonio Rodrigo Nogueira via submission at 3:38 of Round 1
Antonio Rogerio Nogueira defeats Tito Ortiz via TKO at 3:15 of Round 1
Brian Ebersole defeats Claude Patrick via split decision (29-28, 28-29, 29-28)
Chan Sung Jung defeats Mark Hominick via TKO at :07 of Round 1
Igor Pokrajac defeats Krzysztof Soszynski via KO at :35 of Round 1
Constantinos Philippou defeats Jared Hamman via KO at 3:11 of Round 1
Dennis Hallman defeats John Makdessi via submission at 2:58 of Round 1
Yves Jabouin defeats Walel Watson via split decision (30-27, 28-29, 29-28)
Mark Bocek defeats Nik Lentz via unanimous decision (30-27 x 3)
Jake Hecht defeats Rich Attonito via TKO at 1:10 of Round 2
John Cholish defeats Mitch Clarke via TKO at 4:36 of Round 2
What follows are the most memorable moments from the December 10 fight card, which featured a main event between Jon Jones and Lyoto Machida.
Nice Work from John Cholish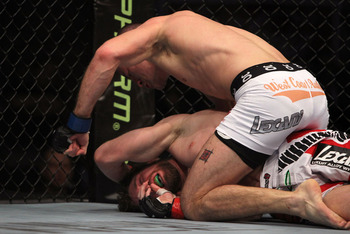 Photo: UFC
The first fight of the evening featured a bout between Mitch Clarke and John Cholish. The first round of this fight was rather uneventful, but things began to heat up near the end of the second round.
While the fighters were on their feet, Cholish worked for a kimura. As the fighters hit the ground, Clarke rolled through, landing briefly in top position. Cholish quickly adjusted, landing in back mount where he proceeded to tee off on Clarke, earning the TKO stoppage in his UFC debut.
Jake Hecht Elbows His Way to Victory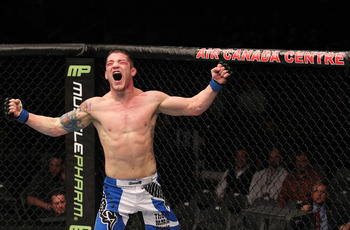 Photo: UFC
Rich Attonito dominated the first round of his bout against Jake Hecht at UFC 141, using his active top position to prevent Hecht from working his submission game.
When the second round began, Attonito shot for a takedown, which was stuffed by Hecht. While Attonito worked for the takedown, Hecht delivered two elbows to the head of his opponent. The strikes left Attonito crumbling to the mat, where Hecht finished the fight with additional strikes.
Dennis Hallman Dominates John Makdessi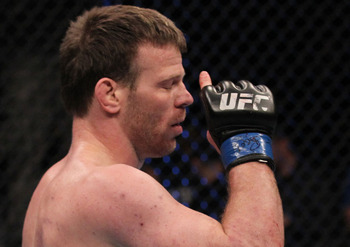 Photo: UFC
Dennis Hallman had to be thinking that his UFC employment was on the line when he entered the cage on Saturday night. First, there was the memory of the Speedo he wore to the Octagon in his last fight, and then there was the fact that he missed weight for his UFC 141 bout against John Makdessi by 2.5 pounds.
Hallman ran across the cage and engaged Makdessi immediately, taking him into the clinch against the cage. Makdessi fought to avoid the takedown, at points grabbing the cage in desperation, but it was all for naught, as Hallman secured the takedown.
Once on the ground, Hallman took the back of Makdessi and sunk both hooks in. Hallman then proceeded to tee off with strikes to the head. Makdessi then rolled into the full mount of Hallman, where he absorbed the ground and pound assault of Hallman.
Hallman then regained the back of Makdessi and sank a rear naked choke, earning the stoppage victory.
A solid performance that should allow him to stay employed with the UFC.
Constantinos Philippou vs. Jared Hamman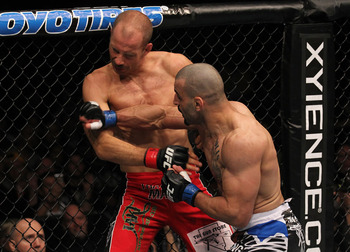 Photo: UFC
During the course of this fight, Jared Hamman did his best to earn a new nickname (perhaps The Mustachioed Zombie?), as he was positively battered about the Octagon by Constantinos Philippou over the course of this one-round battle.
Whatever Philippou threw at him, Hamman ate it, picking himself up off the ground and coming back for more.
After being dropped several times by Philippou, referee John McCarthy mercifully moved in to stop the fight.
During his in-cage interview with Joe Rogan, Philippou said, "This is it, I belong here."
It would be hard to argue that point after Saturday's performance.
Igor Pokrajac Ends the Night of Krzysztof Soszynski Early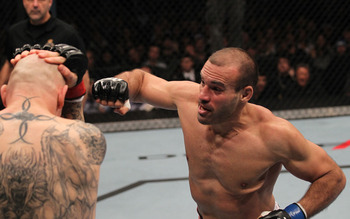 Photo: UFC
Krzysztof Soszynski basked in the cheers of the Canadian crowd when the fighters were announced for this light heavyweight scrap. Unfortunately, that would be as good as it would get for "The Polish Experiment" at UFC 141.
Just 20 seconds into the round, Pokrajac caught Soszynski with a left that had Soszynski staggering backwards. From that point on, Soszynski offered no defense, falling to the ground where Pokrajac delivered additional strikes and put Soszynski to sleep 35 seconds into the fight.
Chan Sung Jung Kicks off the Pay-Per-View with a Record Tying TKO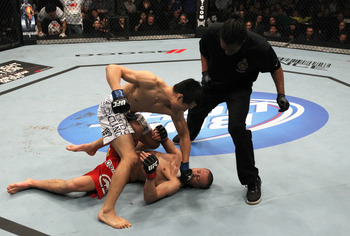 Photo: UFC
If, on a whim, or perhaps a hunch, you had put money down on Chan Sung Jung to win this fight, I hope you are enjoying your winnings, as he was a huge underdog heading into his UFC 141 contest against Mark Hominick. Oddsmakers had Hominick listed as a -500 favorite over Jung, who was listed at +350.
When the fight opened, Hominick threw a sloppy left that left him open. The right that Jung countered with dropped Hominick, and only seconds later, after a few more strikes to his downed opponent, Jung was having his hand raised in victory.
The knockout was so abrupt that commentator Mike Goldberg didn't even get the plug in for one of the events sponsors "Battlefield 3" before the fight had ended.
The seven second knockout ties the official record for fastest (T)KO in UFC history.
After the fight, Hominick told Joe Rogan that he came in a little wild and that he was a little too hyped up for the fight.
Hominick, fighting for the first time after the unexpected death of his friend and trainer Shawn Tompkins, cannot be faulted for coming into the fight on an emotional high.
Antonio Rogerio Nogueira Abuses Tito Ortiz's Ribs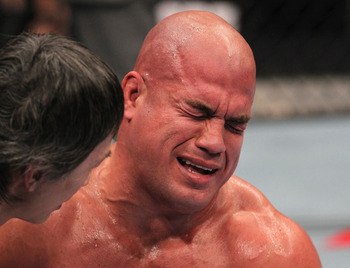 Photo: UFC
Former UFC champion Tito Ortiz was coming off two solid performances when he stepped into the cage on Saturday night against Antonio Rogerio Nogueira. When he left the Octagon, he was in extreme pain, and there were questions as to if he would be playing out his UFC contract.
Ortiz threw caution to the wind early on, standing in and exchanging with Nogueira before shooting for a single leg takedown. The two went to the cage as Nogueira fought off the takedown. The fighters then engaged in some dirty boxing when a left from Nogueira put Ortiz in trouble.
Nogueira then opened up with his hands and Ortiz covered up, only to catch a knee to the ribs which dumped him directly to his back. Once on the ground, Ortiz took some strikes before getting Nogueira into his guard. Nogueira then brutalized the ribs of Ortiz with punches and elbows that left the referee no choice but to end the fight.
When the fighters separated, Ortiz was in obvious distress from the body blows. At the post-fight press conference, UFC president Dana White revealed that Ortiz had been taken to the hospital to have his injuries looked at.
The question now is, will Ortiz finish out his UFC contract, which has one fight remaining.
Frank Mir Becomes the First Fighter to Submit Antonio Rodrigo Nogueira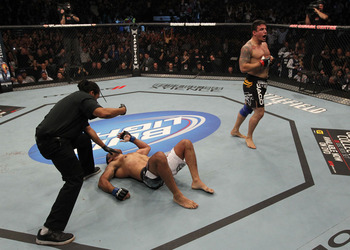 Photo: UFC
In a rematch of their UFC 92 bout, Frank Mir faced Antonio Rodrigo Nogueira on Saturday night. Mir won the first contest, earning a second-round TKO, and was looking to prove that win was deserved, as there had been talk that Nogueira had been suffering from a staph infection at the time of their first bout.
Mir, the larger of the two heavyweights, looked very comfortable in the Octagon, but that comfort level took a hit when Nogueira's strikes left him wobbly and looking for a takedown with 2:15 left in the round.
When the fight went to the ground, Nogueira was admonished by referee Herb Dean for using strikes to the back of the head. Nogueira then abandoned his striking and clamped on a guillitone choke. Mir weathered that, rolling through into side control, where he slapped on a kimura. Nogueira then tried to roll through, but the hold was clamped on tight, eventually visibly snapping the arm of Nogueira.
As the fighters separated, Nogueira looked down at his injured arm and stayed on his back to be attended to by the medical staff.
Post-fight x-rays revealed that the arm was indeed broken by the kimura.
Jon Jones Passes His Biggest Test to Date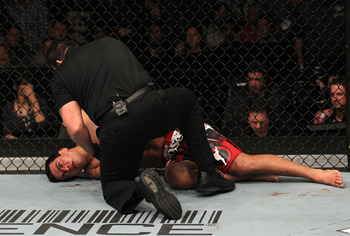 Photo: UFC
Heading into the main event at UFC 140, the talk was that the style of Lyoto Machida would pose a problem for UFC light heavyweight champion Jon Jones. For five minutes, that talk proved to be true.
Machida seemed to have Jones thinking about what was coming and where it was coming from, in much the same way Jones' past opponents were left thinking about what was coming from Jones.
Machida landed multiple strikes during the first round, perhaps the heaviest strikes that Jones had faced in his career. When Jones went to his corner, he was told by Greg Jackson, "calm down and focus."
When the second round began, Jones appeared tentative, but that changed halfway through the round when Jones gained the takedown and opened a gash on the forehead of Machida with an elbow strike. The cut caused a pause in the fight as the doctor was brought in to take a look.
The fighters were then reset after the doctor gave his approval. The tide visibly changed at that point, and after a brief exchange of strikes, Jones clamped on a standing guilitone against the cage. By the time the referee ordered Jones to release the hold, Machida was unconscious, dropping to the mat in a heap.
Another dominant performance from Jones, who has earned himself some time off after going 4-0 in 2011.
Keep Reading