Week 14 Start 'Em, Sit 'Em: Why Ryan Mathews Can Lead You Through the Playoffs
December 11, 2011
Mike Ehrmann/Getty Images
Every week, there are certain fantasy studs that you simply have to start no matter what, such as Aaron Rodgers, Arian Foster and Calvin Johnson.
There are also a good number of players you know you should sit each week, such as a fringe running back like Joseph Addai going up against an extremely tough Baltimore Ravens rush defense.
And then there are those players whom you have no idea whether to start 'em or sit 'em.
Here are a few not-so-obvious guys at each major fantasy position that you might not know what to do with, but for whom the stats and other information dictate one way or the other.
Start 'Em

Quarterback
Philip Rivers (vs. Buf)
Rivers finally seems to be hitting his stride, putting up 19 or more fantasy points in four of his last five games while tossing zero interceptions in his last two. With WR Malcom Floyd's return from injury last weekend against the Jags, the Chargers receiving corps became that much more lethal considering the ascension of rookie Vincent Brown in his absence along with the continued improvement of Antonio Gates' mobility. Playing at home against a Buffalo team that has given up three or more passing TDs in three of their last four games, Rivers should have no problem continuing his recent hot streak.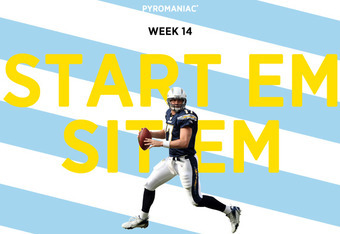 Carson Palmer (at GB)
Palmer has had a little bit of trouble getting himself into a groove as of late, but with the amount of injuries the Raiders have had at wide receiver, his recent slide is certainly understandable. This week, however, he has a couple of things going for him.
First, the Raiders are playing a Packers team that has allowed the most fantasy points to opposing quarterbacks in 2011. Second, Palmer will likely have to toss the ball 40-45 times if they want a shot at winning this game. Combine those two little nuggets with the fact that the Packers defense is still a little banged up, and you're looking at a nice little turn-around for Carson this weekend.
Other QBs You Should Consider Starting:
Rex Grossman (vs. NE)
Matt Moore (vs. Phi)
Running Back
Marshawn Lynch (vs. StL)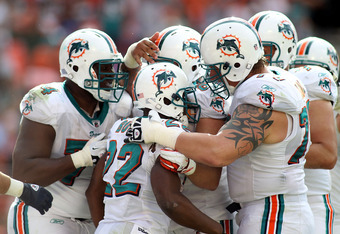 Marc Serota/Getty Images
No one in the league has been hotter during the last five weeks or so than Seahawks running back, Marshawn Lynch. In fact, Lynch has more yards (591), attempts (128) and total touchdowns (six) over the last five weeks than any other RB in the league has. Crazy! To go back even further, Beast Mode has a streak of eight straight games with at least one touchdown going, a run I don't expect to end this Monday night.
Just three weeks ago, Lynch ran for 88 yards and a TD against this same Rams team that allows the fifth-most fantasy points per game to opposing RBs. Holla!

Ryan Mathews (vs. Buf)
Ryan Mathews is quietly having himself a stellar sophomore season rushing for 829 yards this season while accumulating the eighth-most yards from scrimmage (1,215 yards) despite missing one game. He's also been pretty hot as of late, rushing for over 100 yards in each of his last two games.
This weekend, he'll be facing off against a Bills team that has allowed the fourth-most rushing TDs, 4.7 yards per carry and the seventh-most fantasy points per game to opposing RBs. With the Chargers passing game back at full force, Buffalo will likely forget about Ryan a bit, thus leaving him open to possibly a third straight 100-yard game.

Reggie Bush (vs. Phi)
All different types of running backs have gone off against the Eagles this season—bruisers, speedsters, multi-dimensional backs—it really hasn't mattered. Bush should have no problem joining that list this weekend. Reggie is on a bit of a hot streak now anyway, putting up two 100-yard games, five touchdowns and an average of 14.6 fantasy points a game (Standard Non-PPR Format) in his last six games.
Considering Bush is at home where he's played better all season and the Eagles allow the eighth-most fantasy points per game to RBs, it looks as if Reggie could be in line for yet another good game.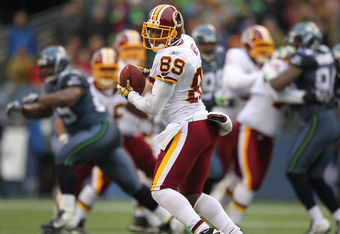 Otto Greule Jr/Getty Images
Other RBs You Should Consider Starting:
Roy Helu (vs. Was)
Shonn Greene (vs. KC)
Wide Receiver

Santana Moss (vs. NE)
Moss and the Redskins passing offense have a great schedule the rest of the way, starting with today's matchup against the New England Patriots. The Patriots pass D has allowed the most catches, yards and fantasy points to opposing wide receivers this season, so Moss should have a superb chance to rack up WR2-type numbers for fantasy teams today and could put up his best numbers of the year.

Darrius Heyward-Bey (at GB)
Heyward-Bey will again look to be the man for the Raiders today with both Denarius Moore (ankle) and Jacoby Ford (foot) sitting on the sidelines. Considering how bad the Packers pass defense has been this season (allow the second-most fantasy points to WRs), it wouldn't be a shock to see DHB go up over 100 yards in this one and possibly grab his third TD of the year along the way.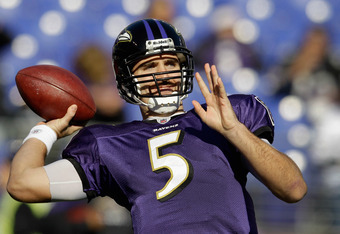 Rob Carr/Getty Images
Other WRs You Should Consider Starting:
Michael Crabtree (at Ari)
Damian Williams (vs. NO)
Nate Burleson (vs. Min)
Plaxico Burress (vs. KC)
Tight End

Brandon Pettigrew (vs. Min)
Pettigrew hasn't had more than 42 yards in a game since Week 4, but that doesn't necessarily mean you shouldn't play him today. In his first meeting against the Vikings back in Week 3, Brandon grabbed 11 passes for 112 yards, both of which were career highs. Considering that Minnesota has given up the second-most receptions to tight ends this season, it wouldn't be far-fetched to see Pettigrew have another nice outing.

Vernon Davis (at Ari)
Vernon has been playing better lately, even though he DID drop a perfectly thrown pass in the endzone last weekend that would have given him his third touchdown in the last four weeks. In their first matchup of the year back in Week 11, Davis grabbed five balls for 67 yards and a TD, numbers I can see him repeating in the re-match today.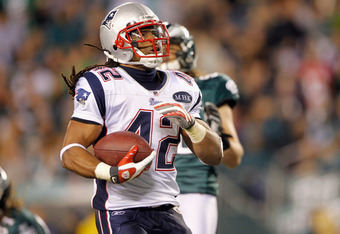 Rich Schultz/Getty Images
Other TEs You Should Consider Starting:
Jake Ballard (at Dal)
Jared Cook (vs. NO)
Sit 'Em

Quarterback
Joe Flacco (vs. Ind)
With Ray Rice playing the way he's been playing lately, Baltimore should be able to get out to a sizable lead running the ball early against this poor Indianapolis defense. If that's the case, don't expect Flacco to throw much more than 17-20 passes today.

Josh Freeman (at Jax)
Freeman is active today, but just barely, with his shoulder giving him problems all week long. Don't expect Tampa to throw the ball all that much today, as they'll likely try to ground-and-pound this Jaguars defense into submission.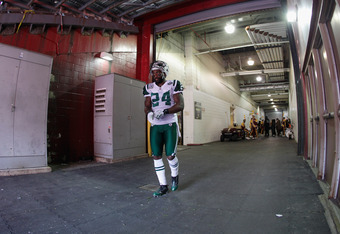 Rob Carr/Getty Images
Other QBs You Should Probably Sit:
Andy Dalton (vs. Hou)
Running Back

BenJarvus Green-Ellis (at Was)
Bill Belichick and the Patriots have rotated their running backs too much lately to consider any of them a good option for your fantasy lineup. The Law Firm is the most likely to score, yes, but even that isn't a guarantee, as he was barely used against the lowly Colts just last weekend and has double-digit carries in just three of his last six games.

Beanie Wells (vs. SF)
Wells is still banged up to hell and might have a tough time, making it through the entire game while going up against the toughest rush D in the league this afternoon. The 49ers haven't given up a rushing touchdown all season either, so if you have a serviceable option to Beanie on your bench, you might want to consider using him today.
Other RBs You Should Probably Sit:
Donald Brown (at Bal)
Marion Barber (at Den)
ALL Green Bay RBs (vs. Oak)
Wide Receiver

Dwayne Bowe (at NYJ)
Bowe will be sent to Revis Island for this game, so you really can't expect much today. Besides, Kyle Orton is inactive which means noodle-arm Palko is still his QB. 'Nuff said.

Santonio Holmes (vs. KC)
I don't expect the Jets to pass the ball too much in this one, with Shonn Greene starting to roll and the Chiefs rush D being average at best. Either way, CB Brandon Flowers will likely shadow Holmes all over the field, rendering him a low-end WR3 or flex play at best.
Other WRs You Should Probably Sit:
Eric Decker (vs. Chi)
Nate Washington (vs. NO)
Tight End

Greg Olsen (vs. Atl)
Olsen has been laboring through an injury all week and has a pretty tough matchup going up against a Falcons defense, allowing the eighth-least amount of fantasy points to tight ends this season.

Owen Daniels (at Cin)
Cinci allows the fourth-least amount of fantasy points to tight ends this year, so don't expect much from Daniels in this one. Besides, he hasn't had more than four catches in a game since Week 5 and hasn't been in the end zone since Week 4.
Other TEs You Should Probably Sit:
Ed Dickson (vs. Ind)
Click here to see the Rankings For All Positions

Brought to you by pyromaniac.com
Listen and subscribe to our Pyro® Weekly Podcasts: http://pyromaniac.buzzsprout.com
Follow Pyro® on Twitter:  https://twitter.com/pyroman1ac
Follow Pyro® on Facebook:  http://www.facebook.com/pyromaniac