UFC 140 Results: 5 Things We Learned About Brian Ebersole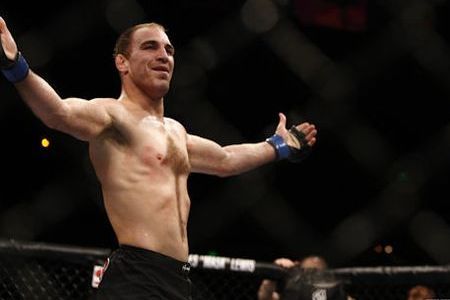 Brian Ebersole has arrived.
Though he served over 60 fights outside of the Octagon, Ebersole finally made his debut this February, first earning a victory over then top contender Chris Lytle, next devastating former UFC title challenger Dennis Hallman and now edging Claude Patrick just last night.
The Indiana native has now moved to 3-0 inside the UFC and now will move into the upper echelon of the division, but here is what Ebersole has learned from his experience with Patrick this Saturday.
Begin Slideshow

»
MMA judges have long been regarded as both incompetent and ignorant when it comes to most action inside the cage.
Though Patrick and Ebersole's bout was almost too close to call, some believe that the Canadian did enough to warrant the victory. In any case, this should serve as a lesson learned for both men that a fight that close warrants a finish and not the risk of handing it to the judges.
Take risks and look for the concise victory.
Ebersole has been a spitfire since entering the UFC—well, that is, until he was pitted against Patrick.
The 3-0 contender's usual breakneck style was nullified largely thanks to the defensive tactics of the Canadian, though Ebersole refused to continue to dive for those takedowns as the fight wore on and ultimately made things closer than need be.
Though wrestling has been his strength all throughout his mixed martial arts career, Ebersole has finally found his match in the UFC that has been able to stave off some of his pressing grappling skills.
Patrick defended several takedown attempts from the budding contender and countered the wrestling of Ebersole with his patented guillotine choke.
When Ebersole was forced to stand and trade with the Canadian, he fell short on several occasions thanks to long jab and straights form the Imperial Athletics star.
Against a well-adept grappler with an impressive striking acumen, Ebersole can find himself in trouble in the near future if he doesn't pick up some much needed rounds kickboxing and refining his technique.
In his battle with Patrick, Ebersole had to restrain himself from going balls to the wall, which is his usual M.O.
In the past, Ebersole has been best served by bum-rushing opponents and dragging them into deep waters where he uses his pace and conditioning to stifle most. Against Patrick, Ebersole had to learn quickly that this same tactic won't work against most, and in the long run, he will be a better fighter for it.
Now moving 3-0 in the UFC, the "Bad Boy" should be breathing a new air of confidence.
Dispatching notable competition in Chris Lytle, Dennis Hallman and Claude Patrick in succession will now make him one of the top dogs in the division—a distinction he deserves considering the 11-plus years that Ebersole has spent plugging away in the sport.