UFC 140 Results: 5 Improvements We Need to See from Lyoto Machida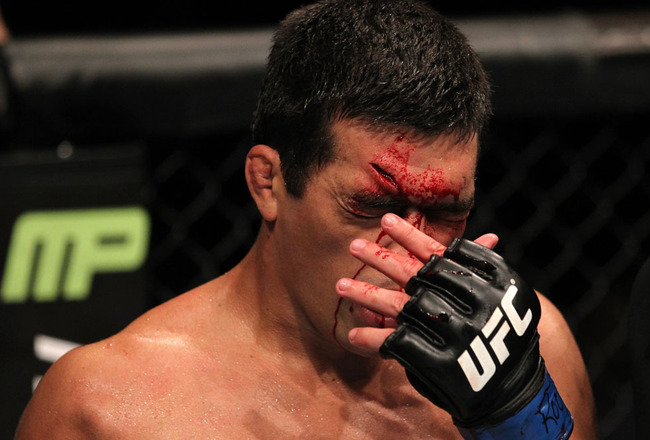 Image courtesy of UFC.com

At last night's UFC 140 in Toronto, former UFC Light-Heavyweight champion Lyoto Machida tried valiantly to win his belt back, but phenom and still reigning champion Jon Jones was too much for the karate master.
Despite showing a chink in Jones' armor by using his in-and-out unorthodox striking, the youngest champion in UFC history was able to battle back and exposed serious holes in Machida's game, eventually choking him out with a guillotine choke in the second round.
In order for the Brazilian striker to become a legitimate title contender once again, there are certain aspects of Machida's game he must improve.
Here are the five improvements Machida needs to make if he ever wants to be champion again.
Dirty Boxing and Clinch Game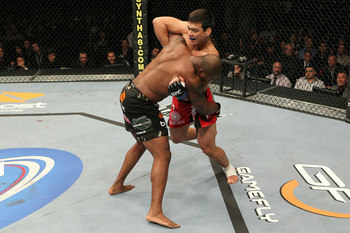 Earlier in Machida's career, the karate master was able to use his size and skill advantage to dominate his opponents in the clinch.
In his more recent bouts, the clinch has not been as good to Machida as he would have liked it to be.
On a myriad of occasions, Machida found himself up against the cage with Jones battling for underhooks. Jones was able to either control the Machida in these positions or reverse him if Jones found himself with his back against the cage.
Jones also was able to land shots from the inside. Even against Rampage Jackson and Shogun Rua, Machida was getting lit up when the distance was closed.
As a fighter who likes to have his distance, Machida must learn how to compete better in the clinch and during the inside game if he wants to make it to the next level.
Octagon Control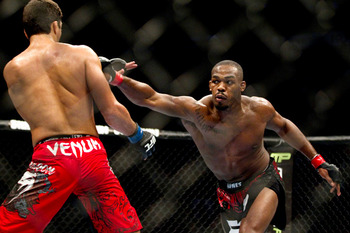 Image courtesy of AP Photo/The Canadian Press, Chris Young
One positive from this bout was Machida's ability to move in and out, hitting Jones with hard shots and even buckling the young champion for the first time in his career.
The blitzing style that Machida's karate utilizes actually caused Jones to worry for a moment. However, it was not enough, clearly.
The blitz worked but Jones was still able to use his reach in order to control the pace of the fight inside the Octagon. After getting hit a few times, Jones started using his jab to keep the distance and control where the fight was going.
As a counter fighter, Machida likes to let his opponents make the first move, but this can be detrimental against more aggressive fighters, like Jones, who thrive when they are in control.
Machida needs to be more aggressive himself and impose his will more.
Tempered Aggression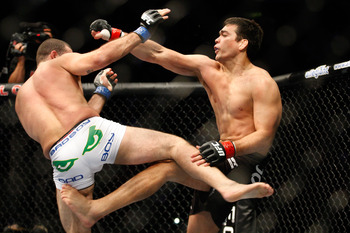 Richard Wolowicz/Getty Images
Although Machida needs to act more aggressively, this must be tempered and kept under control.
Each time he's gone in guns blazing, he's been caught.
Against Rua, Machida was decimated with an overhand right because he got too aggressive and started swinging wildly.
Last night, Jones caught Machida as he was diving in. Buckled, Machida left his neck exposed and was choked out by the lanky Jones.
Had Machida kept a level head and not become overly aggressive after getting cut, he would have had a better chance at going longer in this bout.
Wrestling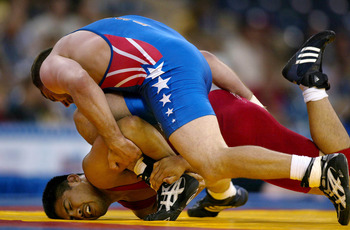 Donald Miralle/Getty Images
In the second round of last night's fight, Jones was easily able to take Machida down against the cage and was able to control the former champion while raining down elbows.
Machida has never faced a wrestler with Jones' skill and could not defend the take down as easily as he has other opponents'.
Team Black House has been known to have a relationship with former NCAA I and current middleweight contender Mark Munoz. Machida should step up his training with Munoz or another wrestling coach in order to sure up this aspect of his game.
Submission Defense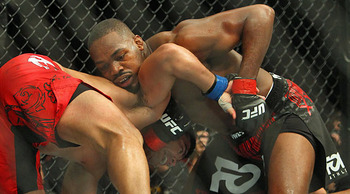 Image courtesy of CBS Sports
The most obvious hole in Machida's game that Jones exploited last night was his submission defense.
Granted, the choke was quickly applied after the karate ace was rocked, but as a Brazilian jiu-jitsu black belt, Machida should have had a better defense to the guillotine.
Against guys with such a wide array of techniques in his arsenal, Machida needed to keep a level head and expect the unexpected.
If Machida wants another shot at the title in the future, he has to make sure that this as well as the rest of his game is taken to the next level, as Jones and the crop of newcomers waiting for their chance to make it to the UFC have skills that are advancing at a rapid pace.
Keep Reading