UFC 140 Results: Will Jon Jones Be the Longest Reigning Champion Ever?
December 11, 2011
At the ripe age of 24, current UFC light heavyweight champion Jon Jones has been able to pull off two consecutive title defenses at 205 lbs—an accomplishment that has eluded five former titleholders in Rampage Jackson, Forrest Griffin, Rashad Evans, Lyoto Machida and Shogun Rua—in a span of two-and-a-half months.
After defeating Machida last night at UFC 140, Jones has proven he has all the tools necessary to surpass Chuck Liddell, the last man to defend the coveted strap for more than two times, to produce the longest light-heavyweight championship reign the division has ever seen.
In fact, Jones has been so dominant and decisive in such a short period of time at such an infantile stage of his career, he has the potential longevity and skill set to take a stab at current UFC middleweight champion Anderson Silva's record of nine consecutive title defenses.
This is obviously a huge challenge for any champion fighting in any organization. Silva is close to 37 years old, has the most consecutive defenses at nine and the longest consecutive win streak at 14. Both of those unbelievable achievements are current UFC records and unlikely to be broken anytime soon.
But if there were an insurmountable wrecking ball on the roster to do the unthinkable, it would be Jones. That may be hard to predict at this point in his career, but it's definitely not impossible.
The two most important deciding factors, on a broader scale, for a fighter to have long lasting success as a champion are time and an evolving skill set that remains innovative enough to keep pace with the younger, hungrier challengers throughout the years. Jones is clearly young enough. At 24 years old, he already has 10 UFC fights, and for all practical reasons should be considered undefeated.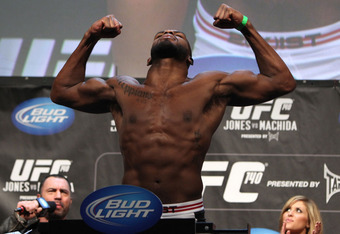 In his continuous effort to elevate the sport to unforeseen heights, Jones has executed his creatively unpredictable style against formidable wrestlers, grapplers and strikers. He has run the gauntlet of stylistic differences and looked dominant doing so. His wrestling was better than guys like Matt Hamill, Vladimir Matyushenko and Ryan Bader. He held his own striking with the likes of Brandon Vera, Shogun Rua, Quinton Jackson and Lyoto Machida.
Jones is the new puzzle to solve.
In the coming year or so, the only legitimate threats to Jones' throne are Rashad Evans and Dan Henderson, both guys who will have reach, size and age disadvantages to overcome. Assuming he extends his defenses to four, Jones will be in search of a 205 lb challenge far and wide to keep things interesting. It's hard to say that challenge will be available or difficult enough to keep Jones away from exploring new personal feats in different weight classes.
As it stands now, the only way Jones fails to fulfill his destiny as longest reigning champion—especially at light heavyweight—is if he decides to leave the division to fight at heavyweight.
Until then, Jones has passed all posing obstacles of being a young hyped fighter and champion thus far; there's no reason to believe he won't continue that trend for years to come.
Be sure to stay tuned to Bleacher Report for all things UFC 140. B/R is your home for complete coverage of the December 10 fight card, from pre-fight predictions to in-fight coverage, results and post-fight analysis. 
Follow me on twitter @joeschafer84 and on Facebook