UFC 140 Results: Who or What's Next for Big Nog?
December 11, 2011
In Antonio "Big Nog" Nogueira's rematch for redemption against Frank Mir last night at UFC 140, the former UFC and Pride champion suffered the worst loss of his storied career by losing on the ground to a vicious arm-breaking kimura. If you were lucky enough to see Mir's handy work on a big screen, let that brutal replay sink in and allow the significance to stew.
The quick answer to the headline's question is a hospital, loads of painkillers, a sport's psychiatrist and a long, tough period of reflection to see where his career can go after such a disappointing loss.
There really seems to be no contentious room at heavyweight for Nogueira anymore or any true reason to continue his fight career, considering everything this living legend has done for the sport, fans and himself.
Guys like Chuck Lidell, Tito Ortiz and Wanderlei Silva, who have accomplished the same past accolades and status as Nogueira, never want to let go of former glory when the time is right. Unfortunately, as history as taught us, a turbulent ending is—in most cases—an inevitable part of being a legendary fighter in mixed martial arts.
Most fighters lack the lasting durability and competitiveness of the Randy Coutures of the world, who continued to be a legitimate force while extending his prime well past what makes biological sense. But, the same strong desires and passion to step in the Octagon against the best in the world is both a gift and a curse, blinding their ability to call it quits on a high note before going out on their shields.
Even Couture's exit from the sport wasn't bulletproof. Though he maintained very well in the lasting days of his career, he still retired on a devastating front snap-kick knockout by a younger, quicker, stronger Lyoto Machida.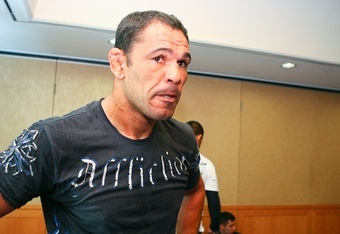 Liddell was finally forced to retire after winning only one out of his last six fights and being on the wrong end of a knockout highlight reel four out of those five loses.
Silva has yet to retire, coming off a recent win over Cung Le that is sparking a small amount of hope in fans that the "Axe Murderer" may be able to finish up his career in a fashion that somewhat resembles his former self.
Despite being an adored fan favorite, like all the previously mentioned fighters, Nogueira's submission loss to Mir should mark the end of his career—it certainly marks the end of his relevancy in the division, beyond selling tickets. He not only lost an important rematch, he lost his status as the greatest heavyweight ground specialist in the world, a title that Mir no longer covets because he possesses it.
Nogueira got beat in the most decisive way possible at his own game. There is nothing left for him to prove. The unpleasant reality of getting older is a hard pill to swallow in day-to-day life, let alone in the most competitive combat sport on the planet. If Big Nog's skills have demised to the point of no return, he has no reason to continue and risk marring the final act of a grand career.
Will he retire? Probably not; his pride has been cut deep and his heart will burn for one more chance to go out on top. Difficult decisions are usually the smartest, not the easiest.
Nogueira has exceeded expectations throughout his time in the cage, but the odds are stacked against him, smart money says he won't be the expectation to the rule in this case. 
If he plans on continuing to fight until his wheels fall off, a Pride legend vs. Pride legend match could be made against Mirko "Cro Cop" Filipovic (this fight would be intriguing enough for him to come back for). It would be a win-win for Pride fans and it would give each fighter a chance to do what most in their situation have failed to do in the past: write a winning final chapter with a meaningful and decisive victory.
Be sure to stay tuned to Bleacher Report for all things UFC 140. B/R is your home for complete coverage of the December 10 fight card, from pre-fight predictions to in-fight coverage, results and post-fight analysis. 
Follow me on twitter @joeschafer84 and on Facebook.