UFC 140 Results: What We Learned About Jon Jones
December 11, 2011
Wow, incredible, astounding (insert awe inspiring adjective).
Now that former light-heavyweight champ Lyoto Machida has become another high profile notch under current champ Jon Jones' shiny belt, after UFC 140, there is no denying the fact that we are amongst something very special.
Jones' second round standing guillotine (yes, you read that correctly) win over Machida, after embarking on losing his first round as champion, has many peoples' eyes opened to how prominent the champ has become and what he can be in the future.
Furthermore, this win erases all remaining doubt hanging over Jones' invincibility—his composure and his chin. He took some of Machida's best punches, lost the opening round in a title fight and was able to bounce back in incredible fashion.
Overall, in the grand scheme of things, we've learned plenty this last year about the man who is in position to be the light-heavyweight champion for a long time.
This year solidified the Jon Jones era, marking the most impressive single year for any mixed martial artist in recent memory and it happened so fast.
In the beginning, there was Jones dismantling of fellow contender Ryan Bader in a submission of the night victory that propelled him into a title fight with then champion Mauricio "Shogun" Rua. After getting a taste for gold, Jones never turned back and went on to manhandle Rua for three rounds, defend against Quinton "Rampage" Jackson in September and most recently Lyoto Machida at UFC 140.
The realization of what this kid—Jones is only 24 years old—has accomplished in such a short period of time is staggering when you let it all sink in. Within a single year, he has managed to convincingly put away a young up-and-comer and three former champions, who are all elite veterans.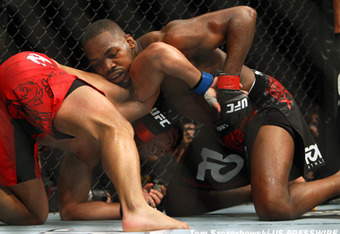 It's hard to find a top competitor who is fighting four times a year—let alone in title contention fights with top notch competition. On a side note: of those four matches, Jones has also garnered three fight night awards.
What have we truly learned about this young talent after UFC 140? Jones is not only for real, but he'll go down as one of the great 205 lbs. champions the company has ever produced. The most notable thing to take away from last night's UFC 140 main event is Jones' proven sustainability at such a young age and in such an unstable division.
Light-heavyweight is a division full of high level, larger than life names, where nobody has been able to defend the strap more than once since Chuck Liddell back in 2006. That in itself may be the reason why—there is a solid group of devastating and seasoned 205 lbs. fighters who, on any given night, can make you an ex-champ.
But, all that is in the past now.
The torch was passed to Jones in 2011—most of those guys have long careers and/or are in their 30's. Also, most of those guys have been handedly destroyed by their division's young ace of a champion.
Aside from Rashad Evans and Dan Henderson—who will certainly be underdogs going into title fights with Jones—the UFC's most illustrious division is close to being cleaned out by the youngest man to ever win UFC gold.
The hype train has become the freight train. For those of you not onboard, hop on now because the Jon Jones express is moving at such electrifying speeds, you're bound to miss the UFC's next, current and future "big" thing.
______________________________________
Be sure to stay tuned to Bleacher Report for all things UFC 140. B/R is your home for complete coverage of the December 10 fight card, from pre-fight predictions to in-fight coverage, results and post-fight analysis. 
_____________________________
Follow me on twitter @joeschafer84 and on Facebook