UFC 140 Results: 5 Questions We Still Have for Chan Sung-Jung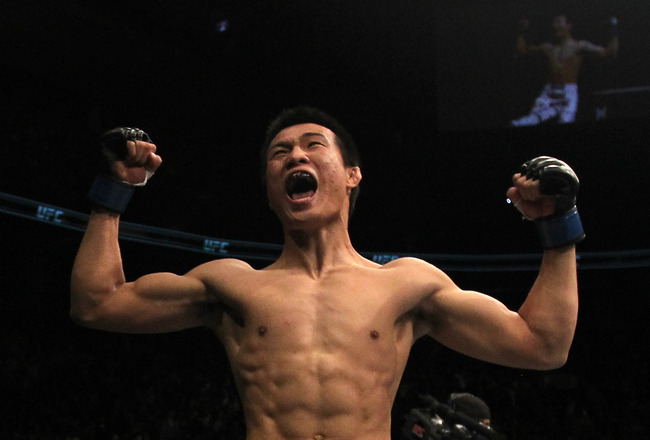 (Photo by Nick Laham/Zuffa LLC/Zuffa LLC via Getty Images)

"The Korean Zombie," Chan Sung Jung, joined the ranks of Todd Duffee and Duane "Bang" Ludwig Saturday night in Toronto when he came into UFC 140 and laid out Mark "The Machine" Hominick with a brutal right hand followed by some serious but brief ground-and-pound for good measure.
However, the seven-second finish didn't give us the answer to some of the questions we still have for Mr. Jung, and those questions cannot go unanswered for much longer.
So, in a format that hopefully keeps you with us longer than Hominick vs. Jung lasted, here now are five questions we still have for the man known as "The Korean Zombie."
5. What Does the Win over Mark Hominick Mean?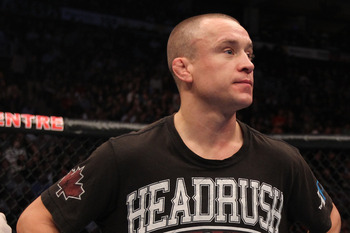 (Photo by Nick Laham/Zuffa LLC/Zuffa LLC via Getty Images)
Truth be told, the fight between Hominick and Jung was more hyped than were either Jung or Hominick.
When Hominick took his seven seconds of fighting "face to fist style," he admitted that he was overhyped from the onset, and by that, I mean that he pretty much admitted that he came in too much in "brawler mode."
It looked as though it would have probably been WEC 48 all over again if that right hand of Jung hadn't hit so darned flush and dropped Hominick, but alas, Jung landed and got a win that was a huge step in the right direction.
Plus, it's never a bad thing when a win comes against a recent title contender in his own hometown...unless you're the aforementioned hometown boy and on the business end of one of those deal-sealing punches.
No offense, Hominick.
4. Is Jung the Key Player in the Zuffa Breakthrough into the Korean Market?
Short answer: Maybe.
Long answer: Let's see what "The Stun Gun" Dong Hyun Kim and Dongi "The Ox" Yang, otherwise known as "The UFC's other two Korean MMA prospects" do in their next bouts, but so far it seems possible for Jung to make a good-enough move in order to help the UFC break into the Korean MMA market.
Kim draws Sean Pierson at UFC 141 in about three weeks though, and Yang has not been offered anyone yet, so before we jump the gun on Jung, maybe it's best to wait until after both Kim and Yang have fought before we get into serious speculation.
3. Is the Korean Zombie a Mental Goliath Before He Steps into the Cage?

There is only one Chan Sung Jung...and he spent more time in front of the cameras than he did in the cage with Mark Hominick.

Now, Tito Ortiz walking out to "Mosh" is one thing, and it's no real difference from Randy Couture walking out to "Kashmir" or "Stranglehold," nor is it a difference from when Roy Nelson walks out to "Fat."
However, what does it say about a man when he is nicknamed "The Korean Zombie" and has a stoic look in his eyes as he walks out to "Zombie" by The Cranberries?
You know it's going to be a fight when that individual walks down to the cage, just like you know it will be a barn-burner when you hear such songs as "Ain't No Sunshine" (the DMX version), "Run This Town," "It's a Fight," "Sandstorm" or basically anything BJ Penn walks out to, but Jung?
Jung is certainly a man all his own, and it's tough to say whether some fighters of the division are truly prepared physically AND mentally for Jung when it comes time to put up or shut up.
Considering the infamous result of WEC 48, we'll just say out loud that George Roop has been the only man to possibly bring Jung down a peg physically and mentally.
The rest of the division, on the other hand, might not be so lucky.
2. What Happens When a Punch Finds a Home on Jung's Face?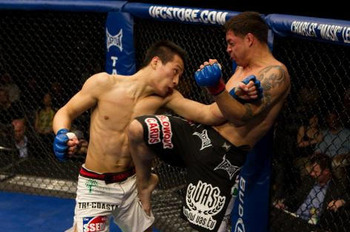 Technically, Leonard Garcia answered this question at WEC 48, but you're very rarely ever going to get another performance like that again from "The Korean Zombie."
In the Octagon, Garcia and Hominick both had chances to brutalize the face of Jung, and in the rematch, Garcia feel victim to the Twister.
As for Hominick...well, we all know how that fight went down, but the bottom line is that it's been awhile since anyone's touched Jung with a serious punch.
The head kick George Roop landed on Jung was clean, but that didn't tell us anything about how well Jung can take a heavy punch.
As Jung progresses through the division, his improving offense and defense will only be part of the story, not that seven seconds was our ideal time to learn about the former or the latter from Jung anyway.
The other part of the story with Jung will have to be his ability to take a beating while taking one step forward and two steps more forward towards whomever is dishing out the fisticuffs.
1. Who Should Jung Draw Next?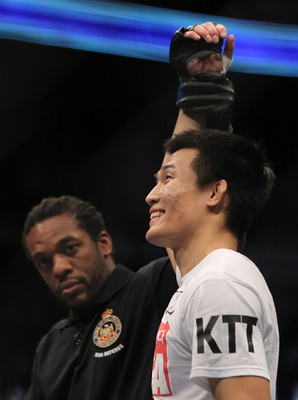 (Photo by Josh Hedges/Zuffa LLC/Zuffa LLC via Getty Images)
After a quick KO of Mark Hominick, who's next for Jung?
Is it a bout with Hatsu Hioki or a rematch of an early-career bout with Michihiro Omigawa?
Does Hioki wait for the winner of UFC 141's Manny Gamburyan-Diego Nunes bout?
Is it John Makdessi, who was seen as a "small 155-pounder" by the UFC commentary team (likely to take something away from Dennis Hallman's performance)?
For all we know, it could be the loser of the UFC 142 main event between Jose Aldo and Chad Mendes, meaning that Aldo vs. Jung could come sooner than later if Mendes dethrones Aldo, or it could be Mendes vs. Jung, assuming Aldo makes work out of Mendes.
There's no real limit to what could be next, and the only real thing we know for sure is that Jose Aldo isn't next for Jung if Aldo retains the belt in Rio.
If Jung keep up with doing things the way he's done them so far, though, an eventual encounter with Aldo for the belt might not be such a bad idea.
Be sure to stay tuned to Bleacher Report for all things UFC 140. B/R is your home for complete coverage of the December 10 fight card, including results and post-fight analysis.
Keep Reading