NBA Free Agency: Dallas Maverics Sign Lamar Odom, Window Open for Paul, Williams
December 11, 2011
Kevork Djansezian/Getty Images
It's been a crazy few days, as Thursday night brought NBA fans news of Chris Paul heading to the Lakers, and the Hornets would receive Lamar Odom, Kevin Martin, Luis Scola and Goran Dragic, while Houston netted their coveted power forward Pau Gasol to go with their coveted center target, Nene. 
But the trade was, and then wasn't. It was changed, then changed again, and at some point last night the Lakers decided they'd had enough, and got back in the driver's seat. 
They dealt Lamar Odom to the Mavericks, receiving a portion of the Trade Exception given to the Mavs when they sign-and-traded Tyson Chandler to the Knicks. 
The Mavericks receive Odom—who can be one of the most gifted, versatile players on the floor—who can rebound and shoot from anywhere—as well as dribble down the court with his 6'10" frame—post someone up—and lay the ball in over a fellow forward. 
The only reason he isn't a Hall of Famer is because he sometimes doesn't like the flavor of gummi bears the teams put out for him, or so the rumors go. 
Odom's contract has a team option for next season, meaning he's only a one-year rental who the Mavs can send packing in pursuit of the free agent of their dreams. 
The deal has long-reaching consequences for the rest of the league, all of which can tie back into the Mavs' goal of adding a superstar with their cap room next year. 
Since Paul to the Lakers is off the table, the natural next course for the Lakers is to chase Dwight Howard. However, Howard has also made his preference known for the Nets. 
It can play out in two scenarios:
1) Howard and Turkoglu to LA for Pau Gasol and Andrew Bynum (Side note on Bynum: I don't know why so many teams are eager to build around a guy who we last saw clothesline a player a foot shorter than him, then take off his shirt and bark at fans after being ejected.)
This gives the Magic a championship-caliber frontcourt to team with the newly signed Jason Richardson and whomever else the Magic can find with the room created by amnestying Gilbert Arenas. 
2) Howard and Turkoglu to New Jersey for Brook Lopez and cap space and some picks. 
On paper, this seems like much less of an offer, but let's not forget that Lopez is a good young center with a bit more range than Howard on offense, and he doesn't carry the baggage and rusty knees that Bynum will bring with them. The Magic would have some cap space and picks to try and rebound around a Richardson-Lopez core. Not too shabby. 
But getting back to how this all affects the Dallas Mavericks. 
If Howard goes to the Lakers, then the Mavs will have gotten the assist on that bucket. Howard, Kobe, Artest are sitting there in the Western conference for the Mavs to have to deal with every year in the playoffs. 
But, if Howard goes to the Lakers, he won't be going to the Nets (unless David Stern is about to alter the fabric of space-time, you know, for basketball reasons). 
That means free agent-to-be Deron Williams suddenly doesn't have a superstar buddy coming to help him move his stuff to Brooklyn. 
But he's got a team in Dallas, where he's from, that could use a point guard (Kidd's contract will be expired), and has the salary cap room to sign him, and team him up with a superstar in Dirk Nowitzki. Not too shabby for Deron.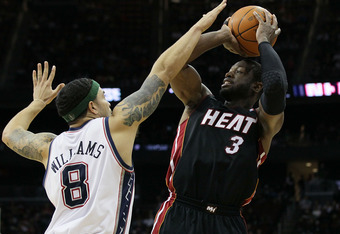 Jim McIsaac/Getty Images
And if Howard goes to the Nets, then the Lakers don't get their superteam, just a Mavs team that swept them at their peak, with Lamar Odom on the other side of the court. 
Meanwhile, Chris Paul might have been traded to the Warriors, Clippers or the Celtics during the season. Maybe he had a good season, maybe he didn't. But in order to get the better contract, he won't sign an extension midseason, or even after the season. 
Paul must opt out, and while the team he just played with has first dibs, other teams with space, such as the Dallas Mavericks, can make their own pleas to him as well. 
It's amazing how the Mavericks turned a Tyson Chandler departure into a ready-to-rock-and-roll team that will make an interesting run at defending their title, while sacrificing none of the cap room that they will soon have available for next year. 
There are many ways this could go, but the Mavs' front office did well with this one, turning nothing into something, and putting themselves in prime position to make a run at whoever is available next season.