5 Lessons Learned from Kentucky vs. Indiana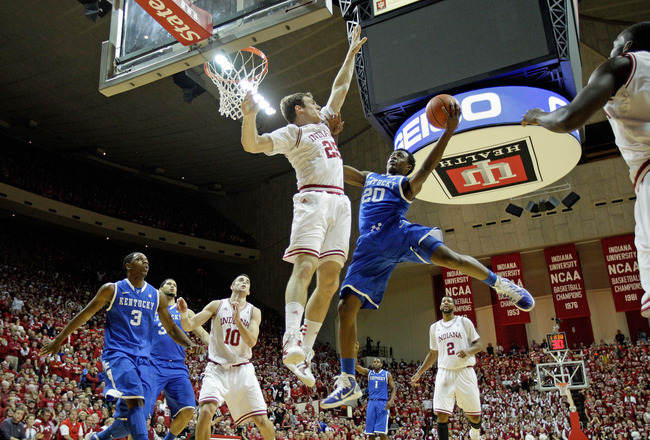 Andy Lyons/Getty Images
It was a perfect storm.
For Indiana to win against top ranked Kentucky on Saturday night, there were a considerable amount of things that would have to go their way. They would have to spread the floor with their three point shooting. Key players for the Wildcats would have to get in foul trouble, and Indiana would have to prevent that from happening to their stars.
To stay in the game, the Hoosiers would have to play gritty, hustle, and win loose balls.
And they did.
Giving credit where credit is due, Indiana played a great game. Tom Crean and his players believed they could beat Kentucky in Assembly Hall, and their confidence showed for all 40 minutes. It was the Wildcats who were flustered throughout the game, shooting 10 for 17 from the free throw line and turning the ball over 16 times.
The entire Big Blue Nation was hoping for a win in a game that should not have been this close. Kentucky played perfectly awful, Anthony Davis fouled early and often, Marquis Teague played scared in the first half and Terrence Jones forgot to get off the bus.
But somehow, Kentucky found a way to be up 72-70 with five seconds left in the game. Michael Kidd-Gilchrist continued his phenomenal play on the offensive glass, and in the second half, we saw a John Calipari point guard finally live up to his hype.
Indiana was 7 for 9 from beyond the arc in the second half. The seventh three, made by Christian Watford, was a dagger that I will not soon forget. Nor will I forget the call, made by Dan Shulman, as time expired. His words "Watford for the win..." will echo in my mind the rest of the season.
The final shot of the game ended all Big Blue hope of a win, and Indiana emerged, still undefeated. This win will resound for the rest of the year for Indiana, and will be marked as a quality win come Selection Sunday.
As for Kentucky, the No.1 seed is lost, but the Wildcats will stay near the top of the rankings. The Wildcats play their next seven games within the friendly confines of Rupp Arena, with rival Louisville coming to town on New Year's Eve.
Here are five lessons learned from Saturday's game.
5. Terrence Jones Is Still Young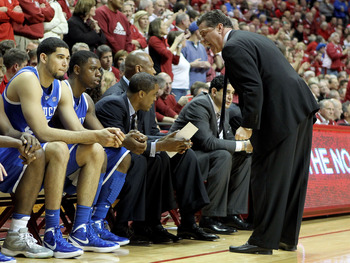 Andy Lyons/Getty Images
I've been on the Terrence Jones bandwagon all year. In Saturday's game, however, he was somewhere else. I'm not sure if he was rattled by the crowd or what, but he was not himself.
This was a game primed for Jones to take over and lead Kentucky to a win. To the dismay of all Kentucky fans, he didn't. His stat line looked nothing like the All-American numbers he was putting up to start the year.
I'm not sure which is more alarming, three total shots or one rebound (not to mention, six turnovers).
It seems unfathomable that a player of Jones' caliber would do practically nothing on the offensive side of the ball for the 28 minutes he was in. But he did.
I didn't expect maturity to be an issue with Jones in his second year, but it looks like it is. Hopefully, we see the mature Terrence Jones in future games.
4. Indiana Is Back, Baby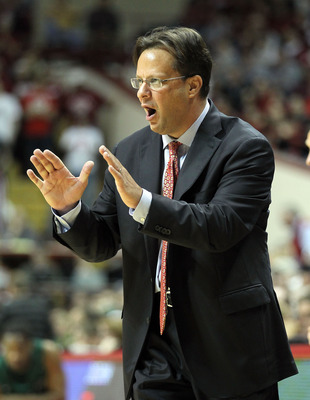 Andy Lyons/Getty Images
Tom Crean is a great coach. Although I question the fact that Cody Zeller didn't receive more touches in the second half, his team played a great game. He has Hoosier fans excited about basketball for the first time since the Bob Knight era, and with good reason.
The acquisition of Zeller could be seen as the turning point for the Indiana basketball program. Although nothing is certain, my expectations are that he will stay in Indiana for all four years like his brother, Tyler, is doing at North Carolina. Indiana will be a force in the Big Ten in the future, and he is a big reason why.
This year, Indiana is experienced, confident and well coached. In this game, they showed signs of improvement from last year and have a 9-0 record to reflect their stellar play.
All talk of Kentucky losing a rivalry game to Indiana, North Carolina or Louisville should be stopped immediately. Two of the three games have already been played, and they have provided two of the best games in college basketball this season.
Indiana is on the rise, and Kentucky should continue to play them in years to come.
3. Free Throws Will Pose a Challenge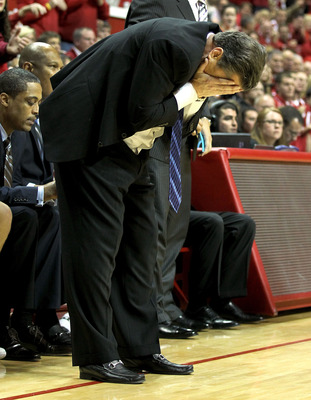 Andy Lyons/Getty Images
They are free for a reason.
Kentucky went 10 for 17 from the line, which is agonizing when you think that just two more could have changed the outcome of this game.
Kentucky fans know John Calipari teams can't shoot free throws, so it should be no surprise that this team is much of the same.
However, Calipari can do more to teach these players how to act in pressure situations. Anthony Davis was the player fouled with 20 seconds left in the game. Why that ball was not in the hands of anyone else, I will never know.
Moreover, a timeout by Cal would have answered any question of what to do in that situation.
Good thing it isn't March.
2. Marquis Teague Has Arrived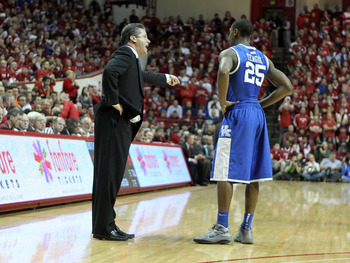 Andy Lyons/Getty Images
Sort of.
In the first half, Marquis Teague was 0 for 5 from the field, with a horrible miss on an easy layup down low. In the second half, he was 6 for 6, all layups.
From Calipari's doghouse to almost-hero, Teague kept Kentucky in the game with his ability to drive and score inside. He looked great when he broke down the Indiana defense, and showed why he was a top five point guard coming out of high school.
We will see in the coming games whether or not Teague has learned from his penetrating skill that he has so rarely used. It was on display in Assembly Hall, and should be on display the rest of the year.
1. Michael Kidd-Gilchrist Is Good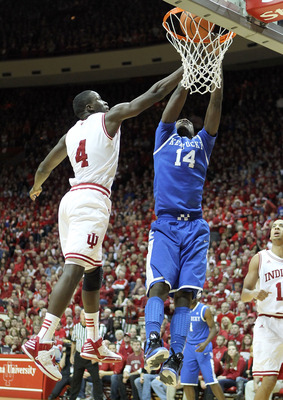 Andy Lyons/Getty Images
Good? How about great?
I love the way this Kidd plays basketball. He hustles for offensive rebounds, can score after contact, can finish with authority and most of all, plays stifling defense.
Michael Kidd-Gilchrist finished the game 9 for 12 from the field, coupled with 9 rebounds, four of those being offensive. He played all but two minutes in this game, and made an impact throughout. In a game that saw two Kentucky stars all but disappear, one emerged.
At the start of the season, I questioned why this freshman started over Darius Miller. He's shown me why.
Keep Reading

Kentucky Wildcats Basketball: Like this team?