NFL: The League's 10 Biggest Players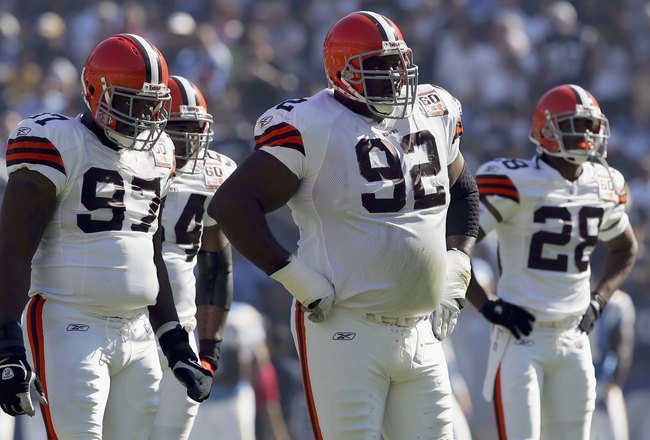 #92 Ted Washington
Lisa Blumenfeld/Getty Images
NFL players are a different breed. They are a combination of size, speed and skill that is not seen in everyday life.
Size. Did I mention size? These guys are huge.
I'm not talking about your running backs or safeties—as large as many of them may be.
I'm talking about the giants. The guys that make the other giants look small by comparison.
Take former NFL player Ted Washington (pictured) for instance. Big Ted was a nose tackle who played 17 seasons in the league. He stood 6'5" and weighed 375 pounds.
Here are 10 of the biggest players in the NFL today.
Honorable Mention: Aaron Gibson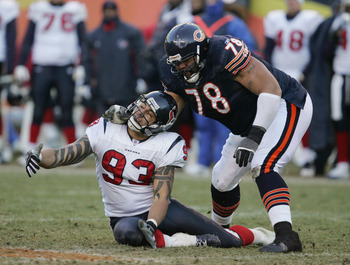 #78 Aaron Gibson
Jonathan Daniel/Getty Images
Big Aaron Gibson is no longer in the league, but he deserves a mention on this list.
Gibson played from 1999-2004 for the Lions, Cowboys, Bears and Bills as an offensive tackle.
Gibson may be one of the biggest players to ever play the game, standing 6'6" and weighing in at 440 pounds.
Honorable Mention: Korey Stringer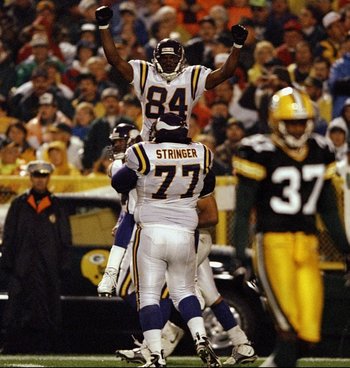 #77 Korey Stringer
Vincent Laforet/Getty Images
Korey Stringer was an offensive lineman for the Minnesota Vikings who passed away in 2001 from heat stroke.
Stringer was known to his teammates as a gentle giant who had a sense of humor as big as his size.
Stringer was 6'4" and was around 335 pounds at the time of his untimely death.
Stringer's passing changed many of the training and hydration methods around the league as well as changing some of the safety standards used.
10. Ryan Pickett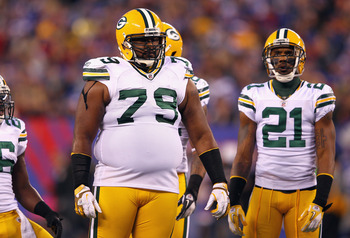 #79 Ryan Pickett
Al Bello/Getty Images
Ryan Pickett is a defensive end for the Green Bay Packers who currently has 28 tackles for the defending champs.
While not as tall as some of the other players on this list, Pickett is still a load.
He stands only 6'2" but weighs in at 340 pounds.
That is good enough for 10th on this list.
9. Albert Haynesworth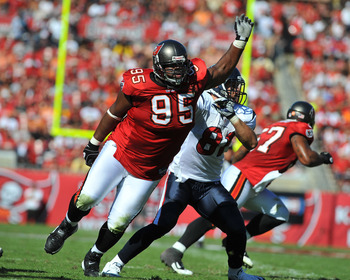 #95 Albert Haynesworth
Al Messerschmidt/Getty Images
Albert Haynesworth has had a roller-coaster career.
Drafted by the Tennessee Titans out of the University of Tennessee in 2002, Haynesworth developed into a top defensive lineman and was elected to the Pro Bowl in 2007.
Haynesworth became a free agent after the 2009 season and eventually signed with the Washington Redskins.
But Albert butted heads with the Redskins coaching staff and was eventually traded to the New England Patriots in 2011.
Haynesworth was eventually cut by the Patriots after being largely ineffective. He has since signed with Tampa Bay.
While many may question his desire to play, one thing that cannot be questioned is Haynesworth's size.
At 6'6" and 350 pounds, there is no doubt he is a big man among big men.
8. Shaun Rogers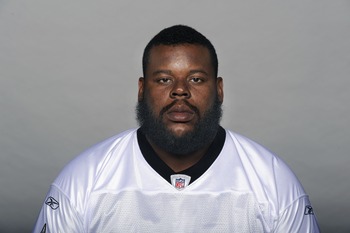 Shaun Rogers
Handout/Getty Images
Shaun Rogers is an 11-year defensive tackle currently playing with the New Orleans Saints.
Rogers is 6'4" and weighs 350 pounds. He currently has 16 tackles on the season.
And lest you think that all of these guys are nothing but fat slobs—keep one thing in mind.
Rogers ran a 5.3 40-yard dash when he came out of the University of Texas.
That is a big man who can move.
7. King Dunlap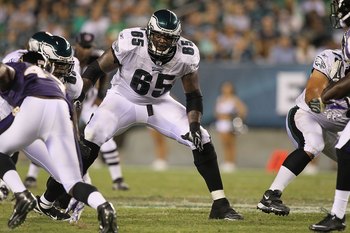 #65 King Dunlap
Jim McIsaac/Getty Images
King Dunlap is an offensive tackle playing with the Philadelphia Eagles.
Dunlap played at the University of Auburn and was drafted by the Eagles in 2008.
While Dunlap doesn't have the weight that some of our other players have, he still belongs on the list.
Take a good look at the picture above. Dunlap looks bigger than everyone else.
That's not Photoshopped.
Dunlap stands 6'9" and weighs 330 pounds.
Just for a comparison—basketball player LeBron James stands 6'8" and weighs 250.
6. Kellen Heard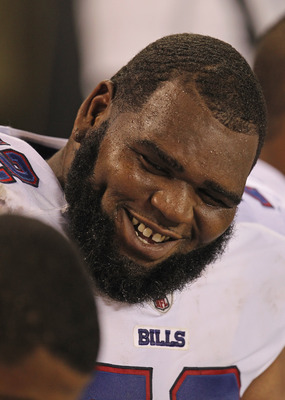 Kellen Heard
Jonathan Daniel/Getty Images
Kellen Heard is a defensive end/tackle out of Texas A&M.
Following his senior season, Heard went undrafted but eventually signed with the Oakland Raiders in 2010.
The Buffalo Bills signed Heard away from Oakland, and he currently has 10 tackles so far this season with the Bills.
Heard stands 6'6" and is a massive 346 pounds.
5. Phil Loadholt
#71 Phil Loadholt
Ronald Martinez/Getty Images
Phil Loadholt is an offensive tackle for the Minnesota Vikings.
Loadholt stands 6'8" and is a scale-spinning 343 pounds.
After attending junior college, Loadholt would eventually land at the University of Oklahoma, where he was in charge of protecting Sam Bradford.
Drafted by the Vikings in the second round of the 2009 NFL draft, Loadholt has worked to become the starting right tackle in Minnesota.
4. Paul Soliai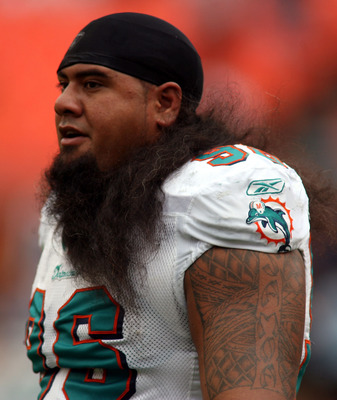 Paul Soliai
Marc Serota/Getty Images
Paul Soliai is the starting nose tackle for the improving Miami Dolphins.
Now playing in his fifth season out of the University of Utah, Soliai has 21 tackles in 2011.
Playing in Miami's 3-4 defense puts a lot of weight on the nose tackle.
Soliai can handle that weight.
He is only 6'4". (Did I say only?)
But he weighs 355 pounds. That should be enough to anchor the line.
I am unable to say at this time how much of that weight is hair.
3. Leonard Davis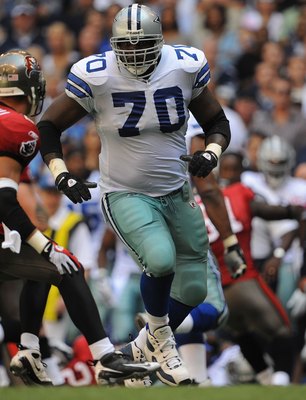 #70 Leonard Davis
Ronald Martinez/Getty Images
Leonard Davis is an enormous human being.
Now playing in his 11th season, Davis is 6'6" and 355 pounds and is currently a member of the Detroit Lions.
One brief side note.
Davis is the bassist in a heavy metal band named Free Reign with two of his former Dallas Cowboys teammates.
Heavy indeed.
2. Marcus Cannon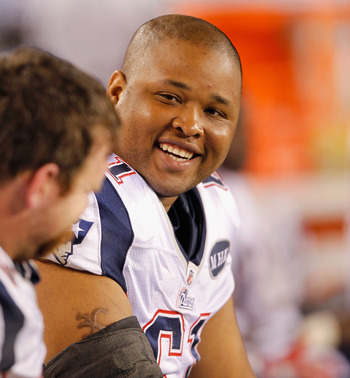 Marcus Cannon
Rich Schultz/Getty Images
Marcus Cannon was drafted out of TCU in 2011 by the New England Patriots.
Cannon is 6'5" and weighs 358 pounds, but at the NFL combine he showed some health issues.
Cannon ended up being diagnosed with a non-Hodgkin's lymphoma. He underwent chemotherapy and began this season on the injury list.
Cannon was activated to play in Week 10 and actually got a few snaps in Week 11.
Here's hoping Cannon continues to improve and remains healthy.
1. Bryant McKinnie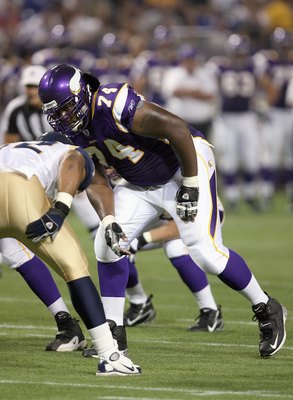 #74 Bryant McKinnie
David Sherman/Getty Images
No. 1.
The big one.
Literally.
Bryant McKinnie is gigantic. 6'8" and 360 pounds.
McKinnie is the starting left tackle for the Baltimore Ravens.
Drafted by the Minnesota Vikings in the 2002 NFL draft out of the University of Miami, he is now in his 10th NFL season.
One thing to keep in mind concerning McKinnie and the others on this list: Many of the big fellas in the NFL tend to be a little conservative when saying what they weigh.
McKinnie looks more like four spins on the scale to me.
That is an imposing man in charge of protecting quarterback Joe Flacco.
Keep Reading