2011 Bowl Games: Florida Gators News and Notes for Gator Bowl
December 11, 2011
Streeter Lecka/Getty Images
With the Heisman Trophy now in the possession of Baylor quarterback Robert Griffin III, the college football season is in a bit of a lull.
That includes the Florida Gators (6-6), who will take on Ohio State (6-6) in the (err...) TaxSlayer.com Gator Bowl on Jan. 2 in Jacksonville.
There isn't a lot going on now, but with BCS Championship Game a little more than three weeks away, here are a few news and notes.
This game will be a rematch of the same teams as the 2006 season.
Urban Meyer will not be attending the bowl game between his former and future schools.
Gator sophomore defensive tackle Dominique Easley will miss the contest after having surgery to repair a torn left anterior cruciate ligament. He suffered the injury in UF's final regular season game, a 21-7 loss to visiting Florida State.
Easley—part of a deep rotation that includes senior Jaye Howard, fourth-year junior Omar Hunter and fellow sophomore Sharrif Floyd—finished the 2011 season with 37 tackles and 7.5 tackles for loss (including 1.5 sacks) while playing all 12 games.
His absence could create more of an opportunity for redshirt freshman Leon Orr to get more playing time. The possibility also exists that redshirt junior defensive end Earl Okine, who has played some tackle in the past, could slide inside.
With former offensive coordinator Charlie Weis now the head coach at Kansas, running backs coach Brian White will take over play-calling duties in the Gator Bowl.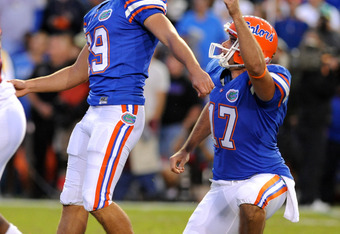 Al Messerschmidt/Getty Images
Head coach Will Muschamp said at a Gator Bowl press conference held Thursday in Jacksonville that White will be considered for the position and whoever is hired will run a pro-style system.
Another rumored candidate is former Gator quarterback Kerwin Bell, who Muschamp said is worth considering.
In an interesting tidbit, Bell was an All-State prep player at Mayo (Fla.) Lafayette, a rival of Gainesville Oak Hall. That's where Muschamp played varsity ball before moving after his eighth-grade year. The head coach at Jacksonville University, Bell was nicknamed "The Throwin' Mayoan" while a Hornet.
Muschamp is expected to speak with between 20-30 candidates and interview five or six for the offensive coordinator and strength and conditioning coach job formerly held by Mickey Marotti, who joined Meyer's staff at Ohio State.
Look for the positions to be filled in January, as soon as possible after the bowl game.
It is crucial to have a staff in place during the stretch run of recruiting.
Wide receivers coach Aubrey Hill was rumored to be joining Meyer's staff at OSU. That won't be happening. He said he is happy at Florida, his alma mater.
Offensive lineman Chaz Green and safety Pop Saunders were named to the Freshman All-SEC team last week.
Redshirt junior placekicker Caleb Sturgis was named to the 2011 Walter Camp All-American second team.
Sturgis has been successful on 21 of 25 field goals and all 28 extra point attempts this season.
Former Gator punter Chas Henry was a first teamer in 2010.
Senior punter David Lerner received the Dick Schapp Sportsman of the Year Award, an honor given by the Greater New York Chapter of the Crohn's and Colitis Foundation of America (CCFA) at the Annual Memorial Awards Dinner on Wednesday evening.
A walk-on from Gainesville, Lerner was UF's starting punter the first half of the season until true freshman Kyle Christy took over.
Prior to the season, Lerner was diagnosed with Crohn's Disease and lost 15 pounds, but did not miss a practice.