Philadelphia Eagles vs. Miami Dolphins: Live Score, Video and Analysis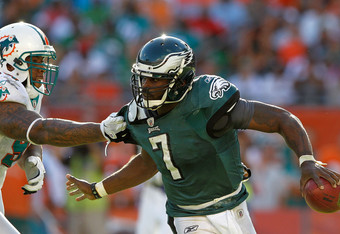 Mike Ehrmann/Getty Images
The Miami Dolphins and Philadelphia Eagles came into Sunday's game at 4-8. For Miami this could've been expected, but for the Eagles this was a disappointment.
However after Sunday's performance, one has to think where this "dream team" of Philly has been all year as the Eagles defeated the Dolphins by 16 points, and folks, it wasn't even that close.
Miami started off the afternoon well, with a blocked punt by Jimmy Wilson turned into a 16 yard Matt Moore to Brandon Marshall touchdown.
But it was all downhill from there, the downward spiral started when Tony Sparano showed why his job has been in jeopardy when he sent Dan Carpenter in for a 55 yard field goal when the Dolphins not only lead 7-0 and was also ahead in the field position game.
Carpenter missed the field goal, kicked in less than ideal conditions with a wet field and the humid South Florida air, and the Eagles took advantage from there scoring 24 unanswered points, including two touchdowns from LeSean McCoy.
For Miami their ninth loss of the year ensures that for the third consecutive year and for the sixth year in the last eight they will have a losing season, they fall to 4-9.
Meanwhile the Philadelphia Eagles' faint playoff hopes are still alive as they move to 5-8. If the Eagles win out, along with the Cowboys going 1-3 and the Giants going 2-2, then the Eagles will win the NFC East despite the tumultuous season.
Here's a look at how the Eagles became victorious this afternoon over the Miami Dolphins.
Final Score: Philadelphia 26, Miami 10.
Missed DE Jason Babin's sack on QB Matt Moore in the first half of today's game?
We've got you covered!
Eagles win the challenge. I know I could've said this about an hour ago but, game over.
How bad would it be for the Eagles, a team known for blowing fourth quarter leads, to blow this game to JP Losman?
Losman just got the first down on the quarterback sneak, and with Matt Moore going back to the locker room, will likely finish the game.
Wait, about that first down, Losman, excuse me, Lossman, dropped the ball as he was trying to sneak it in, Eagles-
No it's a Dolphins first down!
Here comes an Andy Reid challenge!
Uh-oh, now Matt Moore appears to be hurt, could be his ribs.
Looks like a JP Losman sighting.
And the JP Losman era in Miami begins!
Wow, a first down for Losman!
Reggie Bush apparently did break through, but on offense and not on the punt return.
This drive so far is the Reggie Bush show.
His first run goes for 13 yards, then a run for 16 yards, then for eight.
However Miami can't score in the red zone forcing Miami to go for-
Wait, it's 24-7 with less than five minutes left in the game, you're in the red zone. Um, GO FOR THE TOUCHDOWN!
Field goal is good, but the Dolphins and Eagles are pushing and shoving each other. Now the game is interesting.
Before this the game was so boring that the only non-spam comment came from someone telling me what #oomf stood for.
Penalties all around, Eagles still lead, only now its 24-10. 4:52 left in the third quarter.
Reggie Bush on the punt return, hoping to spark the team.
Nope, nothing.
Forgive me for being so bitter, sarcastic, and mean during this blog, just dang, I didn't expect the Dolphins to play this poor, this undisciplined, this terrible.
I had forgotten during this 4-1 run that they're a terrible team. Scoring twice as many points as the opponents including a first place team over the course of five weeks has a funny way of doing that to you.
See what I mean? Three. And. Out.
Sean Smith with an interception?
Huh? He caught a ball?
This is the break the Dolphins need! YEAH!
(Updating it as soon as Miami goes three and out.)
By the way Dolfans, from this point forward Tony Sparano will be referred to as Coach #oomf in my articles and slide shows.
In case you don't know, #oomf is a term used on twitter when you don't want to mention someone's name. I don't feel like mentioning Sparano's name anymore.
Hence, he's Coach #oomf, as is Nick Saban and Cam Cameron. I hate typing those names out because of what they mean to Dolphins fans: failure.
Wannstedt is still Wannstedt, Wanny or Wanstache though.
Oh yeah there's a game I'm supposed to be live blogging, yeah, about that.
It's still 24-7 Eagles and they're driving.
I'll update it as soon as the Eagles score on this drive, because it just seems inevitable.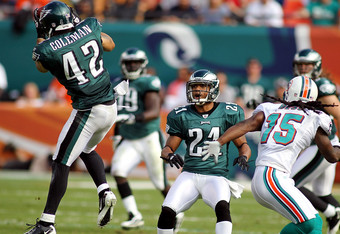 I'm not even going to bother writing the halftime summary. All of the bloody evidence of this embarassment of a game is documented in real time.
No pictures, but unless you're an Eagles fan, did you really want to see pictures?
Now it's up for review. It didn't look good the first three times I saw the tape, I don't know what makes anyone think it will look good the next thousand times the officials look at it in these 90 seconds.
Ruling on the field confirmed.
No duh!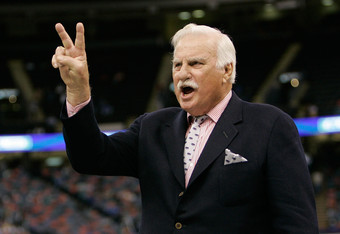 Former University of Miami Hurricanes and Florida Atlantic University Head Coach Howard Schnellenberger, who's getting honored at halftime, is on the sidelines in a golf cart. As he came out, he was cheered.
That will be the loudest cheer you'll here today.
Dolphins go for it on fourth down and one, and hey you'll be surprised by this but it failed!
Miserably.
Much more miserably than the chain gain measured it out to be.
The measurement actually made it look closer than it was.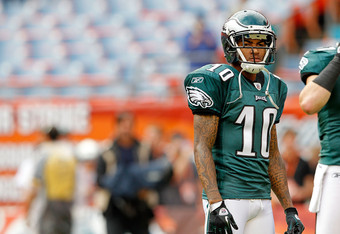 Pay DeSean Jackson his money!
Oh and to the Miami Heat and Sun Sports, you know what would be a good idea? Televise training camp.
Miami sports fans would rather watch that than this Dolphins game.
Why would anybody give Michael Vick that much time in the pocket?
DeSean Jackson runs a nice route, Vick has the length of both Godfather movies to throw, what do you think is going to happen?
Touchdown Eagles.
Philadelphia leads 24-7. 4:43 left in the second quarter.
Remember the last thing I posted?
Now Moore fumbles the ball, Eagles recover, now it's their ball.
Obviously this is a battle between two 4-8 teams. If Andy Reid and Tony Sparano switched places in the second half, would anybody notice?
Would anybody care?
Miami sees something go there way as the Eagles try some punt return trickeration and force a fumble.
Dolphins recover it and now have the ball at the 28.
Oh Fox Network, can you please do me and everyone else who has taste in TV a favor and just cancel that Allan Gregory show? That show is the very definition of terrible, and it shouldn't matter that Jonah Hill is behind it, a bad show is a bad show.
Just had to go on that rant.
For the first time in about six gametime minutes (I'd say about 45 minutes in real time), something goes Miami's way as Vick gets sacked. Now Philadelphia attempting the field goal.
The 40 yard field goal is good, Philly leads 17-7.
Vernon Carey now hurt for the Dolphins, he's on the sideline while John Jerry is in.
Dolphins don't have anymore offensive lineman left. Carey will likely come back.
But that will have to wait til next series as Davone Bess fumbles the football. Second turnover of the game, and again it's in Miami territory.
Yikes this game is about to get really out of hand. Shocking thing is when the game began, the Dolphins looked ready to dominate like last week.
Eagles fans in attendance getting loud, hear a "Let's Go Eagles" chant breaking out.
Did we travel back in time to September and nobody told me? I mean the weather is hot, humid and it just stormed, which is very September-like Miami weather.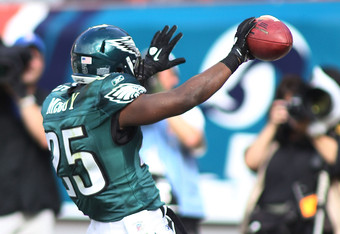 Well Dolphins fans, it looks like it's going to be one of those games.
You know the ones that made us Suck For Luck candidates.
Kurt Coleman with an interception which puts the Eagles at the Miami two yard line.
Two plays later, LeSean McCoy powers it in, making it 14-7 Eagles.
One of those games...one of those games...
Now Mike Pouncey commits a dumb penalty. You can see the difference in this Dolphins offense with and without Jake Long. Without Jake Long this is just painful to watch.
By the way, Vontae Davis has a stinger, his return to the game is questionable per Armando Salguero.
This article is
What is the duplicate article?
Why is this article offensive?
Where is this article plagiarized from?
Why is this article poorly edited?

Miami Dolphins: Like this team?