NCAA: Officials Forfeit Cincinnati vs. Xavier Game After Bench-Clearing Brawl
December 10, 2011
Joe Robbins/Getty Images
So you want to be a referee? Well then, riddle me this.
Play: A fight breaks out with 9.4 seconds remaining in a 76-53 game. At least three of the five players each team had on the court at the time of the fight throw a punch or otherwise engage in unsportsmanlike, flagrant fight-like actions as both benches clear.
Question: What are the penalties and how should this game proceed?
Read on for the correct answer.
Though the books have officially credited No. 8 Xavier with a 76-53 win over Cincinnati, this December Bearcats-Musketeers contest will be best remembered for a game-ending, bench- clearing brawl.
In purely scientific referee-speak, Saturday's Cincinnati-Xavier game ended in a forfeit, which is defined by NCAA rule 4-28-1 as a "termination of the game by the referee."
Fear not Xavier fans, for Rule 5-3-1 specifies that if a forfeit is declared after 30 minutes of basketball has already been played, "the score at the end of of play shall stand and all other statistics shall count."
Forfeit? Yes. Loss? No.
With Xavier leading 76-53 with 9.4 seconds remaining in the second half, the Bearcats and Musketeers engaged in a massive fight.
During the waning moments of a lopsided Musketeers win, Xavier guard Tu Holloway and Cincinnati's Ge'Lawn Guyn began taunting and jawing at each other. As officials attempted to intercede, Guyn contacted Holloway's face with a push-like motion, drawing a retaliatory shove from Xavier's Dez Wells.
Bearcats center Yancy Gates, who had ended up with the basketball, threw the projectile at Holloway as Xavier's Kenny Frease attempted to punch Gates. Instead, Gates was the one who decked Frease as both benches emptied—entirely.
Per NCAA rules 4-26-1 and 10-5-1-e which governs "Class A Unsporting Technical Infractions," severely contacting an opponent while the ball is dead is a "flagrant 2" technical foul (Guyn, Wells, Gates, etc.) and is cause for automatic ejection.
Subsection 10-5-1-i and rule 4-26 specifically dictate that fighting is additionally a flagrant technical, which results in automatic ejection.
Rule 10-5-2-g further stipulates that fighting by bench personnel is a Class A (flagrant 2) technical that results in immediate ejection. The rules also dictate that leaving the bench area—even if the individual does not participate in the fight—shall result in automatic ejection.
As a result, at least three of the five players who were in the game at the time of the fight were automatically ejected. Additionally, every substitute player was automatically ejected as both benches cleared entirely during the melee.
In other words, only one or possibly even two players from either team would have been permitted to stay in the game had all penalties been thoroughly imposed—hardly enough players for a basketball game.
By virtue of their highly inappropriate actions, both teams caused the premature termination of this game.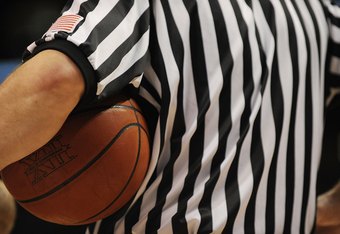 Ronald Martinez/Getty Images
While officials Tony Crisp, Jeff Anderson and Michael Roberts gathered at the table-side monitor in an attempt to navigate through a sea of video replay punches and shoves, they eventually came to the realization that concluding this contest would have been impossible and in contrast to the rules.
Answer: The officials did everything by the book. Because both teams had lost significant amounts of personnel and neither team would have been able to continue, the score was frozen at 76-53 and the game called.
If the NCAA further decides to take the extreme, unlikely and highly unusual step of vacating Xavier's win, that is their prerogative.
Expect the Atlantic 10, Big East and NCAA to come down hard against both schools for making a travesty of the game in forcing the officials to end this contest early.
The various conferences and sanctioning bodies will retroactively issue flagrant 2 technical fouls to each and every person who participated in this fight, resulting in a minimum one game suspension for each offender.
Additionally, any further fighting incidents by a player who was previously suspended for participating in a fight will result in an automatic remainder-of-the-season suspension ("second offense" rule).
Though it is never welcomed, NCAA basketball is prepared for bench clearing brawls and intentionally has placed very strict sanctions against bench personnel leaving the bench area during a fight.
Leave it to the pros, leave it to hockey—heck, leave it to baseball when a bench clearing brawl usually entails both teams standing near the pitcher's mound talking trash to each other, but rarely allowing the fight to escalate beyond a pitcher-batter skirmish.
Just keep it out of collegiate basketball.