Being Joe Silva: Fights I'd Make in the UFC Heavyweight Division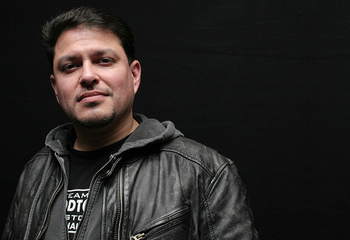 Joe Silva has been with UFC for years,
Joe Silva has one of the best jobs in the world, doesn't he? The UFC matchmaker is responsible for deciding who fights who in the UFC. It's a job that I am sure most UFC fans would love. Fans often debate what matches they would put together if they were in his spot.
In this article, I'm going to discuss what I would do with the heavyweight division.

My rules for this are:
Any fights already set up will not be changed.
I will not take into consideration injuries, bad decisions or dominant performances that skip someone up a ladder just because they are unpredictable.
I cannot sign any Strikeforce fighters, although Cormier and Barnett would be good additions to the UFC.
Fighters in the Division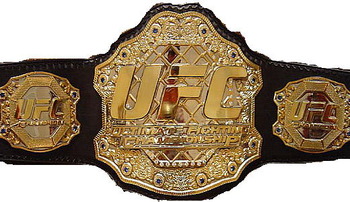 Source: thejibsheet.com
The list of fighters is according to that on UFC.com, excluding the retired Mirko Cro Cop and Heath Herring. Any fighter's schedule for fights will be listed
Junior Dos Santos
Cain Velasquez
Brock Lesnar vs. Alistair Overeem
Minotauro Nogueira
Cheick Kongo vs. Mark Hunt
Stefan Struve vs. Dave Herman
Pat Barry vs. Christian Moercraft
Shane Carwin
Travis Browne vs. Chad Griggs
Brendan Schaub
Matt Mitrione
Joey Beltran vs. Lavar Johnson
Roy Nelson vs. Fabricio Werdum
Mike Russow vs. John Olev Einemo
Ben Rothwell
Phil De Fries
Stipe Miocic
Ednaldo Oliviera vs. Gabriel Gonzaga
Rob Broughton
Oli Thompson
Junior Dos Santos vs. Winner of Alistair Overeem vs Brock Lesnar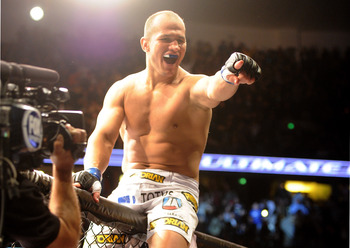 Junior Dos Santos is the Heavyweight Champion of the world.
Jason Merritt/Getty Images
The only real option for the UFC in terms of who competes for the title. Dana White has already announced the winner of the Lesnar-Overeem fight will be fighting Junior Dos Santos, assuming neither gets injured.

The fight does make the most sense, especially financially, with Overeem and Lesnar being massive Pay-Per-View draws. Also, there isn't really anybody else making a sustained run deserving of a title shot. Frank Mir would be the only other option.
Frank Mir vs. Winner of Fabricio Werdum vs Roy Nelson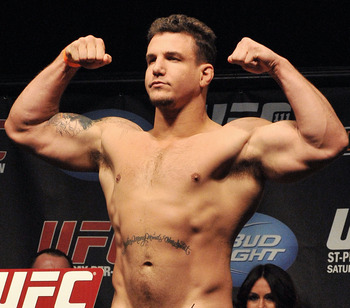 Frank Mir is a former UFC heavyweight champion.
Jon Kopaloff/Getty Images
The fight would be between two fighters very close to a title shot. Frank Mir is in good form coming off three wins: over Big Nog, Mirko Cro Cop and Roy Nelson. Werdum is still rated as a top heavyweight mainly due to his slaying of Fedor. The "new" Nelson would relish a rematch with Mir.

I'd make this match a No. 1 contenders fight, as Mir deserves the shot with a win over another ranked competitor. If either of the other two string these two consecutive wins together, it would probably put them at the top of a weak heavyweight division.
Cain Velasquez vs. Loser of Alistair Overeem vs Brock Lesnar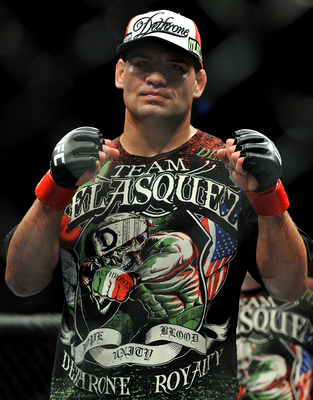 The former UFC champion will be looking for a win to get back on track.
Jon Kopaloff/Getty Images
With two fighters coming off defeats in high-profile matches, it makes sense to match them up. Another matchup that financially makes sense to the UFC, as Velasquez was seen by 8.8 million viewers at one point while both Overeem and Lesnar are marketable.

It would be a fight pushing the victor back into title contention and would be unlikely to last 15 minutes, as all have good power in their hands. If it is Brock Lesnar who loses against Overeem it would also give him the chance to get revenge against the man who took his title off him, something he has expressed interest in doing.
Minotauro Nogueira V Shane Carwin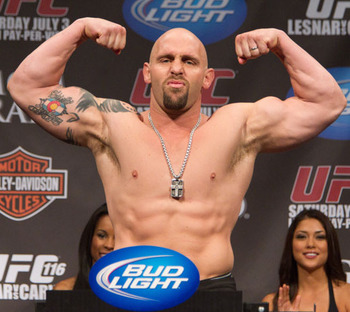 Source: UFC.com
It took me a while for this fight to come into my head, but the more I think about the fight, the more I love the fight. Both are out injured, Carwin undergoing back surgery, while Nogueira is recovering from the injury suffered at the hands of Frank Mir. With maybe a bit of delay in training, they can schedule a fight just right.

The fight is also an interesting one stylistically. Both over 35, they will be looking for a final run at the title. Carwin is a strong wrestler with iron in his hands. Big Nog is a Brazilian Jiu Jitsu black belt with impressive stand-up and a good chin.
Brendan Schaub vs. Matt Mitrione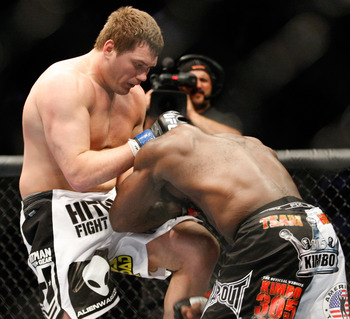 Both fighters were professional footballers that ended up in the UFC.
Richard Wolowicz/Getty Images
I see this as an intriguing fight between two competitors of the Ultimate Fighter 10. Schaub lost in the final to Roy Nelson, while Matt Mitrione went out in the quarterfinals to James McSweeney. Both fighters have since developed well, and with both coming off a loss, it would be a good time to see who was the best coming from the show.

The fight would doubtless be an enjoyable one, with both fighters enjoying standing up and trading shots. Both are coming off losses to upper tier fighters, so it would work perfectly to also see who has learnt from and built on their mistakes.
Winner of Travis Browne vs Chad Griggs vs. Stipe Miocic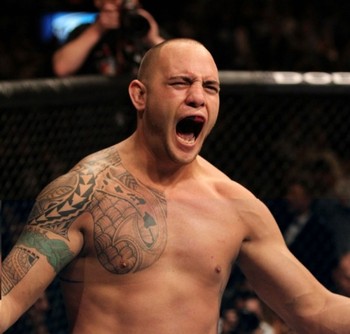 Source: www.travisbrowne-fans.com
A fight between two unbeaten prospects would probably propel the winner right up the division. Browne does have a minor blemish on his record, a draw to Cheick Kongo. Miocic has only had one fight in the UFC; however, it was an impressive win over Joey Beltran, where he displayed his stand-up skills. Griggs was chosen to fight Browne just as this slideshow was going to be published, but he unbeaten in Strikeforce and a good test for Miocic if he wins.

This fight would test the skills of both fighters and see who is really ready for a push up the card. It would be a good matchup skills wise with Miocic being a kickboxer and wrestler, while Browne is a boxer and Brazilian Jiu-Jitsu fighter.
Winner of Cheick Kongo vs Mark Hunt V Winner of Mike Russow vs John Olav Einemo
Cheick Kongo is labelled by many as the Heavyweight gatekeeper
Ethan Miller/Getty Images
Cheick Kongo is known as the heavyweight gatekeeper. His only losses since 2008 have been to Frank Mir and Cain Velasquez, while he holds wins over Pat Barry and Matt Mitrione in his last two outings. The man who wins this little four-man tournament would probably elevate themselves to near a title shot.

All four fighters would be capable of putting on a good with another. Kongo and Mark Hunt are both excellent strikers who come from kickboxing backgrounds. John Olav Einemo is one of the best Brazilian Jiu-Jitsu fighters on the planet, while his opponent, Russow, is solid all round but especially standing up. The victors of the opening fights could really push themselves up the chain.
Winner of Herman vs Struve vs. Winner of Gonzaga vs Oliveira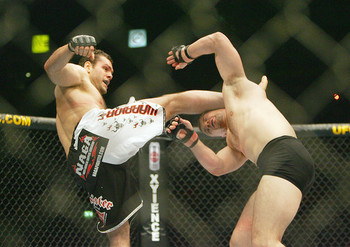 Source:http://www.google.co.uk/imgres?q=Gabriel+Gonzaga+head+kick&um=1&hl=en&client=safari&sa=N&pwst=1&rls=en&biw=1280&bih=648&tbm=isch&tbnid=Jnyg451kD7cVTM:&imgrefurl=http://mmabouts.wikia.com/wiki/Mirko_Filipovic_vs._Gabriel_Gonzaga&docid=Moip8neJDDjhyM&imgurl=http://images.wikia.com/mmabouts/images/1/1f/Cro-cop-gonzaga.jpg&w=500&h=353&ei=7dDvTvvUOYG48gOVhtyTCg&zoom=1&iact=rc&dur=609&sig=117054353321517462747&page=1&tbnh=137&tbnw=189&start=0&ndsp=18&ved=1t:429,r:0,s:0&tx=54&ty=50
Another fight in which all four fighters could win, but for none would a win push them into title contention. Dave Herman's most impressive win came over John Olav Einemo, and he is an exciting fighter comfortable in most facets of the game. Stefan Struve is also comfortable everywhere and always manages to deliver great fights.

Gabriel Gonzaga is one of the elite MMA heavyweights. His only losses have come to good heavyweights. His ground game is right up there, and on occasions, his stand up can be incredibly dangerous. His opponent, Oliveira, is a Brazilian Jiu-Jitsu black belt who hits hard. The winners of the opening fights would make a great matchup which could once again push a fighter up the ladder.

*I couldn't fit all four names in the title, hence the use of last names.
Winner of Pat Barry vs Christian Morecraft vs. Phil De Fries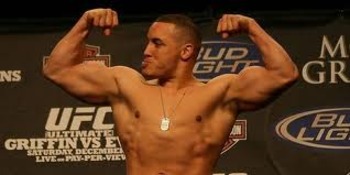 Source:http://www.google.com/imgres?um=1&hl=en&sa=N&biw=1280&bih=667&tbm=isch&tbnid=NgYtam7tXcwpTM:&imgrefurl=http://www.fighters.com/07/10/pat-barrys-latest-interview-honest-open-and-very-awesome&docid=n44DbqK3ObUG4M&imgurl=http://www.fighters.com/wp-content/uploads/_cI82G.jpg&w=600&h=300&ei=EiHxTrHwPITW8QOkx_GbAQ&zoom=1&iact=rc&dur=181&sig=107105758060653382555&page=1&tbnh=131&tbnw=170&start=0&ndsp=18&ved=1t:429,r:1,s:0&tx=23&ty=95
Pat Barry vs Christian Morecraft is probably two guys fighting for their jobs, but the two guys are well liked by fans, so I don't think Dana would keep them down the card.The winner of this would get to fight highly-rated unbeaten prospect Philip De Fries.

Phil De Fries is rated as one of the best heavyweight grapplers around, and either of these men would really be able to test his stand up and whether he is ready to make a step up in his next fight. A win for Barry/Morecraft would be good for the UFC, as the two fighters have good fan followings. So it really would be a win-win for the UFC
Loser of Nelson vs Werdum vs. Loser of Kongo vs Hunt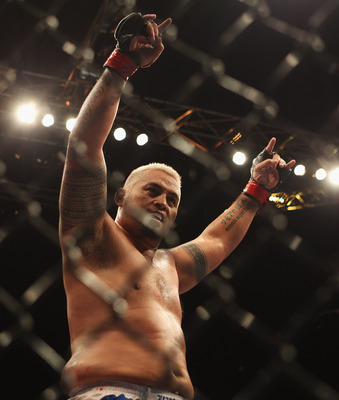 Mark Hunt is usually in good fights.
Mark Kolbe/Getty Images
This would provide an intriguing comeback fight for two highly-rated fighters coming off losses. A win in this fight would mean that the fighter doesn't drop down too far down the rankings. However, a loss for one fighter would probably send them back down the card with the potential of losing their job.

The fight would be an easy one to put on the lower part of a main card due to the fact that all the fighters have credible names and records. The fight is also very good stylistically and would depend on which fighter could draw the other into their type of fight.
Loser of John Olav Einemo vs Mike Russow V Ben Rothwell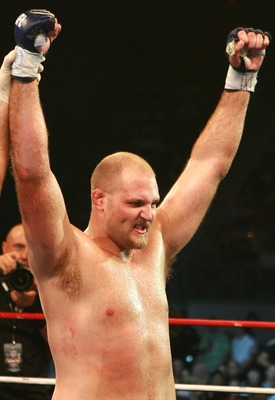 Ben Rothwell was one of the stars of the IFL.
Doug Benc/Getty Images
Ben Rothwell has a 1-2 record in the UFC and is perhaps fighting for his job, with his only win not being impressive enough to get away with losses like Dan Hardy. Mike Russow is rated by many as one of the top heavyweight prospects, but two losses in these fights would leave him fired. If Einemo was in this fight, his UFC record would be 0-2. However, Einemo is an exciting fighter and Norwegian, giving him an edge due to his marketability.

A fight against Russow or Einemo is a winnable fight where whoever loses will probably be fired. The winner keeps his job in the UFC, but would probably be a lower-card fighter unless he is a constantly in exciting fights. As the slides show, there are lots of UFC fighters who will be in a similar positions, so the possibility for matchups in the future is endless.
Rob Broughton V Oli Thomspon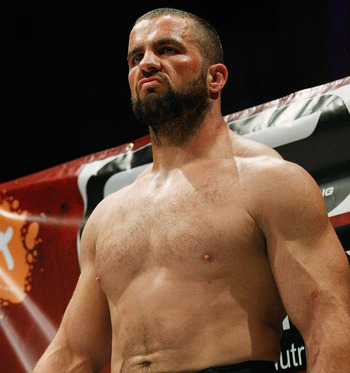 Oli Thompson is yet to fight in the UFC.
Jeremy O'Donnell/Getty Images
A match that I could really imagine being on the lower card on a UFC in England card. A rematch from their time in the ZT fight night heavyweight tournament between two Englishmen is the kind of fight the UFC usually puts on in England. If the fight won't wait, then it belongs on prelims, with the potential of a knockout drawing interest.
For Broughton, it is probably his last chance to extend his stay in the UFC. He has lost two in a row, and being British can't keep him in the UFC for much longer.

Rob Broughton is a very well-rounded heavyweight. Broughton has won five fights by submission and seven by knockout. Oli Thompson is a former British strongman who seems equally well versed at finishing by submission or knockout. The match between the two English heavyweights is an intriguing one with possible consequences for the loser.
Winner of Joey Beltran vs Lavar Johnson vs. Loser of Dave Herman vs Stefan Struve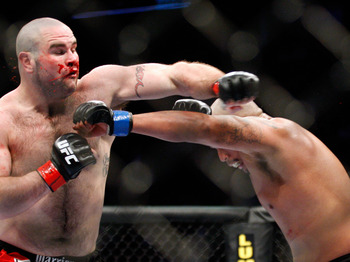 Joe Rogan stated Beltran"May just have the best chin in the heavyweight division".
Richard Wolowicz/Getty Images
All three of these fighters are people that Dana White would look to keep with the company for as long as possible. Dave Herman and Stefan Struve have both only had one fight go to a decision. Joey Beltran is often known as one of the most durable heavyweights willing to stand and trade with anyone. Lavar Johnson coming over from Strikeforce has never been to a decision in his fight career, so expect fireworks in a matchup between any two of the four.

Realistically Dana will be wanting to keep these fighters on main cards, so it would probably take a boring fight for the loser to be completely dropped. If the pair can provide a Fight of the Night, I don't either fighter will be fired.
Loser of Browne vs Griggs vs. Loser of Gonzaga vs Oliviera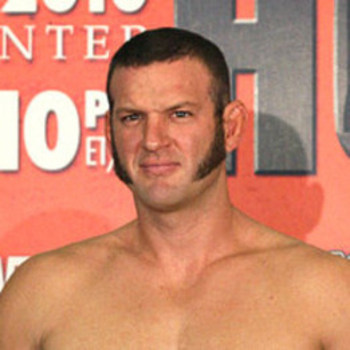 http://www.google.com/imgres?um=1&hl=en&sa=N&biw=1280&bih=667&tbm=isch&tbnid=iMT7bfV472houM:&imgrefurl=http://mmavalor.com/2011/06/19/streaking-chad-griggs-defeats-valentijn-overeem/&docid=KJzwh5ktwqmCnM&imgurl=http://mmavalor.com/wp-content/uploads/2011/02/ChadGriggs.jpg&w=261&h=261&ei=TTj2TorYLtKb8gOIk5S6AQ&zoom=1&iact=rc&dur=216&sig=107105758060653382555&page=1&tbnh=141&tbnw=188&start=0&ndsp=16&ved=1t:429,r:1,s:0&tx=119&ty=75
It would be an interesting fight to see the two losers of competitive fights take each other on. Chad Griggs and Travis Browne are both fighters who have no losses on their record, while both Gonzaga and Oliveira are both impressive strikers with Brazilian Jiu-Jitsu backgrounds.

The fight would likely make up the top tier of the prelims considering it is a heavyweight fight likely to carry interest.
Sacked List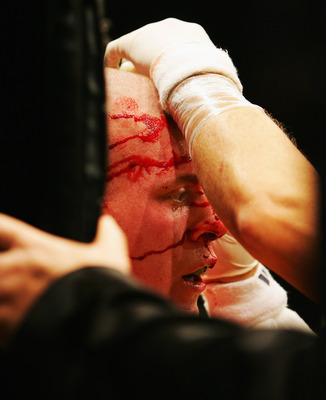 Rob Broughton needs to win his next UFC fight.
Daniel Berehulak/Getty Images
Loser of Joey Beltran vs Lavar Johnson
Whoever loses this fight, especially Johnson, will probably be sacked by the UFC. Johnson has three losses in a row with Strikeforce, and a fourth will be the final straw. Joey Beltran is 1-3 in his last four fights, and another loss will probably be too much to keep his job.

Loser of Oli Thompson vs Rob Broughton
Rob Broughton has two UFC losses in a row, while Oli Thompson has yet to fight in the UFC. The loser is not good enough to remain in the UFC.
Keep Reading