35 Games That Will Have Biggest Impacts on March Madness Top Seeds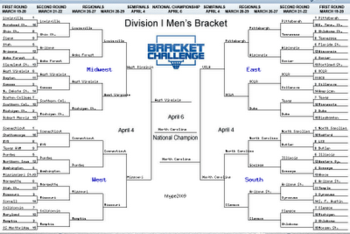 The body of work each college basketball program works to build creates seeding scenarios and matchups that help make March Madness what it is today, one of the greatest spectacles in American sports.
Each program receives a schedule early on, and each game becomes a road map to where they are in March come tournament time.
There are a few programs who have an internal goal of obtaining one of four No. 1 seeds. To achieve that goal, the team pretty much needs to be a conference champion, or at the very least built an incredible body of work to get them to that point.
The following slides include 35 games that will either tumble a programs body of work, or propel a team to the top seed conversation come March. Please note, this post is written based upon the body of work that has already completed up to this point, and only included slides of games which haven't been played yet.
Dec. 28; Georgetown at Louisville, 7:00 P.M.
The Georgetown Hoyas have impressed for their first nine games, posting an 8-1 record with their only loss a close 67-63 loss to the No. 12 Kansas Jayhawks in Maui. Georgetown is currently ranked 16th in the AP Top 25.
Georgetown will have their chance to not only solidify their place in the No. 1 seed conversations, but also to put Louisville in a mess if the Hoyas find a way win this game at Louisville.
Dec. 31; Louisville at Kentucky, 12:00 P.M.
What a way to end the year, this should be a dog fight. The No. 4 Louisville Cardinals travel to Lexington to play the No. 3 Kentucky Wildcats.
In last year's epic battle, Kentucky went into Louisville and ripped the Cardinals 78-63 behind inspired play by then senior Josh Harrellson and guard Brandon Knight.
This is one of two must see games for the final day of 2011, and let's hope it is a better game than last year's game. The outcome of this game should be in the No. 1 seed conversation.
Dec. 31; Ohio State at Indiana, 6:00 P.M.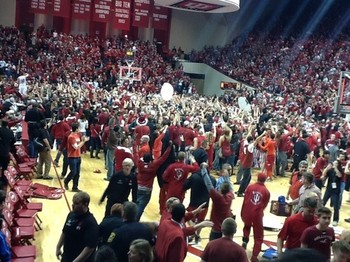 What a difference a year makes. In 2010-11, Indiana University fielded a men's basketball team that finished 12-20 overall, and placed dead last in the Big 10 with a 3-15 record.
After knocking off no. 1 ranked Kentucky 73-72, the Hoosiers are sitting 9-0 and are ranked 18th in the AP Top 25.
On Dec. 28, Indiana will travel to Michigan State to play a gritty and tough Spartan team, and that game might have some impact on how this game plays out. If the Hoosiers can find a way to beat the Spartans, then knock off the Buckeyes, Indiana should be 14-0 heading into another tough game against No. 18 Michigan. That three-game stretch will be a make or break stretch for the Hoosiers.
Jan. 4; Marquette at Georgetown, 6:00 P.M.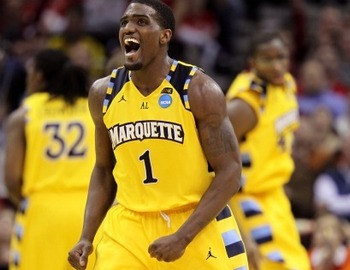 With both Marquette and Georgetown currently ranked in the top 25 in the AP poll, this should be a Big East battle to keep an eye on.
This will be the first of many games for Marquette to show not only the country, but the NCAA committee, that the Marquette Golden Eagles belong in the conversation for No. 1 seeds.
Keep an eye on Marquette senior guard Darius Johnson-Odom, who is currently averaging 18.8 points per game.
Jan. 10; Ohio State at Illinois, 9:00 P.M.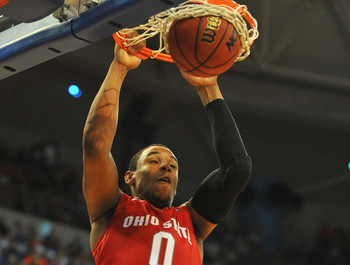 The Illinois Fighting Illini have cruised to a 10-0 record and to a No. 19 ranking in the AP Top 25. The highlight of the early season schedule for Illinois has been an 82-75 win against Gonzaga, who at the time was a Top 25 team.
Illinois will have a chance to knock off Jared Sullinger and Big Ten powerhouse Ohio State. This is a prime time matchup and can be seen on ESPN.
Jan. 14; North Carolina at Florida State, 2:00 P.M.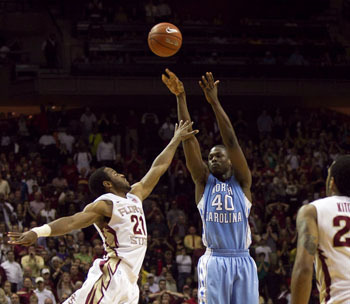 During the 2011 matchup between these teams in the Donald L. Tucker Center, North Carolina freshman forward Harrison Barnes buried the Seminoles with a clear out three-pointer during the last seconds of the game, lifting the Tar Heels to a 72-70 win.
With losses to UNLV and Kentucky, the Tar Heels have placed themselves in a bit of a hole as far as early season No. 1 seed conversations go, so to keep up with the powerhouse teams, this becomes a game that North Carolina will need to win in order to stay in that conversation.
Florida State will get their opportunity to avenge last season's heart breaking loss, and put UNC deeper in the hole. This should be a great game.
Jan. 14; Pittsburgh at Marquette, 7:00 P.M.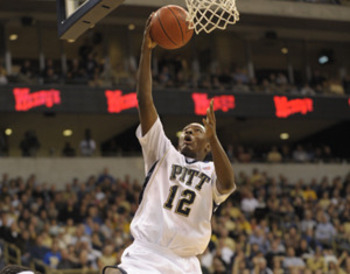 Big East basketball has got to be the funnest conference to watch. These teams battle each other with everything they have, in what seems like every game. The game between Pittsburgh and Marquette in the Bradley Center say a lot about which of these teams might be in the conversation for a No. 1 seed in the NCAA Tournament.
Senior guard Ashton Gibbs could have a huge impact for Pitt. Gibbs is currently averaging 18.7 points per game and shooting 42 percent from three-point land.
Jan. 16; Pitt at Syracuse, 7:30 P.M.
Syracuse basketball always seems to have something to do with how No. 1 seeds play out, whether they are making runs at No. 1 seeds, or knocking off potential No. 1 seeds.
Jim Boeheim has the Orange playing well, and currently find themselves as the No. 1 ranked team in the country posting a 10-0 record.
As the Big East gets into conference play, this matchup should offer us a game which equals a heavyweight boxing match.
Jan. 21; Louisville at Pittsburgh, 9:00 P.M.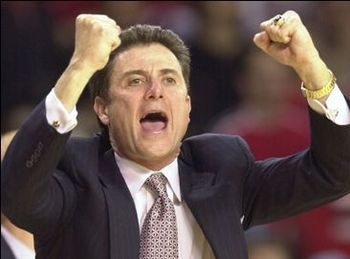 More Big East basketball. Just can't get enough. This should be a huge Big East battle and a must see. Rick Pitino will have to get his Cardinal team ready for a dog fight.
Feb. 1; Connecticut at Georgetown, 7:00 P.M.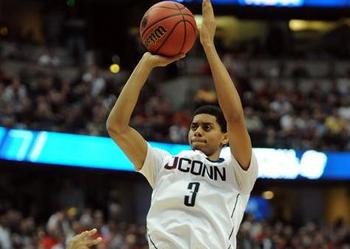 The defending champion Connecticut Huskies travel to the Verizon Canter in Washington D.C. to play guest to the Hoyas of Georgetown University.
This no doubt should be an awesome Big East battle with a ton of importance.
Feb. 4; Ohio State at Wisconsin, 2:00 P.M.
Senior guard Jordan Taylor will be looking to lead the Badgers to a big win as they host Ohio State. Wisconsin has jumped out to a 10-2 record, losing close games to North Carolina and Marquette. A win here might put Wisconsin back into the No. 1 seed conversations, and may put the Badgers in gear to contend for the Big Ten title.
Feb. 4; Kansas at Missouri, 7:00 P.M.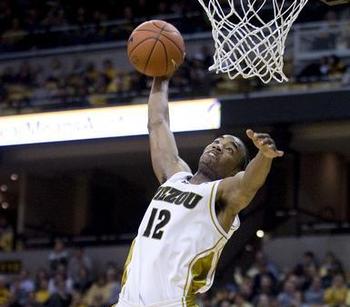 How fun is this game going to be? Missouri has one of the highest scoring teams in the nation, and may need all of that firepower to finish off a high flying Kansas squad that can bring it on the offensive end as well.
Senior guard Marcus Denmon has been amazing early on for the Tigers. Denmon is currently averaging 21.3 points per game, and shooting 49 percent from three-point land.
A win here could propel Missouri to a strong year in the Big 12.
Feb. 6; Connecticut at Louisville, 7:00 P.M.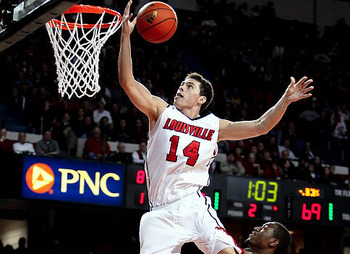 Louisville senior guard Kyle Kuric will need to bring it and then some for this key home game against the Huskies. A must see early Big East throw-down.
Feb. 7; Florida at Kentucky, 7:00 P.M.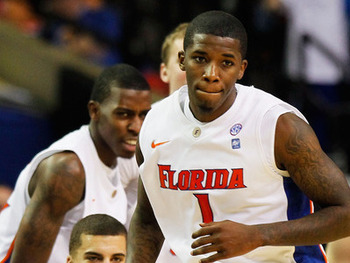 This should be a crazy SEC battle. The Florida Gators are currently the third best scoring team in the country, averaging 86.8 points per game. They will travel to Lexington to play national powerhouse Kentucky in a key game.
Kentucky will likely have to deal with junior guard Kenny Boynton, who leads the Gators with an average of 18.7 points per game, and shooting close to 48 percent from outside the arc.
Feb. 8; Georgetown at Syracuse, 7:00 P.M.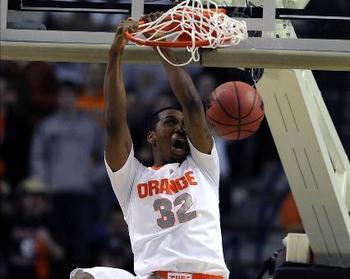 Syracuse will host a pivotal game against the Hoyas of Georgetown University. This will be the first of an awesome double header on this night, the second of which will bring us to the next slide.
Senior forward Kris Joseph could be a handful for the Hoyas to deal with. Joseph is currently averaging 13.7 points per game for Syracuse.
Feb. 8; Duke at North Carolina, 9:00 P.M.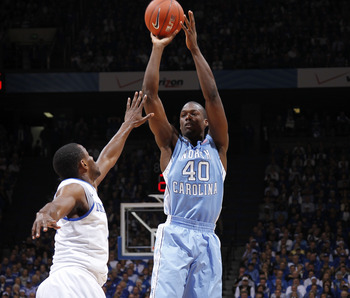 Joe Robbins/Getty Images
The Blue Devils of Duke will travel the eight miles necessary to Chapel Hill to play guest to the Tar Heels of North Carolina. Many claim the rivalry between the Tar Heels and Blue Devils is the best in college basketball.
Sophomore forward Harrison Barnes will likely bring his "A" game, and likely will need it. Barnes is currently averaging 17.5 points per game, and shooting 51 percent from three-point range this season.
Feb. 11; Connecticut at Syracuse, 1:00 P.M.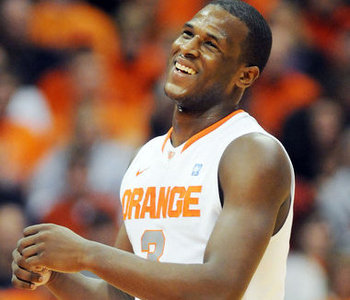 Sophomore guard Dion Waiters will need to have a big game as the Orange hosts UConn in a big time Big East battle. Waiters is currently averaging 11.9 points per game.
In my opinion, this will be a huge game for both teams, and if you have very little to do on Feb. 11, you may want to make time to see this game.
Feb. 13; Syracuse at Louisville, 7:00 P.M.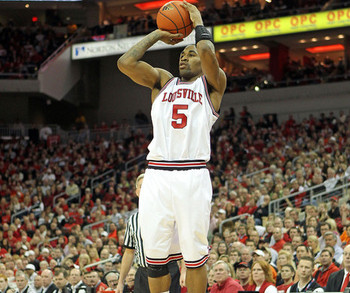 The night before Valentine's Day could provide many thrills as Louisville plays host to Syracuse in a big time Big East battle.
Senior guard Chris Smith will likely play a pivotal part in the outcome of this game. Smith is currently averaging 10.6 points per game for the Cardinals.
Feb. 13; Kansas at Kansas State, 9:00 P.M.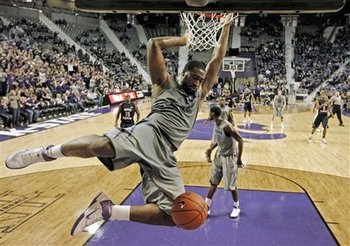 Let's be clear here....it does not matter how good or bad either team will be at this point, I believe this will be a great basketball game.
The Kansas State Wildcats will play host to the Jayhawks of Kansas, and this is a must see Big 12 matchup.
Freshman forward Thomas Gipson will likely bring his best. Gipson is currently averaging 18.0 points per game and 8.1 rebounds per game for the Wildcats.
Feb. 18; Marquette at Connecticut, 12:00 P.M.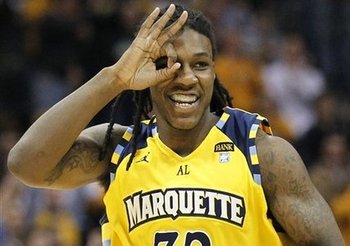 Feb. 18 is a huge day for college basketball. Get vacation, call in sick, send your spouse out of town, just do whatever you have to do to free up your calendar for this date.
This is the first key match up of the day. Marquette travels to play the defending national champions. UConn should be hyped up for this epic Big East game, but they may have their hands full as they look to shut down Marquette senior forward Jae Crowder. Crowder is currently averaging 17.4 points per game and 6.7 rebounds per game.
Feb. 18; Missouri at Texas A&M, 1:00 P.M.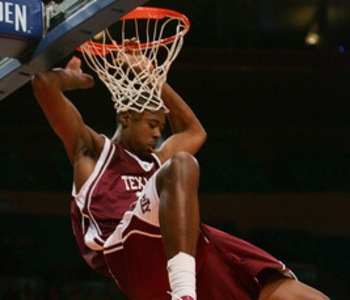 The Aggies of Texas A&M have sprinted out to an 8-1 record, and are currently ranked No. 22 in the AP Top 25 poll.
They will play host to a dangerous Missouri team who many believe will be the 2011-12 Big 12 Champions.
Missouri may have a hard time dealing with junior forward Ray Turner, who is currently averaging 13.0 points and 6.3 rebounds per game.
Feb. 18; Kansas at Baylor, 6:00 P.M.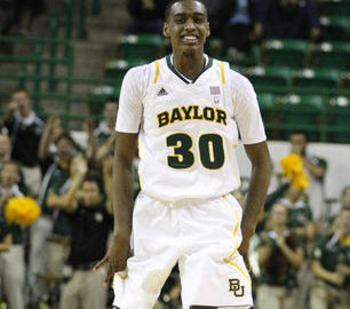 After a 7-0 start to the season, the Baylor Bears have rocketed their way to a No. 6 ranking in the AP Top 25. For Baylor to really be considered for a No. 1 seed, they need to win this home game against the Jayhawks.
Freshman forward Quincy Miller may be the key for Baylor. Miller is currently averaging 12.3 points and 5.6 rebounds per game.
Feb. 18; Ohio State at Michigan, 9:00 P.M.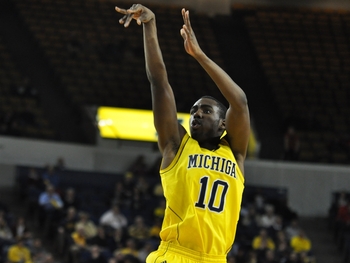 The Wolverines of Michigan came within a basket of sending Duke home early in Duke's backyard of Charlotte during the 2011 NCAA Tournament.
Michigan now needs to back up last year's run, and there is no better way to do it then to knock off Big Ten powerhouse Ohio State.
The Buckeyes will more than likely have their hands full with sophomore guard Tim Hardaway Jr., who is currently averaging 15.6 points per game.
Feb. 21; Kentucky at Mississippi State, 9:00 P.M.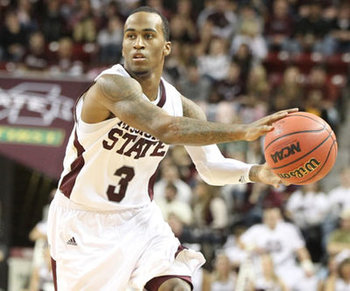 For the Bulldogs of Mississippi State to be taken seriously nationally, a win here would be special.
Senior guard Dee Bost has been a beast for the Bulldogs and will likely need a big game to dispose of the Wildcats. Bost is currently averaging 18.5 points and 4.5 assists per game.
Feb. 22; Kansas at Texas A&M, 9:00 P.M.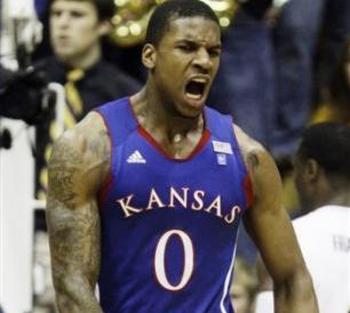 Junior forward Thomas Robinson could be the guy that carries Kansas deep into the NCAA tournament. Robinson is currently averaging 17.8 points and 11.4 rebounds per game.
Getting a win here on the road would be huge for the Jayhawks.
Feb. 23; Duke at Florida State, 7:00 P.M.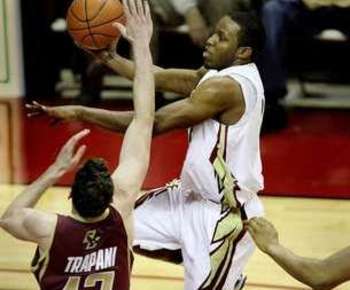 Florida State has become one of the better ACC programs the last couple years. Some might think this could be an easy win for the Blue Devils, but I would not be surprised if FSU gives Duke one heck of a game here.
Junior guard Michael Snaer will need a great game to put Duke away. Snaer currently averages 13.3 points per game.
Feb. 25; Missouri at Kansas, 3:00 P.M.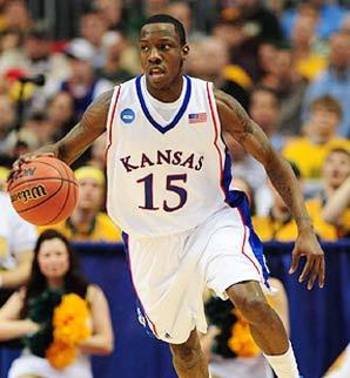 The Tigers of Missouri will have a chance here to deliver a huge blow to Kansas' No. 1 chances, as well as propelling their own chances at a No. 1.
They will have to shut down a very good player however, senior guard Tyshawn Taylor is averaging 15.9 points per game so far.
Feb. 25; North Carolina at Virginia, 4:00 P.M.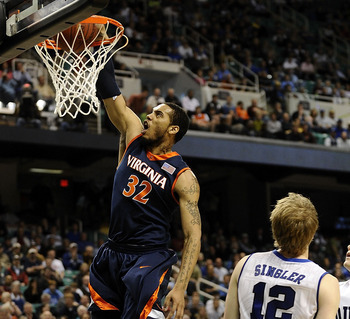 This has the potential to be a very close game as the Tar Heels of UNC travel to Charlottesville for a big time ACC matchup.
The Cavaliers of Virginia will need a big game from senior forward Mike Scott, who is currently averaging 15.3 points per game.
Feb. 25; Syracuse at Connecticut, 9:00 P.M.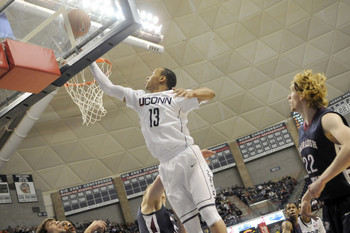 What a way to top off a great day of college basketball. These two teams should be in Big East fighting mode, and both should come out swinging early.
Sophomore guard Shabazz Napier will likely have something to say about the outcome in this battle. Napier is averaging 15.9 points per game and making 42 percent of his three-point attempts.
Feb. 26; Pitt at Louisville, 2:00 P.M.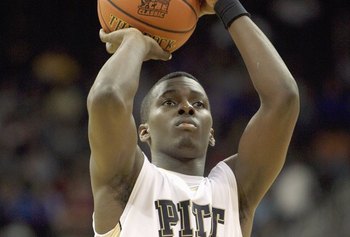 A late Big East showdown. This game has exhilaration written all over it. At this point in the year, both of these teams may be fighting for top seeding for the Big East Tournament, as well as top seeding in the NCAA's.
Junior guard Travon Woodall should be back at full strength by the time this game tips off. Woodall is currently out with an abdomen tear. Before his injury, Woodall was averaging 14.1 points and 8.3 assists per game, as well as converting 46 percent from three-point land.
Feb. 28; Xavier at Saint Louis, 9:00 P.M.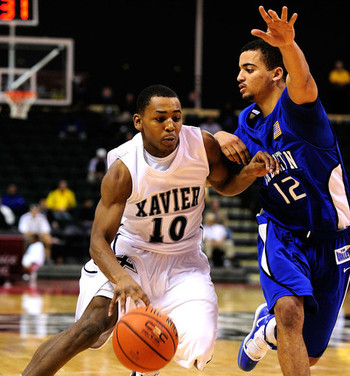 This could be the one that bites Xavier and leaves them out of the conversation. Saint Louis is a really good basketball team, and will be psyched up at the chance to ruin Xavier's season.
Junior guard Mark Lyons is turning into a star for the Musketeers. Lyons is currently averaging 17.4 points per game and hitting 43 percent of his three-pointers.
March 3; Pitt at Connecticut, 12:00 P.M.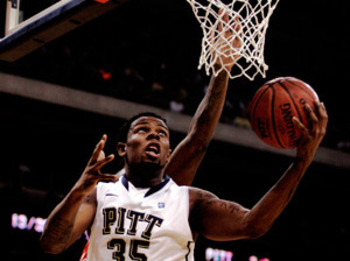 Pitt at UConn should be a war from start to finish. A must see for early March, both teams may end up with must wins here to stay in the No. 1 seed conversation.
Senior forward Nasir Robinson could be the difference in this one. Robinson is averaging 14.0 points and 6.2 rebounds per game.
March 3; Louisville at Syracuse, 4:00 P.M.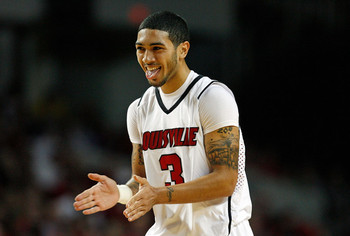 From one Big East to another, this battle of inner conference powerhouses could be just what we need to get psyched up for March Madness.
Junior guard Peyton Siva is the spark plug for the Cardinals, and could be a handful for the Orange to handle.
March 3; North Carolina at Duke, 7:00 P.M.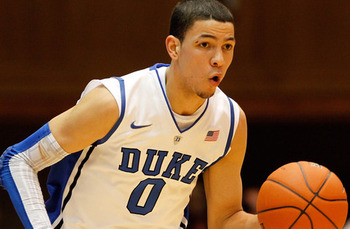 This could be the battle for top seed in the ACC Tournament, as well as a battle for a No. 1 seeding in the NCAA Tournament. How could you not love watching North Carolina and Duke?
Freshman guard Austin Rivers may be too much for the Heels to handle. Rivers is averaging 15.8 percent and hitting 42 percent of his three-point attempts.
March 4; Kentucky at Florida, 12:00 P.M.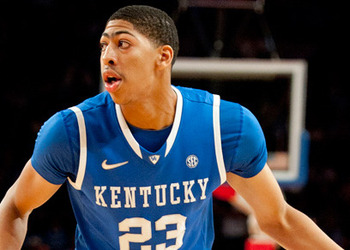 While most might think Florida will get throttled here, I disagree. The Gators should be ready to pull the upset, especially if winning this game gives them a chance at winning the SEC title.
But the Gators will have to deal with a beast of a basketball player. Freshman forward Anthony Davis is a banger. David is currently averaging 11.6 points and 9.1 rebounds per game.
Summary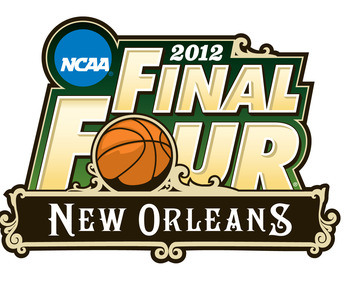 There are many more games that were considered, but we have to limit this somewhere, and 35 seems to be a good number.
The rivalries listed throughout this piece are some of the best rivalries in sports. This should be a fun race to New Orleans.
Keep Reading