Barack Obama Army-Navy Game: The President Is at the Big Game
December 10, 2011
Alex Wong/Getty Images
One thing that people around the nation have loved about president Obama is the fact that he is a sports fan and has never tried to hide that. Throughout his term in office, Obama has been seen at various sporting events, soaking in the atmosphere and enjoying himself like any other fan.
With today's game between Army and Navy for the Commander-in-Chief's trophy, Obama being in attendance was a certainty, and it was recognized before the start of the game. The president also joined Verne Lundquist and Gary Danielson in the CBS broadcast booth for a portion of the game.
Both Army and Navy are going at it today knowing that a bowl game is not next up on the schedule. Last year, both Army and Navy found a way to become bowl eligible, but this year the only service academy program going to a bowl game is the Air Force.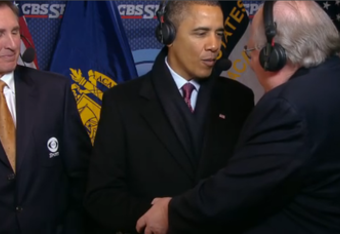 Despite that understanding, Army and Navy didn't need extra motivation to get ready for this game. However, knowing that this was the final game of the season undoubtedly provided them with an extra boost.
Both teams are wearing new Nike Pro Combat uniforms, which may have given them even more excitement for today's game.