NFL: Solving the Concussion Issue
December 10, 2011
Justin K. Aller/Getty Images
During the fourth quarter of the Browns vs. Steelers game on NFL Network, James Harrison has once again thrust the issue of concussions to the forefront of every newspaper, sports program, and right here on Bleacher Report.
Though this article is not simply to say if James Harrison was within the rules by hitting Browns quarter back Colt McCoy the way he did. That is for another discussion in another article.
This article is to show what, if anything, can be done in the NFL about concussions.
To look at the NFL, this is the top level of football on the planet. It is the ONLY sport in the world that America has the hands down, no competition best athletes in the world participating in. Every other sport has players from other countries that are every bit as good as Americans in them. Not so in the NFL.
Football is more than simply a sport that is played. In many cases, it is a way of life.
Children that are born in Pittsburgh are covered with a Terrible Towel in their nursery.  Families skip church on Sundays when they have an early game.  The Super Bowl is the most watched program on TV.  The NFL draft had higher ratings than the NBA playoffs, and a regular season NFL game in 2010 between the Steelers and Saints had higher ratings than the World Series on the same night.
Football is America's pastime.  Sorry, baseball.
Because of concussions this season and the NFL rules to avoid them, the NFL is trying to do their best, at least in the public eye, to make the world (believe) that they care more about a player's health than they do about the game.
The fact is, when you have 11 men on a field facing another 11 men, and all of them are wearing shoulder pads and helmets, and the first 11 are trying to move a ball where the other 11 are standing and trying to stop them, you are going to have people hitting each other. HARD.
Now, add to this that at least nine of these men (five offensive linemen and four defensive linemen) weigh more than 300 pounds.  Then, you have the linebackers, tight ends and full backs (six more men) that weigh in excess of 250 pounds.
Now, to make matters even more dramatic, all of these men not only work out for a living, but the better they are, and the harder they hit, drastically effects the amount of money they are going to make by being on this field.
What this is basically is a recipe for destruction. And Americans LOVE it.
The problem lies in the safety of these men. The NFL has made a rule that regardless of what a player says, if the team doctor believes that there is even a chance that the player has received a concussion, they are to be taken out of the game, and not permitted to play or practice until an independent neurologist says that their heads are OK to play.
Why would the NFL HAVE to make this rule? Because a player is NOT going to sit out of a game, and not be there for his teammates when the game is on the line.
The NFL says that this rule is basically to protect the players from themselves.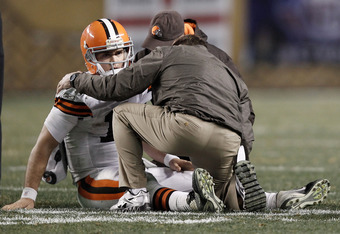 Jared Wickerham/Getty Images
There is NO solution to the concussion issues in the NFL.  As long as you have grown men that are willing to put their bodies on the line to play this game, concussions are going to happen. Nothing is going to stop it.
Instead of trying to mandate the rules of players hitting other players, which is nearly impossible if you look at the speed of the games today, allow the games to go on as they are.
Instead of trying to protect players from themselves, teach them exactly what they are headed for, so that if they decide to play the game of football, they UNDERSTAND exactly what COULD happen to them.
Prior to submitting for the NFL Draft, every player must take a four hour course where it is explained to them exactly what happens to the human body when they play in the NFL and what can happen to them if they play a long careers (issues that result in concussions, broken necks, broken backs, torn up knees, destroyed ankles).
By playing the game of football, their is a chance they will be paralyzed.
It is a harsh but realistic statement.
At the conclusion of the class, every player must then write, in their own words, that they understand the risks involved in putting on the helmet and shoulder pads. They understand they may get concussions and what could result in those concussions later in life.
Then they must sign this paper in front of a Judge, so that there is no disputing that the player understands the risks that are involved.
At that point, let them play football.
Look at NASCAR. These men are in automobiles that are not legal to be driven on the streets of America. They drive in a big circle at nearly 200 MPH. And though there is every precaution to protect these men from injury, it does not change the fact that their lives are in danger every time they get behind the wheel of their car.
And what do most fans watch the races for? That's right, the accidents.
Is there anyone that is trying to reduce the speed of these cars?  What happens when you drive 200 MPH and hit a wall?
Same with football. Every snap could be the last snap of a career. Broken necks, severe concussions, and every single issue that has been discussed has the potential to happen on every single snap of a football.
Football is an amazing game that all of us love to watch. If the players are willing to put their bodies at risk for the paycheck they collect, who are we to say they can't?
Yes, make the game as safe as possible with that advancements in technology, try to prevent unnecessary injuries, and try to prolong a player's career.
Try to make helmets that will prevent concussions.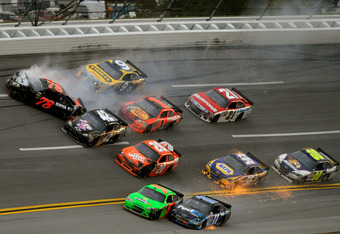 Jared C. Tilton/Getty Images
Make players wear flack jackets, so they don't get punctured lungs.
Make players wear neck rolls, in order to help prevent neck injuries.
Make players wear thigh and knee pads to help leg issues.
But to try to tell a player while playing at top speed where he can hit another player is virtually impossible. These men are taught since they were as young as five years old how to play the game of football.
They are taught to hit the other person on the other team as hard as they possibly can. They are glorified for winning, and are sad when they lose.
They are taught to protect themselves as best as they can. But at the end of the day, it still only takes ONE snap to end it all.
Stop mandating that you can hit a player here, but not here.  When a penalty isn't called the first time a player is hit in the face but in the next game a hit that barely happens is called, it makes the league seem unfair.
Let the game be played the way it was intended to be played. Hard, fast, full speed, and let the best team win.
If the players are willing to put it all on the line, shouldn't we just enjoy the game they are playing?