New England Patriots: Jermaine Cunningham Another Misfire for Pats' Draft Scheme
December 10, 2011
Jonathan Daniel/Getty Images
On the morning of Saturday, Dec. 10, there was the news, for everyone to see. Jermaine Cunningham, hamstring injury. Injured reserve. Out for the season.
It's just for this season, but this has a "last straw" feel to it. Cunningham just isn't working out. Sadly, for the Patriots' sake, he's not alone.
Cunningham joins a list of recent New England draft busts that, for a team consistently in playoff contention and Super Bowl consideration, is long and expansive. Between 2006 and 2010, the Patriots drafted 50 players, and only 17 are still on the team. Of those 17, some, like Ron Brace and Brandon Spikes, have been dogged by inconsistency and ineffectiveness.
And, of course, there's Cunningham, whose trip to injured reserve to make room for a former UFL lineman in Eric Moore is just the latest step in a steep downward spiral for the former Florida defensive end.
This isn't the way it was supposed to go for Cunningham. The second-round pick in 2010 was brought in to address the glaring lack of a pass rush and contribute as an edge rusher in Bill Belichick's traditional 3-4 scheme. There were plenty of reasons to like Cunningham's skill set, and the New England coaches agreed, as he played over 50 percent of the defensive snaps in his rookie season.
The Patriots switched to more 4-3 defensive looks before this season, however, and Cunningham, despite his experience as a defensive end at Florida, wasn't able to adjust. Healthy scratches and special teams work defined this supposed "breakout" season that came to a disappointing end with the one-way ticket to IR.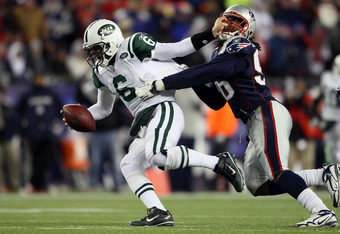 Elsa/Getty Images
Cunningham's fall says a lot about the player, but it also serves as another black eye for Belichick's drafting strategy. As "de facto" general manager for the Patriots, Belichick has drafted with a plan of frequent trade outs and trade downs, preferring to surround himself with a load of cheaper late-round picks, rather than fewer (albeit more assured) high-round selections.
Cunningham's situation is an example of the risk of such a procedure. In 2009, the Patriots were lined up perfectly to take Clay Matthews, who would have been the answer to New England's pass-rushing woes.
Instead, they traded the pick for a second-rounder and two thirds, a move that led to two follow-up trades that resulted in only one starter (Rob Gronkowski in 2010, who could have been picked anyway had New England stuck to its picks).
Meanwhile, with the pass rush still unresolved (as 2009 third-round pick Tyrone McKenzie fizzled), the Patriots tried to make up for passing on Matthews by, again, taking the value route. Cunningham was the choice, and the pass rush, which ranks 17th in the league in sacks, remains unreliable to this day.
Belichick's draft strategy has had its successes recently, as tight ends Gronkowski and Aaron Hernandez (fourth round) have been steals and 2010 Defensive Rookie of the Year runner-up Devin McCourty came via a twice-traded-down first-round pick.
But the failures have outweighed the successes, and forced Belichick into a situation in which he's had to re-make a defense on the fly, with street free agents filling the holes that should have been occupied by solid draft picks.
On Sunday in Washington, one of those free agents, Moore, will be in the rotation at defensive end. It's a spot that used to involve Cunningham. He didn't pan out. It's a tune that Belichick has gotten tired of hearing over the years.