Breaking Down Insane Air Jordan XI Wedding Cake
December 10, 2011
Ever find your Jordans looking so great, you wish you could eat them?
A bride and groom are about to act on that outlandish urge, as cake decorator Sandia Horng takes on the task of making a replica of the Jordan XIs.
Let's dive into this culinary masterpiece to see how it grades out.

Design: 10 out of 10
This cake is ridiculous in all the right ways. Upon first glance, it's hard to tell that it's a cake at all. The Jordan XIs themselves are awesome, and Horng's replica looks accurate.
The incredible accuracy of the cake is uncanny. Everything is in its place and not even the smallest details were overlooked. The effort to get the little things in the shoe right makes a huge difference here.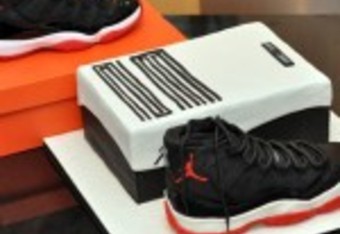 Practicality: 5 out of 10
How do you cut into this bad boy? It may not be the most practical of cakes, but it's clear that the bride and groom don't care in the slightest.
They wanted their cake to be awesome, and it is. The fact that uncle Bob is going to be thrown off a bit while he tries to divide the portions is a non-factor here.
Originality: 10 out of 10
I've eaten my fair share of wedding cakes before. I've had wedding cakes that were delicious, wedding cakes that sucked and wedding cakes in multiple colors, but never have I seen anything like this.
They aren't the first couple to put a creative spin on their cake, but this is something different and new that was surely a huge hit at the wedding itself.