Saints vs. Titans: Why New Orleans' Big Play Ability Will Overpower Tennessee
December 10, 2011
Stacy Revere/Getty Images
In Week 14 the Saints will travel to play the Tennessee Titans. The focus on this game for the Saints will be to make sure that they do not underestimate this Titans team. However, that should not be a problem for these New Orleans Saints. This team is loaded, and their big-play ability will just be too much for the Titans to handle.
It all starts with Drew Brees and the offensive line. How these six players perform is crucial to the outcome of the game. I am not sure if I have ever seen an offensive line play better than this group has the past couple of weeks, and we all know the type of year Brees is having. These guys should combine to make Sunday's game easy. Their big-play potential is enormous and the Titans will not be able to stop it.
It is not as if the Saints only have one or two guys who can hurt the Titans deep—they have seven. The Saints have seven players who have caught at least one pass for 20 yards or more. Two of those players are running backs Darren Sproles and Pierre Thomas. These two guys have also combined for eight runs that have gone for 20 or more yards. This Saints offensive is simply explosive.
Tight end Jimmy Graham is tied for sixth in the league with 16 catches for more than 20 yards. Graham, Robert Meachem, Devery Henderson, Marques Colston, Lance Moore and Thomas have all caught balls that went for more than 40 yards as well. Any player on this Saints offense can hurt the opposing defense, and the Titans better know that coming into Sunday's game.
The Titans come into Week 14 with the 18th-ranked passing defense and 21st-ranked rushing defense. I cannot imagine that this will be enough to stop the Saints. The Titans' only hope is to run the ball well and keep Brees and the Saints offense off of the field. Even then, that may not be enough.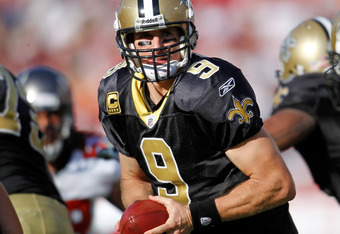 J. Meric/Getty Images
The lowest amount of points that the Saints have scored all year was 20 in a Week 6 loss at Tampa Bay. That is only one point less than the Titans' average points scored in 2011. The Titans will come into Sunday ranked 21st in the league in scoring, averaging almost 21 points per game. However, the Saints are averaging nearly 33 points a game, good enough for second in the NFL.
Even if the Titans manage to give Brees and the Saints a small amount of chances to score, they better stop them from scoring every time. It looks like the Saints may only need three or four touchdowns to win this week's game. 
The Saints can score on teams in pretty much every way imaginable. They have scored throwing the ball all year and the big-play threat is always something defenses have to be careful of. Brees has hit receivers for touchdowns of 79 yards, 67 yards, 38 yards, 35 yards and 31 yards this year. The Saints can get a big play out of their wide receivers, running backs and tight ends.
Heck, Sproles even returned a punt 72 yards for a touchdown this year. The defense has added two more touchdowns on the year. The Saints live and breathe off of big plays, and that will be no different on Sunday. 
In 2011, the Saints have had 50 passes go for more than 20 yards, eight passes for more than 40 yards and 11 runs go for more than 20 yards. It is nearly every week that Brees hits Meachem, Henderson or Graham deep, or Sproles bursts through a hole for 30 yards. 
This offense may even be better than the one we saw in 2009. Now all the Tennessee Titans have to do is stop them. I'm sure Brees and company will have something to say about that come game time.