David Stern's Power Abuse: Why He Shouldn't Mess with What Makes the NBA Great
December 10, 2011
Patrick McDermott/Getty Images
I'm a sports freak. There are different reasons why I lovingly follow each of the sports that I do.
I follow the Barclays Premier League because the best team wins every year. There aren't any playoffs or anything like that to give the third best team in the league the championship. Instead, the team that literally is the best is acknowledged as so.
I follow the NFL because, for the most part, I know who is going to be on each team every year. Superstar players rarely change teams and if they do, they have character issues. But, if you look back at most of the game's greats, they're associated forever with one team and one team only. That cannot be said about most other sports. (Note: I also am a fantasy football fanatic.)
I follow college basketball because it is the sport that my dad was most passionate about. Before going off to college, we'd go to at least fifteen games a year at the Bradley Center to watch the Marquette Golden Eagles. I don't have a specific reason for why I love college basketball other than I really had no other choice.
I follow the MLB because of how many teams can be competitive. It's amazing how the only league in the United States without a salary cap is the one with the most parity. Only two teams have won multiple World Series championships since 2000: the Red Sox and the Marlins (who before this next season had one of the smallest payrolls in the league).
It's ironic to me that I follow the NBA for the exact opposite reasons that I follow the MLB.
Each season there are teams that are competitive in the MLB that were not expected to be competitive by any stretch of the imagination. There are some years where you could say there are about 12 or 13 teams that could win the World Series.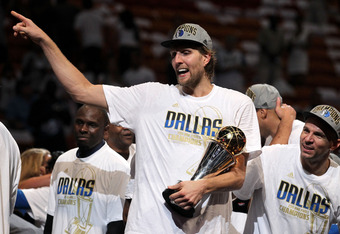 Ronald Martinez/Getty Images
In the NBA, there usually are six or seven teams that are realistically able to win the championship each season.
It should be noted that it is easier to turn around a baseball team in one season than a basketball team because of the number of players that contribute. In baseball, a 60-win team can add two powerful bats to the lineup and be much better.
Situations like that in the NBA are rarely found (I know about the 2010-11 Heat) because there are only 12 spots on a roster. But unlike the MLB, where talent can be built up through farm systems or where free agents have a larger market of teams they wish to go to, in the NBA the supreme talent ends up on a certain number of teams.
Last year, there was the Heat, Celtics, Lakers, Mavericks and the Spurs. The Bulls aren't an option because there was no expert or analyst who realistically picked them to win the championship, even though they were the best team in the regular season in the Eastern Conference.
For more perspective: since 1980 there have been nine franchises to win an NBA Championship. There have been 18 to win the World Series.
You know who is going to be good every year in the NBA and those are the teams that you follow throughout the season. If the best team in the regular season doesn't win the championship, chances are a top-five or top-six team will.
In the past few years, I've loved watching the Lakers, Celtics, and really whatever team LeBron is on play. Why? Because I know they're going to be there late in the season. I can't say that about most NBA teams. There may be 16 of 30 that make the postseason, but only a select few can contend in the playoffs.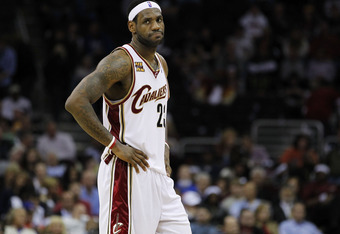 Gregory Shamus/Getty Images
In baseball, playoff races are usually tight, with many different teams posing realistic threats to win the World Series.
That just doesn't happen in the NBA.
Another pattern: these NBA contenders are always in big markets. They're in Boston, Los Angeles, Miami, Dallas, Chicago and other of the country's largest cities. When is the last time a team from Milwaukee, Minnesota, New Orleans, Charlotte, or Sacramento has been a legitimate title contender? Probably the mid-2000's (I might give you 2006 or 2007 if I'm feeling generous).
Professional basketball players know this and they want to play in markets like that. For fans, it starts in childhood. I grew up in the Milwaukee area, but can honestly tell you I never dreamed of bringing an NBA Championship to the Bradley Center. I could tell you I thought about wearing the Gold and Purple and bringing one to the Staples Center though. I'll admit I dreamed of winning one in a Bulls uniform and being like Mike before I dreamed of being like Ray Allen.
Why is that? It's because in the NBA, big players go to big franchises. When they're not at a big franchise, championship-caliber players find their way to one. Shaquille O'Neal found his way to Los Angeles from Orlando. Kareem got to Los Angeles, too (albeit after winning the Bucks a title). Kevin Garnett got to Boston from Minnesota. Star players naturally go to star franchises, ones with a history of championships.
I admit that there are exceptions, but it's not what fans want to see. Fans don't want to see Chris Paul's Hornets take on the defending NBA Champion Mavericks. Fans want to see Chris Paul and Kobe Bryant lead the Lakers against Dallas and the West's best. Nothing against the Hornets, but they aren't even close to being in the same conversation as the Lakers.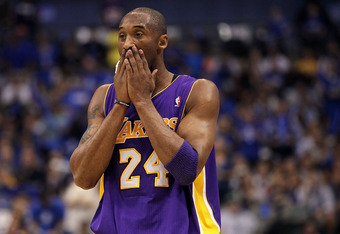 Ronald Martinez/Getty Images
When a player goes to a larger market in the NBA, usually it isn't because of more money. Instead, they just want to win. With the salary cap, players head to teams where they are more likely to win a championship than to one where they're going to pad their bank account.
There is no doubt that the NBA is most popular when it's the Lakers and Celtics that are successful.
For some reason, David Stern feels that isn't enough. Granted, small markets are losing money because of low attendance and, quite frankly, crappy teams, but that's how the NBA is. Every once in a while, a small market team like the Thunder show up and hang around with the big boys. It is refreshing and fun to watch.
But really, no one can stand more than one or two of those feisty small market teams, mostly because no one wants to watch a Thunder-Magic NBA Finals. People want to see the teams with the superstars that they know and love (or hate with a passion). Some may not want to admit it, but they loved seeing the Heat make it to the Finals last year because it was entertaining.
The NBA thrives with its large markets and is very popular right now because of them. The best players play in the biggest markets and that is the way it is.
With all that said and with the recent shake-up involving David Stern and the trade he vetoed, Chris Paul will be playing in a large market in the next 12 months. There is no getting around that.
If it isn't the Lakers, it might be the Clippers, the Knicks or even the Nets for all we know. But Paul will be in a big market by next August.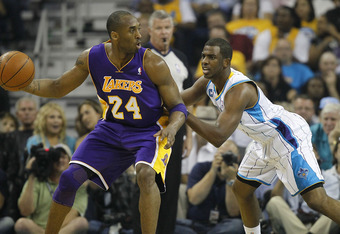 Jeff Zelevansky/Getty Images
The Hornets have accepted this and figured they should just get something for him while they still have him. As a team whose back-up point guard is Jarrett Jack, they need to get something for Paul now or they will get absolutely nothing later.
New Orleans maneuvered a way to do so and it would have worked out for everyone. The Hornets would have gotten young talent, players that could keep them competitive now and a nice draft pick. Paul would have gotten his big franchise in the Lakers and the NBA would have been fine.
Instead, owners of small market teams are apparently sick and tired of losing their superstar players, most notably Cavaliers owner, Dan Gilbert. Gilbert thinks its ridiculous that a big market team like the Lakers can save money and get a great player in Chris Paul. Apparently, it's too good a deal for them.
Nobody else agrees with Gilbert. In fact, most think that the Hornets are getting the best of the deal.
So it appears to keep New Orleans relevant, Paul will be plying his trade as a Hornet until he leaves as a free agent at the end of the season with the franchise receiving no compensation.
By vetoing this trade, David Stern has put the Hornets into full-on rebuilding mode. They won't be competitive for at least three or four years now, and will have to build through the draft. Then, Paul will make his way to Los Angeles or New York and Dan Gilbert will get his wish (I'm unsure what he expects to happen from this that is good for small markets).
Small market teams know superstars will go to big markets and that is why they trade them: to perhaps get some valuable pieces and remain competitive with the big boys. This is how the NBA works and apparently David Stern doesn't like it. If small market teams want to make more money, then they should put a winning product on the court.
The Hornets tried but couldn't and they wanted to move on. Instead, Stern is going to make them go through a period where they will more than likely be one of the NBA's worst teams after Paul leaves.
I love the NBA because of teams like the Lakers, Celtics, and Mavericks, teams I know that I know are one of a handful that could win the championship at the end of each season. The NBA is built on that, built on a lack of parity I guess you could say. If Stern wants more parity and to have more small market teams compete with the big boys, he should try to fix that. But this absolutely not is the right way to go about it.