College Football: Why the Army vs. Navy Game Matters
December 9, 2011
Hunter Martin/Getty Images
I have watched the Army/Navy game since childhood although I cannot say I'm a true fan of either program. My grandparents are from Philadelphia and for many years I'd find myself in their living room on that final Saturday of the college football season. 
They have long since passed but I can still remember my grandfather (a World War II Veteran) pulling for whichever team seemed to need the win more while my grandmother made no bones about her allegiances to the Naval Academy.
As I got into my high school and collegiate years I must admit my attention seemed to wane as I often found other things to do on that final Saturday of the fall. However, John Feinstein's classic A Civil War reignited my interest in this game for all the right reasons.
What has always attracted me to college football is the lure of college fight songs, storied rivalries and epic contests where student-athletes will their university to triumphs that seemed unreachable. In other words—because college football is everything that the NFL is not.
This has been the worst one-year period in college football history. At the close of last season we dealt with the controversy and realization that a father willingly shopped his own son like a prostitute to the highest bidder. This season we have seen scandal unfold at some of the nation's most storied programs including USC, Ohio State and Miami. 
Then, just when it seemed it couldn't get any worse, the worst horrors in the history of college athletics unfolded with the Penn State sex abuse scandal, where a program founded on "success with honor" at best turned a blind eye to a habitual sex abuser, and at worst, willingly covered up his actions.  When you look at the scope of these problems the annual fight over the BCS seems like the church choir arguing over Christmas Carol selections.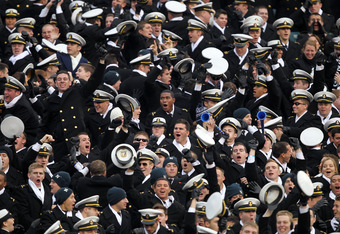 Hunter Martin/Getty Images
Enter Army and Navy. Many so-called analysts and cynics alike will argue about the merit of covering a (4-7) Navy club taking on a (3-8) Army team. In a sport that so often assigns the label of hero to a guy who scores a touchdown or makes a block, this game actually provides us with legitimate heroes. Men who play football as an extracurricular activity and for the joy of it rather than as an opportunity to become rich. 
See, these men have chosen a path, be it infantry, armor, Navy flight officer, or artillery. The courage, bravery, intelligence, and sinew that they put on display tomorrow will be the same attributes many of them will utilize the rest of their lives as they protect this great nation. In a terrible year for college football, we could all use a reminder of the principles that this great game was founded on. 
Nothing provides us a better example of this than the Army/Navy game and that is why college football needs this game.