Philadelphia Eagles: DeSean Jackson and Asante Samuel Won't Be on Team in 2012
December 9, 2011
Nick Laham/Getty Images
This offseason, the Philadelphia Eagles will undergo a lot of changes once again. Many people are clamoring for change with the coaching staff, most notably at defensive coordinator and head coach.
However, two star players are almost assuredly not returning to the Eagles roster in 2012: wide receiver DeSean Jackson and cornerback Asante Samuel.
At the root of the problem between each player and the Eagles' organization is one thing: ego.
For the most part, players that play the wide receiver and cornerback positions typically have huge egos. Receivers are sometimes considered prima donnas or "head cases," while corners have to have a huge amount of confidence (which shares a fine line with egotism) in order to be successful at their position.
Then you have Joe Banner, Howie Roseman, Andy Reid and the rest of the Eagles front office. They are smug and arrogant in their own right, especially when it comes to player personnel.
The Eagles are known to not budge on player demands and will sometimes bite off their nose to spite their face. Here are some players that this front office has gotten into pissing contests with over the years and how it ultimately turned out:
John Welbourn: Traded
Jeremiah Trotter: Tagged, then not re-signed
Michael Lewis: Benched, then not re-signed
Sheldon Brown: Traded
Lito Sheppard: Demoted, then traded
Terrell Owens: Released
David Akers: Tagged, then not re-signed
Brian Dawkins: Not re-signed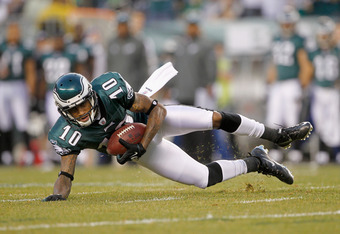 Rich Schultz/Getty Images
This past history is what leads to my thinking about Jackson.
Both Jackson and the Eagles are at fault for making the situation what it is right now. And right now, we have a situation that is just about beyond any hope for resolution.
Jackson went into last offseason and into this season fully expecting (or hoping) for a new contract from the Eagles. The Eagles front office maintained that they could not negotiate a new deal for Jackson due to the uncertainty of the CBA situation and during the ensuing lockout.
However, once the lockout lifted and the new league year began, the Eagles went on their infamous free agent spending spree while ignoring Jackson's contract issue.
In effect, Jackson had to sit there and watch while the Eagles doled out money left and right to numerous players who had not proven themselves in an Eagle uniform. Jackson was coming off his third season, and one in which he proved to be just as dynamic as ever.
After last season, there was no doubt that Jackson deserved a new contract. The question wasn't "if" the Eagles should pay him, it was "how much" should they pay him.
But, alas, the Eagles obviously had other plans.
They decided that giving the likes of Ronnie Brown $1.25 million, Vince Young $4 million and Steve Smith $2.281 million were all more important than doing right by Jackson.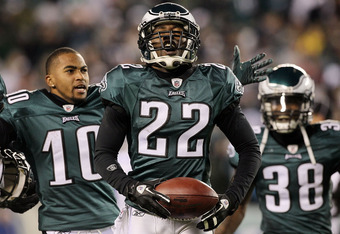 Jim McIsaac/Getty Images
I mention those players because they were all unnecessary and haven't brought any value to the team this season. I also feel that signing Nnamdi Asomugha was unnecessary after the acquisition of Dominique Rodgers-Cromartie.
Therefore, you can also count Asomugha's $11.2 million this year (against the cap) as far as money that could have been used to negotiate a contract with Jackson.
Had the Eagles just hammered out a deal that would have made Jackson content, we would have been spared all of the drama this season and he likely would have been much more productive to date.
On the other hand, Jackson has handled this situation poorly as well.
Once the season started, he should have left all of his contract issues behind and just played football. However, he has let his financial situation influence his demeanor and his play on the field.
He's short-arming and dropping passes. He's stated more than once that his health is his primary concern. Furthermore, he appears disinterested in being part of the team this year.
Instead of proving his worth even more by playing hard and being productive, he took the immature route and in effect hurt his overall value. He has been both benched and deactivated this season on two separate occasions.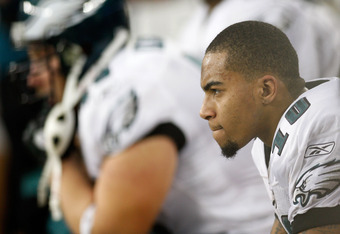 Chris Graythen/Getty Images
If the Eagles were going to pay Jackson, they would have done so by now. They clearly do not think he's worth the money he is asking for, and apparently it's not even close. If the two sides were in the same ballpark, a deal would have been reached. The fact that the situation played out like it has tells me that they are far, far apart in negotiations.
It's quite possible that the Eagles ended up spending all of that money in free agency because they knew they that Jackson's financial demands were too far out of whack with what they were willing to pay. Therefore, they may have had the attitude that there was no way they were paying Jackson that kind of money, so they decided to spend it elsewhere.
We'll probably never know what kind of money Jackson and his agent, Drew Rosenhaus, were looking for. This means we'll never be able to assess whether Jackson was unreasonable or whether the Eagles were being "cheap."
Either way, it doesn't matter. The damage is done. And once things have reached this point, the Eagles have historically cut ties with such players.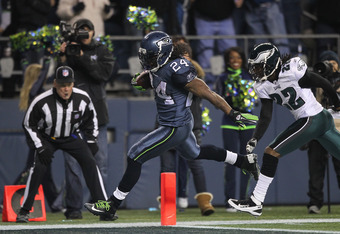 Otto Greule Jr/Getty Images
Therefore, Jackson will not be an Eagle next season. They won't even bother franchise-tagging him at this point, they'll just let him walk.
As for Asante Samuel, it's pretty cut-and-dry on how they view him: expendable.
This was made evident by the fact that they twice made it known that he was available for trade. Once at the beginning of training camp, then also just before the trade deadline in October. Both times, Samuel took it personal and reacting harshly by directing criticism at the front office. Who can forget his comment about them playing fantasy football? Here is the quote, as provided by Reuben Frank of CSNPhilly.com:
Asked Wednesday if he feels wanted, Samuel said: "By Andy. Couple people upstairs might not want me, but who cares? They've probably never played football...

"It's a business and they run it like a business and they're going to do what they need to do. They're playing with a lot of money, playing fantasy football, doing their thing."

Asked to clarify if he was referring to Roseman and Banner, Samuel said: "Howie and Joe? I don't know, do they fit the comment I made? There ya go. You think they're upstairs playing fantasy football with the owner's money?"
Trust me, the front office people took notice of Samuel's reactions and criticisms directed their way.
Even though Samuel has excelled at getting interceptions, he was also victimized just as much. He's a big-play cornerback that comes up with turnovers, that's what he does.
However, those have been few and far between this season. He is also not seen as a team guy in the aspect that he just does what he wants on the field. He doesn't play within the scheme set forth by the defensive coordinator.
Samuel's niche is jumping routes and making a play. This also leads to him getting burnt or being out of position when teams take advantage of that by running certain routes against him in order to get him to bite on a play.
In order to play as a team, everyone has to buy in. You can't have one guy just do what he wants half the time, especially when it hurts the team more than helps it.
For these reasons, Asante Samuel will be traded after this year. If they don't get any takers, they will probably just end up cutting him out-right.
Obviously, they won't want to cut him and get nothing in return. But I believe they will do that rather than have him on the team next season.
Heading into the 2012 season, the Eagles' buzz word will be "team." They will get rid of all the players who are deemed "cancerous" to a team atmosphere and try to bring in a few veteran players who are known as leaders.
After a season in which this team has gone through a great deal of adversity, team unity will be at a premium next year. All of the talent in the world won't do any good if the players can't function as a unit.
Disagree or not, DeSean Jackson and Asante Samuel will not be in the Eagles' plans for 2012.