Detroit Lions: A Look at Week 14 and the NFC Playoff Hunt
December 9, 2011
Hannah Foslien/Getty Images
After starting the season with a hopeful five-game winning streak, the Detroit Lions enter Week 14 having lost five of their last seven en route to a 7-5 record.  Following a competitive loss at the hands of the still-undefeated Packers on Thanksgiving, the Lions went to New Orleans and put on an embarrassing performance, committing 11 penalties in a 31-17 loss to the Saints. 
The young Jim Schwartz group appears to have crossed the line between enthusiastic and bone-headed following the suspension of star defensive tackle Ndamukong Suh and must show a much higher degree of discipline if they hope to eke out a wild-card spot in the NFC playoffs. 
Detroit currently sits on the edge of contention alongside the conference foe Chicago Bears and the South division's Atlanta Falcons.  Atlanta has a very favorable schedule to close out the year and appear as though they will be able to sneak in without much difficulty. 
The Lions have also gotten past their toughest stretch of the season following the losses to Green Bay and New Orleans but must close out strong if they hope to fill that last spot over the Bears.  They will play the Vikings, Raiders and Chargers before closing out the season at Lambeau Field in a game which could turn out to hold playoff implications not only for Detroit, but for other borderline NFC squads as well. Not to mention Green Bay could be flirting with perfection.
One thing working in their favor is the fact that Bears' QB Jay Cutler appears to be out for the remainder of the season following a thumb injury sustained in Week 11 win versus San Diego. That means Lovie Smith's group has its hopes relying on unproven signal-caller Caleb Hanie to carry them into the postseason.
Hanie has looked abysmal to this point, specifically in the Bears' Week 13 loss to a depleted Kansas City Chiefs squad.  The Chicago offense failed to score even one touchdown against a defense which has been pummeled by many others, including Detroit.  With Denver, Green Bay and Minnesota making up three of the Bears' final four games, Hanie will have to overcome some fairly staunch defenses, and he hasn't looked up to the part thus far.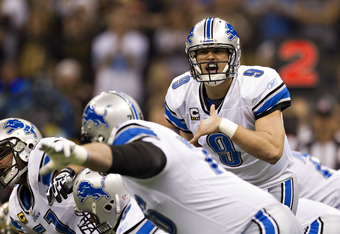 Wesley Hitt/Getty Images
Detroit could also be knocked out of the race by either Dallas or New York, depending on which team ends up prevailing for the NFC East crown.  The Giants face a tough schedule to close, including two against the Cowboys and will surely have to earn their way to 10 wins—a win total which is looking more and more like the magic number for access into the postseason.  Already a win behind the Falcons, Lions, Bears and Cowboys at 6-6, the G-Men have the toughest path to the playoffs, but surely cannot be ruled out yet.
With Suh suspended for this week's matchup with Minnesota, top safety Louis Delmas doubtful again after missing last week with injury and No. 1 cornerback Chris Houston also likely to sit the Lions will be missing three key defensive pieces for the second consecutive week.  Although Christian Ponder is no Drew Brees, it's still worrisome for defensive coordinator Gunther Cunningham to go into such an important game without these three key contributors. 
The easiest way to overcome a spotty defense is with a consistent offense, and the group led by Matthew Stafford and Calvin Johnson have shown the capability to be just that when they don't get in their own way.  If they can eliminate numerous penalties leading to 3rd-and-10-plus situations like they had against New Orleans then they should have no trouble with the last-place Vikings. 
Jared Allen has given some extra incentive to the Lions this week with derogatory comments regarding the city of Detroit, and they will no doubt want to silence the talented defensive end who has consistently performed at a high level against the Lions. 
Detroit surely has what it takes to get it done in this game, however, if they allow big plays to Percy Harvin and some of the other purple-people-eater playmakers, and aren't able to maintain a professional persona under pressure, then they could see their 2011 season begin the fade to black.