Waking on a Sunday in the San Francisco 49ers' Neverland
December 9, 2011
Ezra Shaw/Getty Images
On Sunday mornings these days, I awake with the feeling of being in a Neverland where the 49ers are playing way above my expectations. There is a distinct chance that they also will do something unexpected and fun along the way to winning another game.
They have found their essence, their mojo, their groove, their Tinker Bell magic dust.
I take a Samuel Adams out of the refrigerator and a frozen glass stein out of the freezer, place them with a pen and notepad on a side table by my lazy-boy, center the DVR remote on my lap, dip a corn chip in some guacamole and grin like the kid that just found where mama hid the cookie stash.
Woe be to him or her that dare ring my doorbell or cell phone.
It makes me happy that players I had previously dismissed are now Pro Bowl candidates. Players I had never heard of before have arrived and are making stellar and exciting plays. There are plays and formations I have never seen before in the NFL that surprise and enthrall me.
A player I thought was a spoiled and petulant loser has been blocking for Frank Gore like, well, Frank Gore. Michael Crabtree developed hands like glue and has been catching passes on dangerous slants over the middle and running for big yards after the catch.
A backup receiver, Kyle Williams, came off the bench and caught everything thrown his way, electrifying the fans with a 52-yard run after the catch of a ball, thrown to meet him in full stride, for a touchdown. He looked like he was channeling John Taylor. One could do worse.
Quarterback Alex Smith, whom I had written off as professionally and emotionally ruined through no real fault of his own, steadied down, took control and started compiling top-tier NFL stats.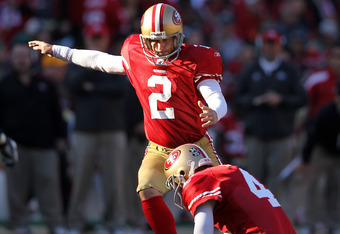 Ezra Shaw/Getty Images
Punter Andy Lee has been so dependable, heavy-footed and accurate that he's earned field position even against really tough teams on their home fields.
Kicker David Akers has been putting it through the goal posts so often it has become routine. Field goals have become a regular—too regular, if you should ask—certainty with Akers threatening to break Jerry Rice's season scoring record.
The offensive line that looked like my kitchen flour sieve the first few games of the year has found the combination, gelled and started opening holes galore for Gore, Hunter and Dixon. Even against the toughest teams, they've performed well, giving the Niners a real chance at winning every game.
A picture of Joe Staley with blood dripping down his face is iconic of this squad.
I really did think Frank was at the end of a glorious and long career, but he is breaking 49er records that have stood so long the names of the previous holders are almost lost in antiquity.
A defensive secondary that was almost a joke last year has added a stone-handed corner that the management picked up from a team that gave up on him. Carlos Rogers found the same pot of glove-glue that Michael Crabtree found this year, and intercepts often enough to scare opposing quarterbacks into throwing away from him.
A rookie, Aldon Smith, is fun to watch as he bulldozes his way to the quarterback through guys once considered too big and too unmovable to successfully attack. Every defensive player has been a pleasant surprise this year.
Jim Harbaugh has coached the team with encouragement instead of criticism, with flare, élan and a sense of humor.  Some plays have showed an almost teenaged glee at playfulness. No NFL coach I have ever heard of has designed pass plays thrown to—and caught by—a defensive lineman, Isaac Sopoaga, and an offensive tackle, Joe Staley.
Game days are now as good as flying days. The 49ers are back, baby, and it looks like they are here to stay.
I haven't had so much Sunday fun since the 1980s.