Chris Paul Trade Debacle Leaves Unanswered Questions as NBA Faces Implosion
December 9, 2011
Kevork Djansezian/Getty Images
At first, I was angry, frustrated, head in my hands. 
As a Suns fan, I was tormented that the best point guard in the league was going to the team I hate the most, the Los Angeles Lakers. 
I hated that my friend Riley, a diehard Lakers fan, would be able to hold this over my head for the entire (shortened) season and possibly beyond. Why did Chris Paul have to be traded to the Los Angeles Lakers, of all teams?
Then, everything changed. The trade got vetoed. That's right, vetoed. 
What? How?  
Well, small-market team owners, namely Dan Gilbert of the Cleveland Cavaliers, complained to NBA commissioner David Stern that because the team is league-owned, it wasn't in the best interest of the league to make the trade. 
But who is Gilbert to decide? 
This reminds me of a scene in the Star Trek remake, when Spock's home planet of Vulcan has been sucked into a black hole, created by Romulan warlord Nero, and Spock became emotionally compromised to command his ship as a result. 
Gilbert, much like Spock, has been emotionally compromised. Emotionally compromised by the LeBron James debacle, which took his team from championship contender, to bottom-of-the-barrel loser in one drawn-out "Decision."  It's simply something that Gilbert will never get over.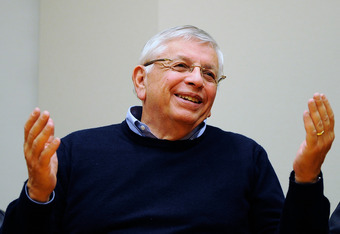 Patrick McDermott/Getty Images
So why should Stern, the commissioner of the NBA, care what he has to say? Gilbert's been emotionally unable to make the right decision for a while now, let alone to make the right decision for OTHER teams.
Do I blame Gilbert? No.  
If I were a Cavs fan, I would have been devastated that the face of my franchise went to join his buddy Dwayne Wade and "take his talents to South Beach." 
It draws parallels to when you play a pick-up basketball game with your buddies, and the two best players decide they want to be on the same team, despite it being unfair to everyone else. When I play with my friends, I want to play against the best player. I want my friend Jordan guarding me, because he is the best defender. How will I get better if I don't give myself a challenge?
The point is, why would Stern make a snap decision, canceling what seems to be a fair trade, because small-market owners were upset? 
Is it because the owner of one of the saddest franchises in the sport doesn't want other teams to succeed? That can't be the case…can it? This is the NBA. Fair trades happen, and unfair trades happen, but Stern CANCELING a trade? What?
The Paul trade seems far more fair than the Lakers' trade of a few years ago when they traded Kwame Brown, Javaris Crittenton, Aaron McKie, Marc Gasol (Pau Gasol's then unknown, unproven brother) and two first-round picks for All-Star center/forward Pau Gasol.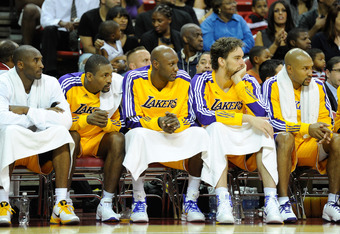 Ethan Miller/Getty Images
At the time, this trade seemed to be as lopsided as any trade could get.
The Lakers went on to win the NBA championship in 2009 and 2010 with Pau Gasol on the roster.  
But even this trade, seemingly so one-sided years ago, has appeared to even itself out. 
Marc Gasol has developed into one of the league's best centers, leading the Memphis Grizzlies to an improbable playoff run in 2011.  
Despite entering the playoffs as an eight seed, the Grizz ousted the San Antonio Spurs and forced a seven-game series before falling to the Oklahoma City Thunder.
So what makes the Paul trade to the Lakers any less fair?
When I break the would-be trade down, it looks like this:
Biggest Winner: New Orleans Hornets
You never want to trade superstars in the NBA, but it's a common occurrence. The Hornets wouldn't have a chance to compete for a title this season anyway, and in seven months' time, Paul would be a free agent, free to go wherever he pleases. 
Franchises are forced to get value in return at that point of no return.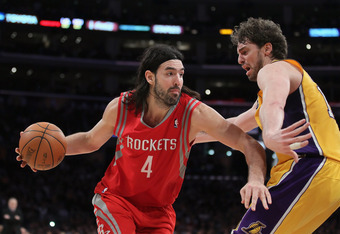 Jeff Gross/Getty Images
In this three-team trade, the Hornets would have acquired Lamar Odom from L.A. and Luis Scola, Kevin Martin, Goran Dragic and a first-round pick from the Houston Rockets in exchange for Pau Gasol.
If you ask me, simply trading Gasol for Scola and that first-round pick could be argued a fair trade. 
Here are last season's stats for each player:
Gasol: 18.8 PPG, 10.2 RPG, 1.6 BPG
Scola: 18.3 PPG, 8.2 RPG, 0.6 BPG
Those are some pretty similar stats, right? You get two more rebounds per game and one more block per game with Gasol (and it could be argued that Gasol had more blocks because he had defensive help playing alongside Andrew Bynum).
Both players are the same age, 31, but Gasol has logged 10 years in the NBA compared with just four years for Scola. That's a lot more mileage on Gasol.
And not only would the Hornets have acquired Scola, but they also would have received Martin (one of the best pure shooters at the two-guard position), Dragic (an up-and-coming point guard who had flashes of brilliance in Phoenix) and a first rounder.
I would have called this a big win for the Hornets given that Paul would have left for nothing in seven months. Now, that may be the case for New Orleans.
Biggest Loser: Houston Rockets
It's probably true that the Rockets weren't going to compete for a championship before this trade anyway, but they give up a considerable amount of their roster as well as a first-round pick for Gasol.
After the trade, the Rockets starting five would be drawn thin in the frontcourt: Kyle Lowry, Courtney Lee, Chase Budinger, Terrence Williams/Patrick Patterson, Gasol
Or...
Kyle Lowry, Courtney Lee, Chase Budinger, Gasol, Hasheem Thabeet
Are you winning a championship with either of those starting fives? I'd bet no. In fact, this draws parallels to the Memphis Grizzlies of old when they had Gasol.
However, it's been rumored that if the Rockets attained Gasol, they were going to make a strong push to sign Nene in free agency. 
Would a starting five of Lowry, Lee, Budinger, Gasol and Nene win a championship? Eh, still doubt it, but it's much better than what they were looking at before. (Let's face it, Thabeet shouldn't be a starter on any team).
Wildcard: Los Angeles Lakers
Is a core of Chris Paul, Kobe Bryant, Andrew Bynum and Metta World Peace better than Kobe Bryant, Pau Gasol, Lamar Odom and Andrew Bynum? 
I don't know.
Could Bryant coexist alongside of a pure point guard in Paul who needs the ball in his hands to play? Could this team of aching knees (Bryant, Paul, Bynum) stay healthy long enough to make an impact?
In my opinion, this is a coin flip. 
The Lakers have already won two championships with Gasol and Odom playing alongside Kobe. Should they break that core apart? 
If they're able to re-sign Paul long term, I think it's a no-brainer. Bring him in, hope the Kobe/Paul experiment works, and if not, you have a franchise point guard going into the future (if his knee holds up).
As a Suns fan, I was initially terrified at the thought of Paul going to the Lakers and creating a Superteam after the Lakers miraculously pull off a trade for Dwight Howard. But let's be real, there's no way the Lakers could have acquired Howard for Bynum straight up. If the Orlando Magic agreed to that, they deserve to lose for the next hundred years. They would have needed to at least trade Gasol and Bynum, if not Gasol, Bynum and Odom for Howard.
Bottom line, this would have been fun. 
It would have been entertaining to watch (and this is coming from a Suns fan who HATES the Lakers). I would have been interested to see how Kobe/Paul coexisted on the court. 
If they started losing a number of games, would Kobe start to hog to the ball and kill the team chemistry? Would headcase Bynum be able to tackle the added responsibility of being their go-to big man? Would his knees explode? These are questions I would like to have seen answered.
Instead, David Stern has decided to run a dictatorship, potentially forcing Paul to remain on the Hornets until free agency rolls around, effectively killing the Hornets' chances of becoming relevant again. 
Just look and see what happened in Cleveland when LeBron left, or in Phoenix when Amar'e Stoudemire left, and Suns' management replaced him with Hedo Turkoglu, Hakim Warrick and Josh Childress.
Losing superstars hurts, but it stings far less when you're able to get value in return. 
Stern screwed up, and I believe the league is starting its downward spiral because of his mistake.