Portland Trail Blazers: Why They May Have Worst Luck in Sports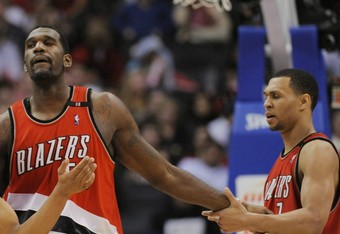 Kevork Djansezian/Getty Images
Let me preface this article by introducing myself to this Blazers community.
I am a Michigan transplant living out here in the beautiful Rose City. I have been in downtown PDX for just over three years.
I do not pretend to be an expert on Blazers basketball. In fact, I am still very much a Detroit sports fan and am a featured columnist on B/R's Detroit Pistons site.
But I do have a sweet spot for the Blazers, so I will be writing a little bit more about Portland over the course of this season.
When I moved out here, it was at the apex of Blazer-Mania. When we first took the red line from the airport, I loved seeing the billboards around town talking about the Blazers. The excitement was in the air. Everyone was talking about this team, from the freaky girls cutting my hair at Bishops to the hipsters working out in the Pearl.
The Blazers captured the imagination of the city in a way that casual fans could appreciate.
But a funny thing happened on the way to the Blazers realizing their huge potential. They got bit in the butt by lady luck, and not in a good way.
Greg Oden obviously has been discussed ad nauseum and Brandon Roy and his knees are the next on the list.
To make matters worse from a fan standpoint, the lockout and the Timbers have sucked most of the casual sports fans into their orbit, leaving a lack of energy for the Blazers around town.
But it got me thinking as I thought about the luck of this franchise: Could the Blazers have the worst luck in all of sports?
First off, let's explore their history.
They missed badly with their first few drafts, before striking gold with Bill Walton in the late '70s. Walton led the team to the title in 1977 and then injuries blew up that team.
They continued to have bad luck with the draft, famously passing on Michael Jordan in the '80s and instead picking Sam Bowie, whose injuries derailed his career. Jordan went on to become the greatest player of all time.
The Blazers did develop a good core in the late '80s and early '90s, only to see their team lose in the finals twice.
In the late '90s and early part of the last decade, they built a very talented young team only to have a lack of maturity and bad decisions on and off the court derail that core.
They then pass yet again on an all-time great in Kevin Durant only to have their own No. 1 pick, Greg Oden, struggle mightily with injuries that might in fact make him the next Bowie.
Now their franchise player, a class act on and off the court, is likely calling it a career due to injuries.
I am almost afraid to see what will happen next for this franchise.
The Competition
Now, take it from a Lions fan, I know cursed franchises. So let's take a look at some other teams around sports that could lay a claim to this moniker of most cursed.
In basketball, only the Los Angeles Clippers have any reasonable claim to this throne.
They have had terrible luck with drafts, from Danny Manning to Michael Olowokandi. They have underachieved on a spectacular level, and their free-agent signings always are terrible.
But due to the fact that the Lakers are in town, it is hard to feel bad for Los Angeles fans.
Besides, they are on the upswing right now, with Blake Griffin bursting onto the scene.
Now if Griffin suddenly becomes injury-prone, they will have a shot at the cursed throne. But until then, the Blazers have no competition in basketball.
In baseball, the Mets and Cubs are the most cursed now that the Red Sox have exorcised their demons.
But the Mets have at least won a title in the last 30 years and contended for others.
The Cubs might be on this level. They spend money on players that don't pan out, they draft stars that get hurt and they haven't played in the World Series since the '40s.
Throw in the Bartman incident, and you might have an argument. But they haven't passed consistently on players that have won elsewhere or became transcendent stars. Alex Rodriguez or Derek Jeter or Ken Griffey Jr. were never options here, so that is pretty much where they fall short.
In football, no team is more cursed than my beloved Lions.
We draft quarterbacks that bust (although we are holding our breath on Stafford), our free agents don't pan out and we pass on players that could turn our franchise around.
But we did draft Barry Sanders, who was the most electrifying player in the sport for a decade, although we never won it all.
And ironically, drafting a kid from Portland named Suh was one of the first steps that has transformed this team into one that is on the upswing of doing something great.
Additionally, before the modern era, Detroit was a force in the '50s, so the Blazers still take the cake.
Bottom Line
Okay, so the Blazers are the most cursed team in all of sports. But things really aren't as bad as they could be.
The Roy retirement will free up tons of cap space next year, and the team has his replacement in the very underrated Wesley Matthews.
They still have a very good, very young core of players in Gerald Wallace, Nic Batum, Matthews and someone that is sure to become a superstar in LaMarcus Aldridge. They drafted exceptionally well this year, and they have a lot of very tradeable assets.
This is a team that will be good enough to make the playoffs, and is just one or two very good players away from contending for a title.
Portland still needs a physical center to take the pressure off of Aldridge on defense and on the boards, and there are questions about the point guard situation. But one or two more good drafts and the Blazers will once again be the talk of the town.
Unless, of course, lady luck strikes again.
This article is
What is the duplicate article?
Why is this article offensive?
Where is this article plagiarized from?
Why is this article poorly edited?

Portland Trail Blazers: Like this team?