Texas Rangers' Josh Hamilton Wants a Contract Extension: Is He Worth the Risk?
December 9, 2011
Rob Carr/Getty Images
In the wake of C.J. Wilson's free agent defection to the intra-divisional rival Angels, the Texas Rangers will soon face difficult decisions regarding the long-term futures of several of their critical players. Of course, these scenarios aren't an imminent conundrum, but one that looms near on the horizon.
With numerous Rangers' regulars due to reach free agency either after 2012 or '13, the club must decide how much of the current core to attempt to keep together and which players fit into their long-term vision.
Following the 2012 season, Josh Hamilton, Mike Napoli, Mike Adams and Ian Kinsler are eligible to become free agents. The Rangers hold a $10 million team option for 2013 on Kinsler which they'll likely exercise if he can stay healthy and replicate his productive 2011 season.
After 2013, Nelson Cruz, Michael Young and David Murphy reach the free agent market, presenting another round of decisions for the club.
Perhaps the most complicated is the long-term future of star outfielder Josh Hamilton. 
During recent weeks, Hamilton has stated his desire to sign a contract extension which would keep him in Texas beyond the end of the two-year, $24 million deal he signed prior to 2011.
Hamilton, the centerpiece of the Rangers' lineup, won the 2010 AL MVP award, and is one of the most talented hitters in baseball. His production has been vital to the team's success in recent seasons and he was one of the driving forces that propelled them to consecutive World Series appearances in 2010 and '11.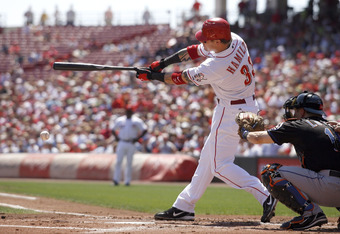 Thomas E. Witte/Getty Images
Since he arrived in Arlington via a trade with Cincinnati prior to the 2008 season, Hamilton has displayed the well-rounded game that once made him one of the greatest prospects MLB has ever seen.
He played only 90 games for the Reds during his 2007 rookie season, missing significant time due to various injuries which required multiple stays on the disabled list.
In his first season as a Ranger following the trade, he managed to avoid the injury bug, playing 156 games for Texas that year. He hit .304 with a .901 OPS, 32 home runs, 130 RBI, a 133 wRC+ and 4.1 fWAR.
Unfortunately, during his second season, his body once again let him down, as various injuries limited him to only 89 games. Hampered by bruised ribs and an abdominal tear, Hamilton's power suffered, and he hit only .268 with 10 home runs, 54 RBI, and his OPS dropped to .741. He was good for a wRC+ of only 85 and 1.4 fWAR. 
The star outfielder rebounded wonderfully in 2010, but even in his MVP-winning campaign, he missed 29 games while on the DL. In helping the Rangers to the first World Series appearance in team history, Hamilton won a batting title with a .359 average, and led the AL with a .633 slugging percentage and a 1.044 OPS. He hit 32 home runs, drove in 100, had a 178 wRC+ and 8.5 fWAR. Despite stiff competition from Miguel Cabrera, Robinson Cano and Jose Bautista, Hamilton was recognized as the Most Valuable Player in the league by the BBWAA.
His 2011 season was again productive, but a step down from his MVP performance the previous year. Again, his playing time was limited, as injuries caused him to miss 41 games. Hamilton hit .298 with 25 home runs and 94 RBI, but his OPS dropped significantly to .882. He saw his wRC+ drop to 129 and his fWAR to 4.2, significant reductions from his 2010 standard, but respectable numbers nonetheless.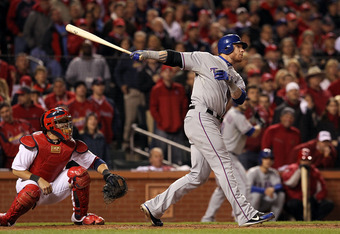 Jamie Squire/Getty Images
Entering 2012, Hamilton is in the last year of his contract and would undoubtedly be one of the prime jewels of the 2013 free agent class if he can't work out an extension in Texas.
Despite his immense talents, Hamilton will always be viewed as a risky long-term commitment by many.
Haunted by demons that he will never truly be free of, Hamilton's past battles with drug and alcohol addiction will forever tarnish the legacy of what could have been an all-time great career. Once a No. 1 overall draft pick by the Tampa Bay Devil Rays in the 1999 draft, Hamilton's baseball career was derailed by substance abuse and he wasn't able to reach the majors until 2007.
The fear of relapse will always linger, despite his strong commitment to sobriety and clean living inspired by the depth of his own personal Christian faith.
He already came face-to-face with his demons once in 2009, as he experienced a one-night relapse, of which embarrassing photos later surfaced, showing him partying with multiple women in a bar. The evidence of that lapse appeared in 2010, when a deeply emotional Hamilton had to admit the painful transgression to his loving wife.
Fortunately for him, it was a lone occurrence and he was able to survive the misstep, while making amends with his wife.
It was, however, a stark reminder of the devastating addiction that nearly destroyed his life a few years earlier. With such a past, whether rightly or wrongly, some will forever view Hamilton and his sobriety with skepticism.
That will undoubtedly factor into the Rangers' thought process when considering whether to extend their slugging star to a long-term extension.
Not only does the specter of his past addiction linger, but the fact that his health has repeatedly been an issue will also contribute to some doubt over his long-term viability as a star.
No one questions his talents, which are readily apparent every time he steps into a batter's box. His smooth stroke and lightning-quick hands generate such easy power that he is a true joy to watch.
Unfortunately, it is impossible to ignore the fact that he has only produced one fully healthy season in his five as a big leaguer. Since he played 156 games in 2008, he has missed at least 29 games a season, averaging 114 played from 2009-11.
Whether his past drug abuse has contributed to an overall weakened physical condition we'll never know for sure, but the fact stands that he has struggled significantly with his health throughout his career.
As he will turn 31 almost two months into the 2012 season, Hamilton is already nearing the latter stage of his peak years and the period during which a natural physical decline is inevitable. He is an incredibly strong, physical specimen, but the rigors of his days of hard living have likely taken their toll.
With Albert Pujols just signing a 10-year, $254 million deal at over a year older than Hamilton, that deal sets the bar rather high for future free agents. Pujols is in another class altogether though, so he can't truly stand as a barometer for many players.
Matt Kemp, a fellow outfielder, was recently awarded an eight-year, $160 million contract extension by the Dodgers, but he is only 27 and has displayed consistent durability over his career.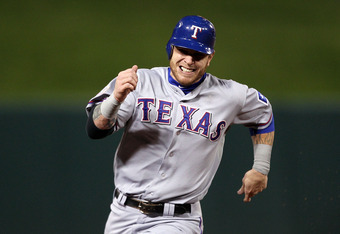 Ezra Shaw/Getty Images
Hamilton doesn't seem like the type of player to level ridiculous contract demands, but he has recently underlined his expectation of being treated fairly by the Rangers.
As quoted by ESPN.com, while speaking with kids at a hitting exhibition he took part in, Hamilton said,
"Obviously I love it here. It always comes down to being treated fairly. I've been this way since I signed out of high school. Treat me fair and don't come in with no ridiculously low stuff."
That sentiment will be appreciated by the Rangers who hold Hamilton in high regard. They know his value to the club and would experience great difficulty attempting to replace his production.
Nolan Ryan acknowledged Hamilton's significance to the Rangers and confirmed his interest in retaining the slugger. While addressing the situation he said, 
"Josh is a very unique player that has a big impact on any organization that he'd be in. We're certainly proud to have him and he's been a big part of our winning effort here.

"If we didn't have him, it would be a big hole in our ballclub. You just don't replace a Josh Hamilton very easily."
While it obviously appears that the interest in continuing the relationship is mutual, the business aspect of the modern game can never be underestimated. How many people truly expected Albert Pujols to sign anywhere other than St. Louis? The rumors were out there, but many expected that he would one day retire a lifelong Cardinal.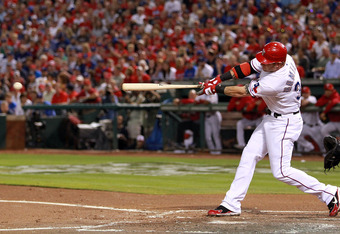 Ronald Martinez/Getty Images
Much of it also depends upon what Hamilton sees as "fair." While he comes across as a humble man that wouldn't hold the team hostage over an exorbitant contract amount, he also has only one chance to cash in near his prime in order to set up his family for life. 
Fairness is always in the eye of the beholder and professional athletes sometimes have difficulty recognizing their own shortcomings. As a talented, four-time All-Star, Hamilton might not see the concern over his long-term health in the same way that team might when considering a multi-year contract extension. 
Due to his immense talents and premium production for the Rangers, I would expect the team to lock him up with a deal, but probably not for longer than four or five seasons. A contract extension in the range of five years, $100 million wouldn't seem out of the realm of possibility, but that's merely speculation on my part at this time.
It remains to be seen whether such a commitment would be deemed fair by Hamilton.
The Rangers could potentially wait it out and offer him an extension mid-way through the year if he proves healthy during the season. However, Hamilton has stated his desire to work out an extension prior to Opening Day so he can focus on simply playing the game.
The 2012 season represents a critical juncture for the current core of Rangers' players, with several key members approaching free agency in the next year or two.
Josh Hamilton, perhaps the most valuable Ranger of all, does represent a significant potential risk, but his upside will likely convince the franchise to gamble on the future of their star attraction and take that expensive bet.