WWE Panorama: 11 Highlights of the Year 2011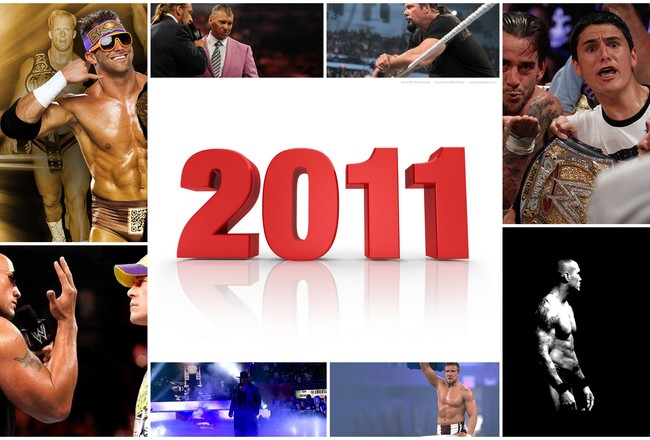 The year of 2011 has been one wild ride for the WWE and its fans. One can claim with slight exaggeration that probably this was one of the most eventful years in the history of the company. The range of events includes shocking returns, shocking retirement, shocking rises.
This year saw some occurrences that have not taken place in a generation. This year marked arrival of a new era and emergence of a new talent. The voice of fans became much louder. It seemed that suddenly the audience had become alive. We, the people, had a lot of impact on what has happened throughout the year.
Of course, all these merry things do not mean that there was nothing bad.
Just like every other year, we had few bad PPVs. Just like every other summer, we had some releases. The tag team division and Divas division suffered the same fate once again, after a rare glimmer of hope. As usual some wrong faces were pushed, while some capable faces were sliding into ignominy. And if the audience in the arena roared, the IWC moaned just as usual.
However for once, in 2011, the good triumphed over the sheer mediocrity we had seen in earlier year. As we draw near towards the end of 2011, it is a right moment to glance back and have a look at some of the highlights of 2011.
Disclaimer: This article contains no negative content or unnecessary criticism. Those who are in search of their daily dosage of complaints might well refrain from reading this article.
1. Year of Smart Vignettes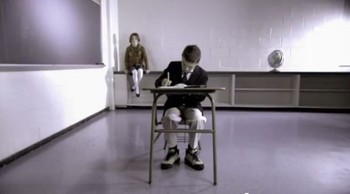 2011 started with lackluster Royal Rumble. It seemed that WWE would keep singing the same old tune forever, and then a short vignette appeared on RAW, "2.21.11".
It took us by a storm. People could not stop guessing, discussing and overanalyzing. We all wondered who it would be. The enticing possibility of Sting's debut was the flavor of the WrestleMania season.
I would not go into what happened on or after 2.21.11. That is not the point here. The aim of the vignette was simple. It was to excite and mystify people, and it did it.
If this year started with one cryptic video, then it is set to end with another.
Few weeks back, a link to a creepy video appeared on Raw. Just like 2.21.11 it took us all by surprise. We still are discussing it frantically on bleacher report every day. Again, like I said above, the person in the vignette is a different matter. The fact that this video was supposed to make us all mad and it did is sufficient enough to call it a success.
Both these vignettes have been tremendous business and marketing success. The way WWE has played them is a masterstroke. If you would have noticed then you will realize that the commentators have never spoken a word about these outlandish videos ever.
WWE has given out as little details as possible. They have kept the videos as simple as possible, and as always "Keep It Simple Silly" has done wonders.
No matter we are disappointed or euphoric by the outcomes of both the vignettes, am sure we all will be talking about them for a long time to come.
2. Year of Good PPVs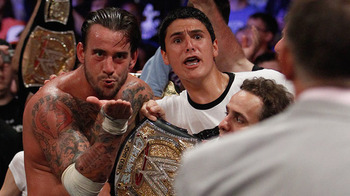 Like I said in the first slide, 2011 started with disappointing Royal Rumble. Elimination Chamber had great matches, but still failed in arousing the excitement of fans. WrestleMania was another average event. The pattern was unmistakably gloomy, and then suddenly things started to change.
Extreme Rules was one heck of a show. Then in June, thanks to CM Punk and his pipe-bomb, "Money in the Bank" had a lot going for it already. But the PPV delivered on every front. It marked a significant turnaround in the fortunes of PPV quality, henceforth.
I am aware of the fact that a lot of people have hated subsequent PPVs, however the others have appreciated them. The storytelling might have left sour taste in some mouths, but there will be almost universal agreement on the quality of the matches.
Unlike years in the recent past, all PPVs in 2011 have seen at least few good to great matches. Elimination Chamber, Extreme Rules, MITB, Summerslam, Night Of Champions, Hell in a Cell, Vengeance and Survivor Series, in total 8 PPVs saw really good overall standards of wrestling.
It is a natural conclusion that the quality of matches in 2011 has been far superior to that of the earlier years; and it also takes me to the next point.
3. Year When Wrestling Came to Life Once Again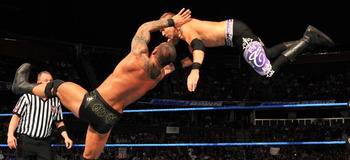 I am not a person to believe in omens, but then sometimes things happen in such a way that they turn me a believer. The first episode of Raw in 2011 was one such occurrence.
It featured the championship bout between Miz and Morrison, which is perhaps the best match of both men's career. The trend that started on the first raw has got just stronger since June.
For the first time in the history of company, there was a five star match that did not feature HBK. Stars like Randy Orton, CM Punk, John Cena, Christian, Dolph Ziggler, Morrison, Cody Rhodes, Alberto Del Rio, Sheamus and Daniel Bryan fired on all cylinders. Some of these men have put on a superlative show on weekly and monthly basis.
If the young Turks galloped, then old horses showed their metal once again as well. Triple H and Undertaker put on a show of supreme quality in their almost 45 minutes long WrestleMania showdown.
It must be said that CM Punk may be the man who brought the word "wrestling" back in vogue, but it was collective efforts of many people that has made it matter once again.
Unlike 2010 or 2009, in 2011 there are plenty of contenders of the award of Match of the Year. 2011 has seen many of matches that crossed the 20 minutes mark. There have been numerous matches that have made the people chant, "this is awesome", and I guess that in itself tells the story.
The fact that many performers hit the purple patch shows itself in another phenomenon; let us have a look at it next.
4. Year of Crowded Title Scene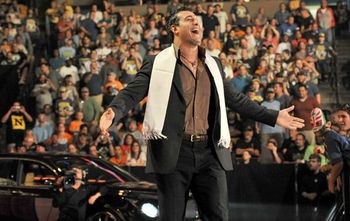 Miz, Morrison, John Cena, Edge, Randy Orton, CM Punk, Daniel Bryan, Big Show, Dolph Ziggler, R-Truth, Mark Henry,Rey Mysterio, Alberto Del Rio and Christian; a whopping 14 people have fought over the two premier championships in the year of 2011. This is perhaps the highest number of championship contenders and champions since the 2001/03 golden patch.
What makes this number amazing is the fact that I have not mentioned elimination chamber participants in it. The above list does not include Kane. The three most prominent future stars Sheamus, Cody Rhodes and Wade Barrett does not appear on the list either. That means in 2011, there have been 18 superstars who could have become a credible champion.
For all the cries of WWE lacking the depth of roster, this number is an eye-opener. However, there is one even more amazing tale to this saga, which we shall see next.
5. Year When Neither the Undertaker nor Triple H Competed for the Championship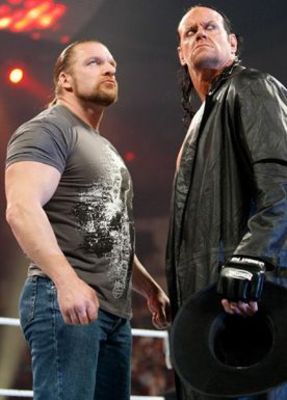 Well, this is one of those "most amazing facts" moments.
This year Undertaker appeared only for one match and that too with "The Game". Triple H, on the other hand, has been in the spotlight for substantial amount of time due to short programs with The Undertaker, CM Punk and Kevin Nash (how odd does it sound to take these three names at once in 2011? Tell me in the comment section). None of the matches however involved championship.
If my memory serves me correct, then this is the first time since 1990 that neither the Undertaker nor Triple H has appeared in any championship match in a calendar year. It has been freaking 21 years. This is what I meant when I said in the first slide that "2011 has seen occurrences which have never happened in a generation".
The "new era" and "new generation" thing sounds much clearer when we realize things like these. The only reason as to why the absence of these two did not pinch was the fact that 2011 was also an...
6. Year of New Stars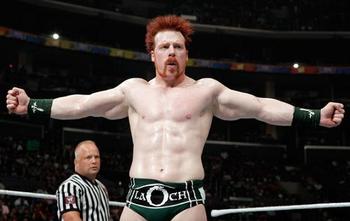 Sheamus and Wade Barrett, who appeared on the horizon like supernovas, had lost a lot of steam as 2011 began. It seemed that they had lost their direction. However in a display of nice characterization, WWE succeeded not only in turning them around, but also has set them up for a far more consistent future.
Dolph Ziggler, on the other hand, was on the cusp of world title for entire year. However, his stature in January and his stature today are two different stories. Then there is Cody Rhodes. That man is becoming a bigger superstar every day. He will perhaps forever remain an example as to "how to build a star".
If WWE worked on these four superstars, whom I would like to refer to as the pack of Aces, then it hit two jackpots in return.
Zack Ryder's story is something made for novels. Here is a star, who was ignored by the management, and who stood up for himself. Here is a star, who was supported by peers and fans alike. WWE had to take notice of people's support and finally give Ryder a true chance to shine. I am not sure whether Ryder will ever become a star as big as the four names above. Nevertheless, he is a solid performer who can carry upper midcard.
If Ryder's story was a story of determination, then the story of CM Punk is the story of a talent that could never be withheld. CM Punk has seen two different poles of a planet in 2011. For the first six months, he was saddled in the mess called Nexus and then in the next six months, he has become the face of Raw.
Along with these 6 success stories of the year, two other tales took place as well. They were unexpected, surprising but gratifying in a way. Let us have a look at them next.
7. Year When Written off Names Shined Bright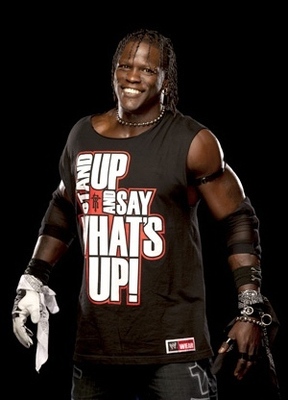 Who in his or her right mind would have thought in 2010 that we will see Mark Henry becoming a world heavyweight champion in 2011? Who in his or her right mind would have thought in 2010 that we will see R-Truth in the main event against The Rock? The answer is plain and simple, nobody.
This would, in my book, remain the highlight of 2011. These are the two names that never came to our minds when speaking about next main event stars. Thanks to clever heel turn and one great build up, these both men had an opportunity to shine as bright as they could. It also brought the best out of them.
There are many factors that have contributed to the rise of these two and six people I have spoken about in the last slide. However, there was one factor that stood out above the rest.
8. Year of the Evolution of Randy Orton and John Cena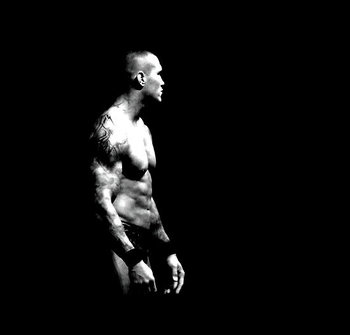 As we entered into the 2011, both John Cena and Randy Orton were scaling new depth of staleness. They were hardly losing, they were constantly on top. However the year progressed, things began to change. Both these stars not only took quite a few losses, they stepped aside from the spotlight a bit as well.
One may dislike these two as much as one wants, but one has to admit these two were the biggest reason why the likes of Mark Henry, CM Punk, Cody Rhodes could shine as bright as they do.
John Cena has played a key role in putting over likes of Miz, R-Truth, Zack Ryder and CM Punk this year. Had he not opted to sidestep, CM Punk could have never gotten to a place where he is today. Randy Orton has done the same thing to Mark Henry, Sheamus, Wade Barrett and Cody Rhodes.
Apart from putting over people, both these stars have shown aptitude for evolution this year. The in ring work of both the men has gone up several notches. In terms of character as well, there has been a nice development. If Randy Orton is becoming more fluid with his role as a face, currently John Cena is exploring forgotten realms of himself.
In retrospect, it appears that two contrast events played a most significant role in this evolution of John Cena and Randy Orton respectively.
9. Year of the Return and the Retirement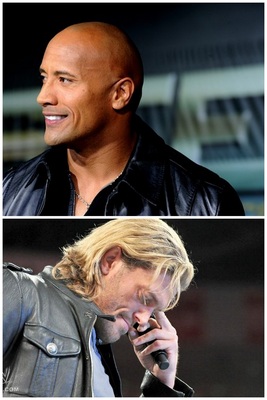 Two most beloved WWE superstars of all time are also two of the main highlights of 2011 for two polar opposite reasons.
If WrestleMania 27 marked the party of Rock's return after seven years, then within few days it became the last night of Edge's career. If one was a huge boost to WWE, then another was a bigger blow.
The return of Rock was an unforgettable moment that brought back long lost years, whereas the shocking retirement of Edge was an unforgettable moment that made us realize the value of those same years. Both moments are highly emotional, memorable and special for all of us.
If these two moments are polar opposite in so many ways, then they are eerily similar in one manner. The return of the rock and retirement of Edge are the ultimate reasons of respective evolution of Cena and Orton.
In case of Cena, return of the Rock has spelt doom in many ways. It has forced him to rediscover himself, as he prepares to face the Rock at next WrestleMania.
The retirement of Edge meant that Randy Orton had to fill in for him on SmackDown. It forced him to rediscover himself, as the hollow he had erase belonged one of the most multi-faceted star of WWE.
10. Year of Social Networking and People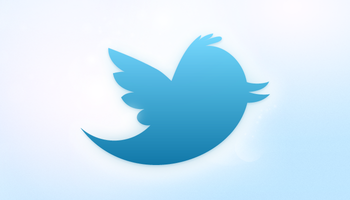 One of the slightly annoying hallmarks of the gone year is WWE's new found fascination with social networking, and in particular Twitter.
However if put it in the historical perspective then things become clearer. Vince's acumen of utilizing social media is just legendary. Using social networking sites is just the sign that Vince still has it. I agree that this publicity for twitter crosses bounds at times, but then again, it works.
This whole fad has however translated into something unprecedented. It has translated into new found significance of the voice of audience. Why is it that we wanted Ryder, We wanted Punk, we wanted Bryan and we got them? Why does WWE's website puts up an article questioning relevance of "John Cena" the character? Well the reason is same for the both the questions. It is because of our voice that echoes through social media.
This whole phenomenon of social media and all the nine highlights I discussed earlier have together are a part of a real picture. It is the same picture that will always remain the biggest highlight of 2011.
11. Year of the New Dawn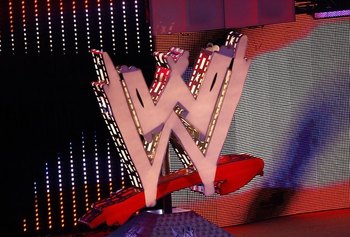 To put it simply WWE will never be the same company it was in 2010 ever again.
The emergence of new star, the use of social media, the element of reality in programming, the announcement of WWE network and the evolution of Cena and Orton. Combine all these factors and you will realize that the company has born again with new flesh and soul. The year of 2011 has seen the company entering whole new era, with new faces and new business dynamics.
No matter what happens, no matter for good or for bad, but from 2012 WWE will be a completely different company. It has taken a turn from where there is no way back.
The story that will unfold from here on will determine the core of the company and its very existence.
Who would have thought at January 1, 2011 that we would reach on such a point within 12 months? Answer is plain and simple, nobody.
Epilogue
This has been my account of the highlights of 2011. Since I am sure a lot of people will do similar articles in coming few weeks, I have tried go for least obvious points I could underline.
I hope you enjoyed the article. I would like to hear what you think about the hallmarks of this fading year. Therefore, kindly voice your opinions in the comment. Criticism or praise, I would appreciate the appraisal of the article as well.
Thank you very much for reading, cheers...
Keep Reading