Manhattan Jaspers Playing for First 4-Game Winning Streak Since 2007 at Hofstra
December 9, 2011
The Manhattan Jaspers will have a chance to stretch their winning streak to four games against Hofstra (3-6, 0-1 CAA) on Saturday.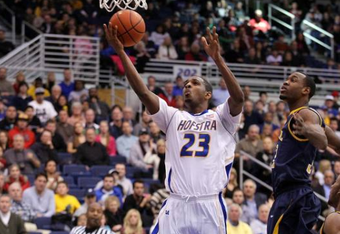 Manhattan (6-4, 2-0 MAAC) has strung together three straight wins, all by double digits, with the most recent one coming over Fordham, 81-47.
They had a solid 3-3 start to the season, including wins over Long Island and Cleveland State. But the Pride had lost three straight games.
Keys for Manhattan
Force turnovers and capitalize  
During its last three games, Manhattan has forced 17 turnovers per game. Manhattan is also averaging 21.3 points off turnovers during that stretch.
Keep the momentum going
The Jaspers have their first three-game winning streak in nearly four years. In addition, they have looked like a completely different team than in the past, dominating their last two opponents.
Manhattan has played with a lot of intensity in the past week, and the recent wins should only lead to even more intense play.


Keys for Hofstra
Play for 40 minutes
In its last three games, Manhattan wore out its opponent in the second half.
The Jaspers broke away from Rider late in the second half for a 71-55 win, turned a seven-point halftime lead over St. Peter's into a 26-point win and then outscored Fordham 45-22 in the second half in their most recent game.
Hofstra's leading scorer, Mike Moore, especially needs to play a full 40 minutes.
Against Rhode Island, Moore scored 17 points in the first half and then only eight in the second half. And against James Madison, Moore scored 20 in the first half and only four in the second half.
In addition to being the top scorer on Hofstra, Moore needs to find more consistency. 
Matchup to look out for—Beamon vs. Moore
Manhattan's Beamon and Hofstra's Moore are both potentially explosive scorers; Beamon is averaging 16.0 points per game, and Moore is averaging 19.8.
Beamon's scoring has fallen slightly since last season, but that is mainly because Steve Masiello instituted a team-oriented offense whereas Beamon was the main man on nearly every possession last year.
If anything, he is a more improved scorer, adding the three-point shot to his repertoire.
Moore has bumped his scoring average up nearly five points after averaging 14.9 points per game last season. The 6'5" guard is also shooting 44.5 percent from beyond the arc.  
Standout Stats
Brown had four blocks against Fordham on Wednesday, tying Devon Austin and Dave Althaver as the No. 4 shot blocker in Manhattan history with 94 for his career. He is now chasing Jamal Marshall, who swatted away 129 shots in a Jasper uniform.
Beamon also pushed his double-digit streak to 24 games with 15 points on Wednesday.
Moore has scored 20 or more points in two of his last three games. 
Hofstra ranks No. 318 in the nation with 10.1 assists per game.
Although Manhattan leads the all-time series 37-22, Hofstra has won the last four meetings. 
My Pick: The Jaspers have been red hot recently, and they have also had good experience in close road games. If Manhattan comes out with the same intensity it has had in its last few games, it should be able to pull this one out.
Manhattan 67, Hofstra 64
Tip-Off: Saturday, December 10, 2:00 PM at the Mack Sports Complex.
Follow Jesse Kramer on Twitter @Jesse_Kramer for more college basketball news and information.