Miami Dolphins News and Notes: Raiders Crushed as Revival Continues
December 9, 2011
Mike Ehrmann/Getty Images
With yet another Dolphins victory last Sunday, Tony Sparano continues his defiant last stand as head coach, and fans are beginning to wonder whether he should keep his job if this run of form continues.
While Sparano's job-status remains the most-talked about topic in Miami's footballing circles this week, the blowout victory over Oakland and impending visit of Philadelphia also warrant discussion.
So, without any more hesitation, here is an update of all-things Dolphin from the past week.
Blowout Win Over Raiders Further Proof of Miami's Resurgence
Miami followed their Thanksgiving Day disappointment with a confident performance to comfortably despatch the Oakland Raiders in a 34-14 win.
A receiving touchdown by Davone Bess was followed by touchdown runs by Reggie Bush and Matt Moore, and the final touches were put on the victory courtesy of a fantastic 44-yard interception return for a TD by Kevin Burnett.
Carson Palmer threw two late touchdown passes to make the score slightly more respectable, but the damage was already done.
Miami's dominant win was yet more evidence of the resurgent form they have showed over recent weeks, and a lot of praise should go to Reggie Bush and Matt Moore, who have become huge contributors of offense.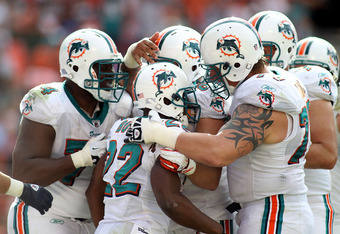 Marc Serota/Getty Images
Bush recorded another 100-yard rushing game, while Moore threw for 162 yards with one touchdown and no interceptions, and an 85.4 QB rating. Not bad for a backup quarterback…
On defense, Burnett recorded four tackles, a sack and a pick-six in his best game yet for Miami, while Vontae Davis added a sack as he continues his return to form following injuries and off-field problems earlier this year.
Only 14 garbage-time points came between the Dolphins and another shutout. Having limited teams to 8.8 points per game in their previous five games, and holding the Raiders running game to just 46 yards, it's safe to say this is what fans envisioned from Mike Nolan's defense at the start of the season.
One final point for all those fans who continually put down the Dolphins despite their wins: Oakland may have been injury-hit, but last year, the Raiders had Darren McFadden and Jacoby Ford, and Miami still beat them that year too.
Can Tony Sparano Save His Job?
At 0-7, his firing was inevitable. If Miami finish 7-9, who knows?
The Dolphins won in dominant fashion for the fourth time in five games, and fans, players and the media are all beginning to question whether Tony Sparano deserves at least one more year in charge to prove his ability as head coach.
The dominant victory over Oakland added further credence to his claims, and if the Dolphins win three of their final four, Sparano will surely be in the reckoning for the job next year. After all, winning seven of your final nine games is some feat considering the abysmal start Miami got off to.
Admittedly, Sparano can be blamed for the 0-7 start, so this is where the decision gets difficult for owner Stephen Ross.
Right now, the players back Sparano. They are openly telling anyone who will listen that they want him back next year. Following an 0-7 start, it is a testament to the coach that the players haven't quit on their coach.
Whether that will sway Ross at the season's conclusion is, as of today, a complete unknown.
Quick Notes on Players
Reggie Bush is officially a fan favourite, and his play this season has warranted it. He has been an excellent acquisition and is a changed player, even dipping his shoulder into tackles. That hospital pass from Moore that led to Aaron Curry's huge hit on Bush was a worry; the six push-ups that followed from Bush were brilliant. He's healthy, and he's one hell of a weapon.
Daniel Thomas added 73 yards on 13 carries against Oakland. When healthy, he certainly runs hard. If he can stay fit, a Thomas-Bush tandem looks like it could be a very dangerous running game.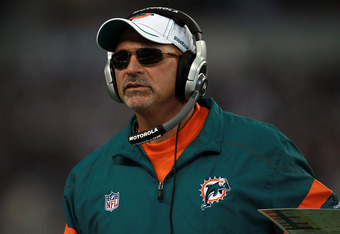 Ronald Martinez/Getty Images
John Jerry was excellent in his first start of the season filling in for Vernon Carey. He has put a lot of work into improving his game in training this year, and it showed. With Carey a free agent at the end of the season, Jerry could now make a case for his starting job if Carey's injury offers him the opportunity.
Kevin Burnett is finally playing up to his contract. He was disappointing earlier this season, but has began to fit in nicely alongside Karlos Dansby, and he should be praised for his impressive play the past few games.
Richie Incognito finally lost it and drew a flag for a personal foul. He's kept his temper in check so far in his Dolphins career, but has to play nice. Those fouls could hurt in tighter games.
His play, however, has been awesome the past few weeks. He has been one of Miami's top performers in their resurgence. His dominance also led to Richard Seymour's ejection for throwing a punch at him; that's a fight you would pay to see surely.
Clyde Gates is finally looking like a kickoff returner. He followed a decent outing in Dallas with a 77-yard return this weekend. The holes he's been hitting are big, but there is definitely potential for Gates to do some damage with his speed if he improves his vision.
Brandon Fields should be a Pro-Bowler. Nothing more to add there.
Around the AFC East
The Brady Bunch survived giving up 21 points to the hapless Colts in the fourth quarter to hang on and win, 31-24. The win made the Patriots the top team in the AFC, but while some might not be too concerned, New England's defense gave up 353 passing yards to Dan Orlovsky. That has to be a worry.
Sexy Rexy's Vomit-Green Cheating-Machine beat Washington, 34-19, with the help of a late turnover. Mark Sanchez came through in the clutch, and Shonn Greene inevitably ran for three touchdowns after I took him out of my fantasy team on the advice of NFL.com's so-called "experts." As a result, I lost. Thanks for that.
Injury-hit Buffalo made it five losses in five going down 23-17 to the Titans after CJ2K found his form and rushed for 153 yards and two touchdowns. Things aren't looking good for the Bills, who face the Dolphins in two weeks and may well finish bottom of the AFC East at this rate.
Around the NFL
The big story was the Packers going 12-0 after a win over the Giants thanks to a last-second field goal. Aaron Rodgers' final drive moved Green Bay down the field with ease, eating up the clock and giving them an easy field goal for the win. It was ruthlessly efficient and quite fantastic to watch. You can't help but wonder whether his brilliance is a result of sitting a rookie behind a good veteran for a couple of years (note to Dolphins staff).
The Packers now have a great chance of equally Miami's 1970 unbeaten season; scary to think they won the Super Bowl last year with 16 people on injury reserve.
Cam Newton broke NFL records for the most rushing touchdowns by a rookie quarterback in their win at Tampa Bay. That should only inflate his ego even more.
San Diego beat Jacksonville to avoid another loss, but the Jaguars must be worried about Blaine Gabbert. Perhaps they should have kept David Garrard after all.
Tebow-Watch Report: He did it again, winning 35-32 in Minnesota. I don't care what people say about his mechanics; Tebow wins games. That's all that matters. Having gone 5-1 as starter, mainly as a result of fourth-quarter comebacks, suddenly that Dolphins defeat doesn't look all that bad, does it?
For some reason, NFL players seem to have taken to punching opposing players in helmets as revenge. Dashon Goldson last week, and Richard Seymour this time around. I just don't understand it!
Draft Targets
Suck for Luck seems a long time ago now, doesn't it? Miami currently hold the ninth pick of the 2012 draft, and with it, they will surely be looking for their next franchise quarterback.
Matt Barkley and Robert Griffin III will almost certainly be in the conversation, as Landry Jones' draft stock continues to slide (expect him to go late first-round).
Barkley is the most NFL ready, so expect teams in desperate need of a signal-caller (like the Redskins or Browns) to have a long look (the Seahawks could trade up too).
Washington and Cleveland currently sit above Miami in the draft order, and considering Miami's form and schedule, expect that to remain the same at the season's conclusion. Trading up could be necessary for Miami unless they wait until the second round and look at Brandon Weeden or Ryan Tannehill; this might be unpopular given the recent draft success of second-round quarterbacks, though.
Robert Griffin is a Heisman finalist, so expect his stock to rise even higher as we approach the draft, particularly after his combine workout, while Barkley's stock remains constant in the top five to 10 picks.
Other possible first-round targets could be receivers Alshon Jeffrey and Justin Blackmon, offensive tackles Jonathon Martin and Riley Reiff or cornerbacks Dre Kirkpatrick and Morris Claiborne, but right now, expect that first rounder to go on a quarterback.
Next Up: Philadelphia Eagles
The Eagles are in disarray. They just lost to the Seahawks, fans are calling for Andy Reid's head and DeShaun Jackson is playing like a wide receiver who wants to get paid.
Michael Vick will return against Miami following fractured ribs, so that could steady the ship, and LeShaun McCoy has been outstanding this year (15 TDs and the only running back currently over 1,000 yards).
Vick's return will make Miami's job all the more difficult, but the Dolphins will be favourites considered the current state of Philadelphia's "Dream Team" (How much does Vince Young regret that quote now?).
In case you wondered what it looks like, Philly are a team who have given up on their coach.