Dwight Howard Nets: Superman Trade Would Make Nets Team to Beat in East
December 9, 2011
Marc Serota/Getty Images
It would take a superhero to take the Nets from a lowly, sub-.500 squad to the best team in the East. Luckily for the Nets, Superman could very well be on his way.
ESPN's Chris Broussard reports that Dwight Howard is expected to ask the Magic to trade him to New Jersey.
Howard would get a chance to play with Deron Williams, who would finally have someone to pass the ball to.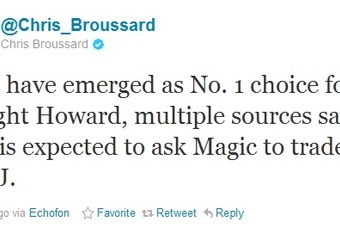 Best of all for Howard, he wouldn't be following in anyone's footsteps or making some sort of super team. This isn't like the Chris Paul trade, as the Nets didn't even win 25 games. He would be the driving force behind their rise and would make them the best team in the conference this season.
What about LeBron James and the Miami Heat? They're on their way to not one, not two...not seven, but multiple championships. Can D12 really dethrone the Heat in the East?
There is no doubt about it. We're talking about the best big man in the game. He's a serious contender for Defensive Player of the Year honors and he's good for 14 boards and 20 points a game.
The Heat have huge, gaping holes at center and point guard, arguably the two most important positions on the court. If they thought the Tyson Chandler-Dirk Nowitzki tandem was tough to deal with in the Finals, how can they possibly expect to handle Howard?
It's unfair to speak about anyone else on the Nets as being an asset, as the only piece that seems untouchable in the trade is Williams. That being said, it wouldn't be difficult to find role players to make the Nets the best team in the East.
This isn't like pinning two superstars together at positions that take away from one another. Williams and Howard would be the best big man/little man combo since Shaq and Kobe.
Howard doesn't have to join the Lakers to be on a championship-caliber team and with the Celtics aging rapidly in the East, the throne is still up for grabs.