Jerry Dipoto: The Best 2-Month-Old GM in LA Angels Franchise History?
December 9, 2011
When charter owner Gene Autry debuted his Los Angeles Angels in 1961, he named Fred Haney the first general manager in Halos history.
Since that first year, 11 executives have presided over the Los Angeles-California-Anaheim Angels franchise, the most recent being current rookie GM Jerry Dipoto.
Named the Angels GM on October 29, 2011, Dipoto immediately hit the ground running and has already accomplished a prodigious amount in a very short period of time.
Just 41 days into the job, Dipoto has transformed the national baseball landscape in bringing Los Angeles some extremely notable names. In just his past 10 days of work, Dipoto has completed a series of some of the most notable transactions in recent MLB offseason memory.
Here is a brief list of Dipoto's Dec. accomplishments which have brought an early holiday season to millions in southern California:
Dec. 1, 2011: Acquired catcher Chris Iannetta from the Colorado Rockies in exchange for Angels pitcher and prospect Tyler Chatwood.
As I previously mentioned, the addition of Iannetta fulfills the Angels' large need at the catcher's position. Dipoto's Dec. 1 transaction left the door open to two more potential moves: the subtraction of catcher Jeff Mathis or Hank Conger—the better choice for elimination being Mathis—and the addition of a strong pitcher—namely C.J. Wilson, whom the Angels had been courting for almost a month.  
Dec. 5, 2011: Acquired pitcher Brad Mills from the Toronto Blue Jays in exchange for LAA's Mathis.
In regards to this trade, I applauded Mathis' departure mainly because of the added confidence the Angels have demonstrated by keeping Conger on-board as their No. 2 catcher. Additionally, Mills as a pitcher served as a backup plan just in case the Wilson rumors never panned out. 
Dec. 8, 2011: Announced the signings of former Milwaukee Brewers pitcher LaTroy Hawkins, Texas Rangers starting pitcher C.J. Wilson and St. Louis Cardinals first baseman Albert Pujols.
Ah, the battery moves are complete and the curse of Kendrys Morales' broken ankle is finally... broken.
Before jumping to declare Dipoto the best rookie Angels executive there ever was, perhaps it is wise to pause and remember the early days of Dipoto's predecessors, such as Tony Reagins.
Slightly over a month after being named Angels GM in 2007, Reagins unloaded Gold Glove shortstop Orlando Cabrera to the Chicago White Sox for pitcher Jon Garland and signed free-agent outfielder Torii Hunter to a five year, $90 million contract.
Still, Reagins did not add Pujols and Wilson to the club during his first offseason.
Prior to Reagins, GM Bill Stoneman's biggest transactions might be considered the hiring of current Angels manager Mike Scioscia and the signing of free-agent Vladimir Guerrero.
Still, no Pujols and Wilson-caliber moves in his first two months...
Prior to Stoneman, GM Bill Bavasi welcomed young prospect Garret Anderson to the big leagues before trading for aging veteran Harold Reynolds and signing utility player Rex Hudler during his first few months of general managing.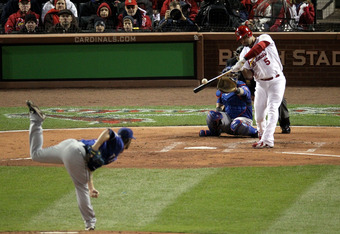 Jamie Squire/Getty Images
From Bill's father Buzzie Bavasi adding outfielder Lyman Bostock in the 1977-1978 offseason to Whitey Herzog and Dan O'Brien fighting for power in the executive office, no Angels GM has even come close to a Pujols-Wilson coup other than Harry Dalton.
Soon after taking the GM job during the 1971 offseason, Dalton acquired Nolan Ryan during a Dec. trade with the New York Mets. However, it ends there. Dalton got the elite pitcher, but couldn't add an elite position player to complete the set.
After review, it is clear that no previous Angels GM has been able to pull off so many improbable moves in so short an inaugural time span.
So is Jerry Dipoto the best two-month-old Angels general manager in franchise history?
He sure looks the part on paper, but we'll have to wait a few more months to see how Dipoto's daring moves pan out on the field.