Heisman Trophy Watch: No Heisman? No Problem
December 9, 2011
Al Messerschmidt/Getty Images
I was reading the list of past Heisman Trophy winners in today's paper and wasn't all that impressed. While many winners indeed go on to thrive in the NFL, there is no guarantee that Heisman glory translates into NFL success—only nine Heisman winners also have a Super Bowl ring.
The past decade has had its share of Heisman-winning NFL letdowns and stars, and raises the question of whether or not Heisman success predicts a prosperous NFL career.
The early 2000's produced mostly NFL duds. Chris Weinke (2000, Florida State), Eric Crouch (2001, Nebraska) and Jason White (2003, Oklahoma) claimed Heisman honors. None of them got even close to making it big in the NFL. Weinke was drafted by a struggling Carolina Panthers team, got to play on occasion when Jake Delhomme got injured, but was a backup for the majority of his brief career. Crouch ended up being too short to play quarterback by NFL standards, and White went undrafted.
And they looked so promising in college.
More recently, we have seen Matt Leinart, Tim Tebow and Sam Bradford. Leinart struggled as Kurt Warner's backup and suffered injuries in his first two seasons as a Cardinal. Currently, he performs backup duties in Houston.
The Tebow story continues to unravel. Drafted by the Denver Broncos in 2010, he set an NFL Draft record for jersey sales and is now beginning to show signs of leadership and confidence in Denver's 2011 surge. Only time will tell what Tebow is truly capable of.
Bradford helped improve a 1-15 St. Louis Rams team to 7-9 in his rookie season. However, he has struggled to craft wins in a frustrating 2-10 sophomore campaign thus far.
That being said, the Heisman is an incredibly prestigious award that celebrates only the most talented, influential college football players. It's just that the NFL is different than the NCAA, and what works in the Big 12 may not necessarily hold up in the NFL.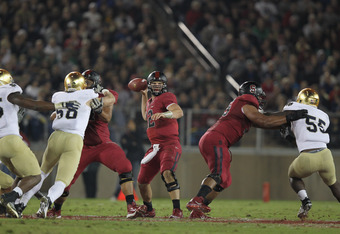 Ezra Shaw/Getty Images
So, maybe winning the Heisman isn't all that it's cracked up to be.
By not winning the Heisman, you will most likely be drafted by a team that is not the Indianapolis Colts.
In your first few years in the NFL, you will not be as closely scrutinized or questioned as the Heisman winner is, and there will be less pressure to carry a struggling team on your rookie shoulders. With less pressure, you have the opportunity to focus, perform better and create your own legacy.
And you instantly join the company of fellow non-Heisman winners Joe Montana, Tom Brady, Aaron Rodgers and Ben Roethlisberger.
So, Andrew Luck, don't fret when you don't win the Heisman this year. You've created a legacy at Stanford and odds are you will do better than most of your Heisman-contending counterparts on the NFL stage.