UFC 140 Live Results, Commentary and Five-Star Anlaysis of Jones vs. Machida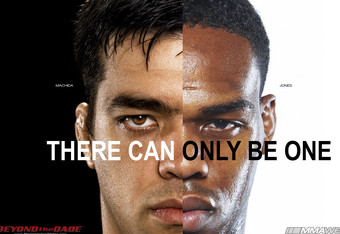 (MMA Weekly)

What a year for Jon "Bones" Jones and Lyoto Machida.
At the beginning of this year, Machida needed a win against the legendary Randy Couture just to stay somewhat relevant, and Jones was facing Ryan Bader in order to cement his status as "the man" at 205, as far as prospects were concerned.
Little did either man know that on December 10th, 2011, in the second to last UFC event of the year, they would be facing each other for the UFC Light Heavyweight title. Alas, that day has come.
Antonio Minotauro Nogueira and his little brother Rogerio also return to action with Rogerio duking it out with "The People's Champion" Tito Ortiz and a rematch from UFC 92 for Minotauro as he tangles with one Frank Mir. Mir reportedly believes that this will be a bout not totally different from their first bout, which saw Mr. Mir become the first fighter ever to knock out the iron-jawed Brazilian.
Finally, Jamaican-Canadian Claude "The Prince" Patrick and Ontario-bred striker Mark Hominick have their own motivations towards a successful return in their home countries. For Patrick, it's the prospect of extending his lengthy win streak on home soil. For Hominick, it's national pride mixed with the added drive of losing his trainer that fuels him. However, Brian Ebersole has other plans for Patrick, while Chan Sung Jung would like to add another soul to his resume.
With all this, plus the return of the "US vs. Canada" on the prelims and more, this is UFC 140: Jones vs. Machida live on Bleacher Report!
Well everybody I'm going to tap out for UFC 140as Igor Prokrajac's fight with Krzysztof Soszynski airs, so farewell from this event as this has been UFC 140 on B/R.
Be sure to stay tuned to Bleacher Report for all things UFC 140. B/R is your home for complete coverage of the December 10 fight card, from pre-fight predictions to in-fight coverage, results and post-fight analysis.
Jones with a leg kick to start round two, and a head kick later on.
Lots of kicks thrown by Jones so far, but Machida catches the leg and almost goes into brawl mode.
Machida is busted open as Jones gets him down and lays in the ground and pound, but time gets called for a cut over the eye.
The fight resets with both against the clinch, but it appears Jones drops Machida, and the direct attack leads to a sick standing power guillotne--that's his favorite--and Big John steps in as Machida is OUT!
An awkward left hook is what a replay uncovers as the shot that dropped Machida, but Jones definitely squeezed Machida's neck as if it were a tube of toothpaste
Winner by first round submission, and STILL UFC Light Heavyweight Champion: Jon "Bones" Jones!
Makdessi-Hallman re-airs; fight shows that the first round was all Hallman before the rear naked choke win.
Nothing lands until Jones lands a spinning back kick and gets checked with a leg kick.
Machida has his punch deflected, but hits Jones and almost comes in with a flurry but backs off.
Body kick from Machida and a straight right. At least it wasn't the left of Bones.
Machida patty-cakes with Jones and nearly drops Jones with the flurry.
Bones hesitant to go forward and the horn sounds on the heels of a 10-9 round for Machida.
Good respect. Now let's do this.
Classic Black House vs. Jackson's MMA chapter right here as Jones walks out next .
Not a surprise that Jones looks ready to go and he's not coming out with too much swagger as he knows the task in front of him
Bones in the black trunks, and the difference between his reach and Machida's: 10 and a half inches.
ARE YOU READY!!!!!!!!! LET'S GO!!!!!
Lyoto Machida is out first and his footwork already looks awesome as he walks down to the cage.
The former champ is out in the red trunks, awaiting the champion, who is in for the toughest challenge of his career right now,
Frank Mir shows great class and walks us through the arm-breaking Kimura win.
Nothing is taken away from Nogueira, and he still should not retire, quite honestly.
He looked good up close with Mir and simply made a premature mistake when he was in the driver's seat.
The main event is up next as Jon Jones vs. Machida is coming up next.
Mike Goldberg and Joe Rogan run down the main event, but I call BS on Rogan giving the experience to Jones.
Submissions, I don't know about either, given Machida's size, but they are making this fight seem like more of a mismatch than it actually is.
I know Jones makes fights look like extreme mismatches, but still...
They touch up. Good show of respect.
Nogueira looks a bit flat-footed but gets Mir against the cage where both jockey for position before a Mir takedown.
Nogueira drops Mir and nearly gets a TKO finish, but goes for a guillotine and loses it, where Mir escapes a D'Arce Choke, gives up his back and rolls twice to secure a wicked arm-breaking Kimura!
Winner by 1st round submission: Frank Mir!
Sounds like the Led Zepplin classic "Kashmir" to me as Minotauro comes out pissed. I don't see Ed Soares or Anderson Silva in tow.
Nogueira is in the grey and white trunks, and Mir is out next.
"Amazing" fits Frank Mir about as well as a gi fits a Gracie.
He is in the black trunks. I might expect Mir to have the speed advantage, but the key might be the matter of who gets it to the ground first.
Mir has about two to three inches on Nogueira...and we are underway!
Rogan interviews both men, and both men give props to the other for their performance, and if Tito gets one more fight, Dana White should make it Forrest Griffin.
Costa Phillipou vs. Jared Hamman next.
If you didn't see it, here's what happens:
Technical striking and a brief moment of clinching, but Hamman drops twice on the right hand of Costa before they get up.
Costa drops Hamman a third time with a right, lets Hamman up but lands a fourth right that lays Hamman out and Big John McCarthy steps in.
Both guys come out tentative but swing heavy before clinching against the cage.
Tito lands some good shots in the Dirty Boxing clinch but gets hurt by Nog, who drops Tito with a knee but gets caught in the guard of Tito, who takes heavy body shots and elbows before the referee steps in.
Heard something about an eye poke, but replay shows Tito hurting his rib in what might now be the last fight of Tito's career.
Winner by 1st Round TKO: Antonio "Little Nog" Nogueira!
Tito vs. Nog...HERE WE GO!
Ortiz vs. Little Nog next, with Little Nog out first.
No real "keys to victory" here. Both are good pretty much everywhere, though Nog might want the stand-up a little bit more.
It looks like the white version of the signature flame trunks of The Fighting Pride of Huntington Beach's trunks are out for Tito.
Nog will have the edge on reach, it seems, and he's in the black trunks.
Winner by split decision, Brian Ebersole!
Crowd is not booing to disagree with the decision...the decision could have gone as much to Patrick as it could have gone to Ebersole.
Easy to see this either way; no robbery here unless you just lost your house on Patrick.
Round three starts off actively but mostly sees two takedowns in the early going and Patrick seem helpless so far, but temporarily stops Ebersole from getting both hooks in on a rear naked choke.
Patrick turns the heavy pressure from Ebersole into a series of chances for Gator Rolls. but none get off.
Round ends...all bias aside, can we argue for a 29-28 for Patrick?
I hope it's a split decision, regardless of how this ends.
Round two begins with more of the same with the pressing against the cage and the spurts of striking.
Ebersole looks to press a little bit more early on but Patrick seems to be getting the better of the standup as the round progresses.
I can see it 19-19 right now, if I'm a judge but Ebersole might be getting a 2-0 score now.
Patrick sprawls on a takedown attempt and Ebersole puts Patrick against the cage but takes a knee clinching away from it.
Patrick eventually gets Ebersole against the cage, but they jockey for position.
Ebersole looks like he gave away a guillotine but breaks out of it and still presses Patrick against the cage before they reset.
Ebersole working the jabs and uppercuts Patrick before pressing him against the cage.
Loud chants for Patrick as he regains control and delivers a few good shots inside the clinch to end the round.
Without a bias, 10-9 Ebersole?
I would say so. Good first round though.
Ebersole is out first in the white trunks with Tapout shaved into his chest.
Patrick is next out in the black trunks. Keeping it technical and finding the kill--those are Patrick's keys to victory.
Patrick will have a longer reach against Ebersole.
Josh Rosenthal is our ref. Eberso is circling early.
So...Ebersole vs. Patrick next?
Yeah, let's say that!
Keys to victory for Ebersole: getting off first and activeness once he gets Patrick down
Winner by way of a SEVEN SECOND KO, Chan Sung Jung!
I'm speechless as the replay during the post-fight interview shows the complete fight. Did I really see that s**t?
Jung comes out to touch gloves, dodges a left hook, and and connects with a wicked right hand followed by some punches before Herb Dean waves the fight off.
Hominick is one of those dudes that can pull off an entrance with "Coming Home". He's in the red trunks. Hominick will have a reach disadvantage and may want to try to use his footwork to try and get inside on Jung.
Keys to victory for Hominick: Stuffing takedowns and not brawling with Jung.
Keys to Victory for Jung (who walks out first to "Zombie" and is in the white trunks): keeping his patience against Hominick and pushing Hominick. I.E. he has to, of course, make Hominick fight his fight--by forcing some recklessness out of Hominick if possible.
The opener plays and we are LIVE (blog coverage) AND DIRECT for UFC 140: Jones vs. Machida!
Dale De Souza is my name, and whooping tails on MMA coverage is my game, because I'm the one that head kicked UFC 128, hospitalized UFC 132, and made UFC 137 my girlfriend before imprisoning UFC 139 last month!
Mike Goldberg and Joe Rogan are filling in for Michael Schiavello and Randy Couture...nah, just kidding. Goldei and Rogan are running down the card...and "The People's Champion" is now Tito Ortiz, not "The Huntington Beach Bad Boy".
We're kicking off with our High-Definition coverage of this with "The Korean Zombie" Chan Sung Jung and Mark "The Machine/Canadian Zombie" Hominick!
This article is
What is the duplicate article?
Why is this article offensive?
Where is this article plagiarized from?
Why is this article poorly edited?