Chris Paul Lakers: David Stern Stands on the Edge of Mutiny Following Veto
December 9, 2011
Patrick McDermott/Getty Images
Chris Paul just got the Vince McMahon treatment.
It is David Stern's league. It is his arenas, his teams, and he wasn't going to let Chris Paul compete for a championship this soon after he cost fans, players and workers months of games and paychecks in an effort to milk money out of the NBPA.
Right now, Paul is being held hostage in New Orleans by an commissioner that is sending a deafening statement that he will not be crossed. Sadly, this isn't Monday Night Raw, this is real life, and now the NBA is on the verge of class warfare because Stern has been exposed as the fraud that he is.
For hours, fans debated the package that would have sent Paul to Los Angeles to play with Kobe Bryant, and some were in favor of it, some were against it. There are merits to both sides of the story, but the bottom line is this—a deal is a deal, and this is not your fantasy league with your buddies. You cannot veto the deal and personally restrict player movement, as has been reported by Yahoo! Sports' Adrian Wojnarowski.
However, that won't stop Stern, who made the decision and hasn't looked back, but has new problems on his hands. The players are revolting, against the league and owner Dan Gilbert, who doesn't know when to step away from his computer.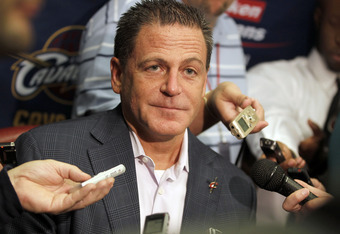 Gregory Shamus/Getty Images
Gilbert fired off an e-mail (which was obtained by Yahoo! Sports) to Stern compelling him to stand firm in the wake of the trade, furthering the perception that he is a bitter, pathetic man who still can't get over the fact that LeBron James left him at the altar two summers ago.
In the immediate aftermath, the players took to Twitter to let their voices be heard on the matter, with Danny Granger and Jason Richardson firing the loudest salvos. Not only are players voicing their displeasure so all can see, Paul is reportedly planning his own legal action to force his way to Los Angeles, and he's going to win.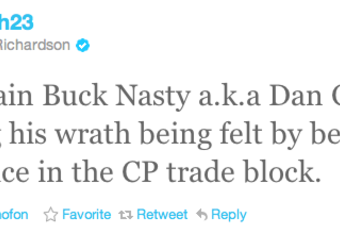 Vetoing any trade is a dangerous precedent, and not something the league wants to deal with every time a deal goes through. Where was Stern when the Lakers stole Pau Gasol for Kwame Brown and prospects? He was awful silent as Bryant and Gasol raised two championship rings. 
The same goes for Kevin Garnett, who shimmied his way out of Minnesota to go to Boston and win a championship in less than a year. Now, Stern will have to deal with Dwight Howard, who is also looking to change zip codes with a move to New Jersey to play with Deron Williams according to ESPN's Chris Broussard.
If that deal goes through, how is that fair to the Hornets, Rockets and Lakers, who worked hard to craft a deal acceptable to all parties? The league may own the Hornets, but they have allowed the team to conduct business as usual, and cannot squash the result just because they don't like it and have been exposed as money-hungry hypocrites.
How can the NBA veto this deal and then essentially force the Hornets into letting Paul walk in free agency and sign somewhere else, leaving an NBA franchise with next to nothing? Furthermore, how can the league allow the Hornets to trade him to another franchise? What constitutes a fair deal these days?
Gilbert saw what happens when a superstar walks out of the door, leaving you holding the bag, and the fact that he is pleading for another franchise to suffer the same fate reeks of arrogance.
New Orleans deserves the right to get something in return for a player that doesn't want to be there and the Lakers have more than a right to a point guard that could extend the franchise's run of greatness.
One way or another, Paul will end up in a Lakers uniform, and sorry Mr. Stern, it will be mighty awkward when you have to hand CP3 the Larry O'Brien trophy after you told him where he can and can't play.