Kansas City Chiefs 7-Round 2012 Mock Draft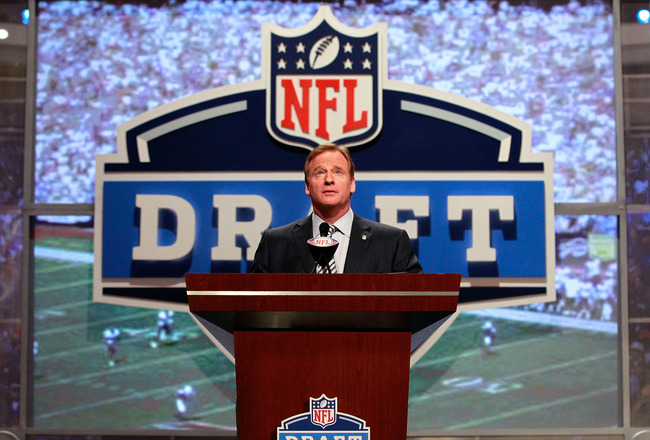 Chris Trotman/Getty Images
After an improbable victory against the Packers, the Chiefs are riding high and are still in it to find that SB glory. The AFC West is as wide open as it has ever been and with divisional games the next couple of weeks, the players should stay focused and go to work. We'll need all the luck in the world to scrap our way into post-season glory.
Its been a roller coaster-like season; many things have happened and question marks loom on the horizon about the future of the club. Coaching changes, major injuries, inconsistency and bad losses have marred the Chiefs team.
However, I don't think we'll be blowing up to rebuild again. We've finally found some glimmer of hope and if that same team we saw on Sunday had showed up every game, we'd be crowning ourselves as the champs already. Although I can't predict the future, I can work with what I've got and predict what our Front Office may or may not do.
So with the 11th pick in the NFL Draft, the Kansas City Chiefs select:
With Their 1st Round Pick the Chiefs Select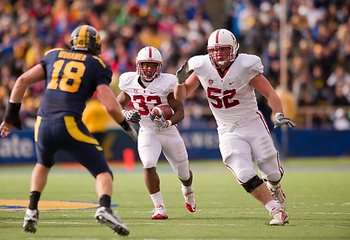 DAVID DECASTRO G/C/T 6-5/315 STANFORD
I know what you're thinking, a GUARD??!! With the 11th pick??!! RAGETIEM!!
Although DeCastro isn't the flashiest guy in the world and isn't going to perform magic with the ball in his hands, he's probably the single best player at his position in the entire draft. Yes, maybe even better at Guard then Luck/RGIII are at QB. He's absolutely dominating in all facets of the game.
Pass protection, run blocking, zone blocking, power blocking, pulls, traps, etc., you name it and this guy is asked to do it and he does it at a very high level. He's got NFL size at 6'5" and tips the scales at a whopping 315. Although he's not going to blow you away with his strength, he has the technique down to perfection.
He's got pretty good athleticism too; the picture above reminds me of Big Jon Asamoah downfield. He's versatile, playing every position on the line before, however he's truly a guard in every sense of the word.
Our team has had major problems this year blocking up front, in fact it's been downright putrid. For years now, our short yardage and Redzone offense has been bad. Whenever we need to get reliable yards, we can't get them and I put the blame mainly on the shoulders of Wiegmann and Lilja. Casey is just too old and with his size, he can't handle NFL DTs anymore. Lilja, on the other hand, is just small. Both of these guys are liabilities, whether it's in the pass or run game, in fact what got Orton hurt against the Bears was Wiegmann not handling his man and Hudson having to step in to help, leaving a wide open lane for a blitzer to kill him.
We need more reliable people up front. Hudson is going to be good and I think he'll work out well at Center, which leaves the LG position. I think Lilja can bring great depth along the interior and I think DeCastro comes and is a starter from Day 1.
Fletcher Cox DE/DT 6'4"/295 Mississippi State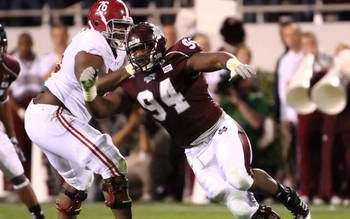 FLETCHER COX DE/DT 6-4/295 MISSISSIPPI STATE
Cox is an underrated prospect going into the draft as he made some noise with the Bull Dogs and projects well in the NFL. Big man with great athleticism, and he's scheme-diverse playing in both 3-4 & 4-3 fronts. He shows a disruptive pass rush ability, a motor that just won't quit, solid block shedding ability and good upside as a run defender. However, he's raw and the coaching he got wasn't the greatest. The only reason why he doesn't go in the first round, kind of reminds me of Allen Bailey for the Chiefs only with better college tape.
The guys up front just aren't doing the greatest job against the better offensive lines around the league; we get stymied up front and our pass rush begins to dwindle. I've regularly seen us stone wall up front, and it's a bit disheartening seeing Dorsey get handled by a single blocker. The emergence of Allen Bailey & Justin Houston is promising, but reloading the talent pool can only help the defense especially if Wallace Gilberry leaves like I think he will.
I think Cox comes in and immediately "starts" in our sub-packages lined up next to Bailey. I could also see him do special teams duty where he's blocked some kicks. He'll be brought on slowly, and we might not see immediate results until later into the season, but I think that he'll come into his own as he learns the pro game. If he can develop as well as Bailey, we might see future starters down the line especially with Dorsey being in a contract year.
Brandon Mosley OT 6'5"/305 Auburn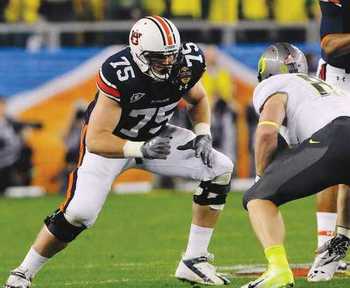 BRANDON MOSLEY OT 6-5/305 AUBURN
A former Tight End/LB/Basketball Player, so an athletic lineman. Shows on film, smooth back pedal to deal with speed rushers, displaying a good knee bend, quick feet and long, strong arms to keep the defender away. Has some strength as a run blocker as well, and is a rather impressive downfield blocker. Athletic ability shows up when he's in space, can really get downfield in a hurry to block for a screen pass and locks smaller players out of the play. Nasty player that plays with a mean streak and played a leadership role being the oldest starting offensive lineman.
Beef is the name of the game. The Chiefs must start winning the fight in trenches more to become an elite team and Mosley may take us one step closer to that goal. He may need to sit for a year to develop and learn the pro game transitioning from Auburn, but the potential is there for him to become a great player down the line. He's got the athletic tools, as well as the work ethic to become the player we need him to be at RT. Seems tailor-made for the ZBS, and with this pick our line is finally completed.
Antonio Allen SS/LB 6'2"/210 South Carolina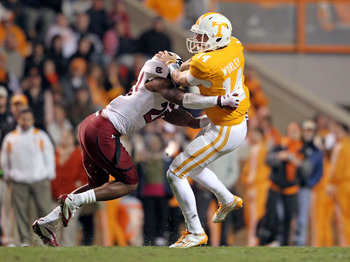 Andy Lyons/Getty Images
ANTONIO ALLEN SS/LB 6-2/210 SOUTH CAROLINA
More depth in the back end, Allen is asked to cover and defend the run, something we ask our Defensive Backs to do. Allen is a playmaker and a solid tackler and should we ever need him to, I think he could play some starter minutes. Somebody has to replace Sorry Piscatelli and Old Man McGraw.
Brock Osweiler QB 6'8"/240 ASU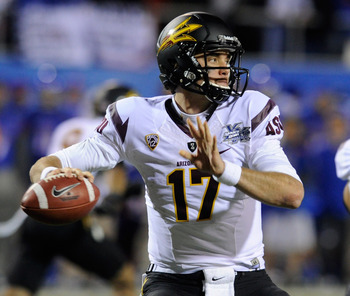 Ethan Miller/Getty Images
BROCK OSWEILER QB 6-8/240 ASU
Couldn't go without picking a QB; I have it rated as the Chiefs number one need. Pioli has already mentioned he'd like to draft a QB every year, and none is more intriguing then Brock. He's huge first of all, and would be the tallest QB in the NFL. He was a former basketball player for the Sun Devils, so he does have some athletic ability even at his size. Being a former basketball player, he is a raw prospect and he does have some issues, which is why he's there in the 5th even with a cannon arm.
Brock oozes potential and if he can get his mechanics and other issues situated, he could have a bright future. With Crennel now hired, we're going to need to keep bringing QBs in until we find the right one. Cassel sure as hell ain't the answer and I doubt Orton is either. I have high hopes for Stanzi, so why not bring in some competition?
Herbron Fangupo NT 6'1"/330 BYU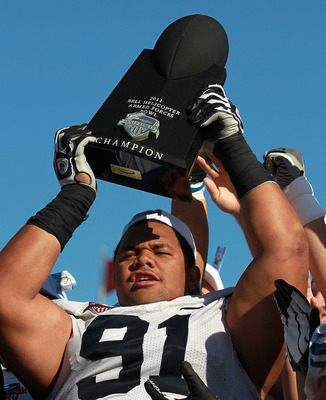 Ronald Martinez/Getty Images
HEBRON FANGUPO NT 6-1/330 BYU
Transfer student from USC had a pretty good year for BYU and may have a future at Nose. I believe Powe will take over for us at NT next season, but it can't hurt to have somebody developing in the wings.
Brian Linthicum TE 6'5"/240 Michigan State and T-Bob Hebert G/C 6'3" LSU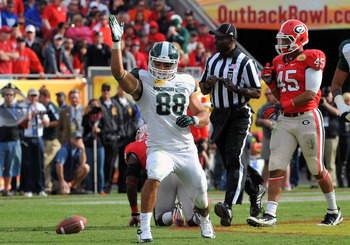 Al Messerschmidt/Getty Images
BRIAN LINTHICUM TE 6-5/240 MICHIGAN STATE
T-BOB HEBERT G/C 6-3/300 LSU
To round out this mock we go for some good depth players. Linthicum has some upside and could become our #2 TE down the road. Shows a good skill set in both pass catching and run blocking. T-Bob has played across the line and shows good technique. Well-coached linemen who could replace Lilja as back-up along the interior sometime in the future.
Keep Reading

Kansas City Chiefs: Like this team?