Chris Paul Deal Dead? Lakers Hate Extends Beyond the Stands and the Court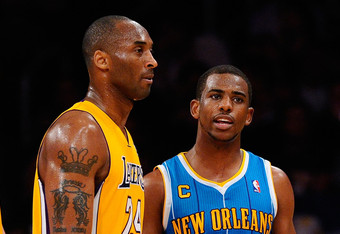 Kevork Djansezian/Getty Images
NBA commissioner David Stern is reportedly trying to kill the proposed deal that would send New Orleans Hornets point guard Chris Paul to the Los Angeles Lakers, even though all three teams involved, including the Houston Rockets, appear to be following the parameters set in the league's new CBA.
According to Yahoo! Sports and ESPN, Stern was under pressure from some of the owners who were concerned that the Hornets who are owned by the NBA was about to ship their franchise player to one of the league's most prestigious organizations.
I'm just guessing that Charlotte Bobcats owner Michael Jordan was probably one of those owners, but at any rate, this latest ruse by Stern will not likely prevent the Lakers from acquiring Paul, and possibly Dwight Howard, down the line as long as the Lakers play by the rules that have been established.
In fact, what this really boils down to is another instance of Lakers hate bearing its ugly head, only this time, the disdain is coming from a little further up.
Most people who don't like the Lakers usually hate them, but those feelings are often reserved for fans and the players who have to face the Lakers on a regular basis on the court.
Rarely does management enter the fray when it comes to the Lakers, but we have seen this before.
There were plenty of teams and several coaches who voiced their displeasure when the Lakers traded for forward Pau Gasol in 2008, and in reality, that deal seems a lot more uneven than the Paul deal.
The Lakers actually are a worse team after losing two of the league's premier big men in Pau Gasol and Lamar Odom, but maybe Stern and the owners are trying to prevent what is sure to be a Lakers bid to add Howard as well.
The only thing is, where were these same owners and Stern when LeBron James and Chris Bosh were taking their talents to South Beach?
That superstar pairing reeked of collusion, much moreso than the Lakers deal for Paul, who were not even his first choice initially.
In my opinion, Stern and a small group of owners are attempting to shape competitive balance by making an example of the Lakers, but where will this dark path lead the NBA?
The owners had every opportunity to make these changes during the salary structure negotiations, but they failed. So now the answer is to do it retroactively, starting with the Lakers.
So will the league kill every deal that it feels gives another team an unfair advantage?
Will Stern and the league eventually force every superstar to stay with his current team, which effectively removes choice out of the equation?
Or is this just another example of Lakers hate on a much higher level?
I can understand fans and opposing players hating the Lakers because it's a natural tendency to hate the success of your peers, but when the owners do it, hating becomes dangerous, because they have the power to actually act on their emotions.
And killing the Paul deal is exhibit A.
I'm sure there are fans of other teams who are applauding Stern and the owners' actions, but be very careful what you wish for, because you could very well find your team in front of the NBA's firing squad.
This article is
What is the duplicate article?
Why is this article offensive?
Where is this article plagiarized from?
Why is this article poorly edited?

Los Angeles Lakers: Like this team?