NBA Free Agents 2011: Shannon Brown Turns Back on Lakers, Bolts for Phoenix Suns
December 8, 2011
Christian Petersen/Getty Images
When news broke about free-agent and former Laker Shannon Brown signing with inter-division rivals the Phoenix Suns, the first thing I looked for was the enormous contract it took for Phoenix to sweep Brown off the free-agent market.
Boy, was I wrong.
After opting out of a one-year, $2.4 million payday with the Lakers to test the free-agent waters and pursue a longer-term deal with a huge bump in salary, here's what Shannon got from the Suns:
One year—$3.5 million.
Huh?
Wasn't Shannon looking for a longer-term gig more than one year and more playing time? Wasn't that the whole reason he opted out of his contract with the Lakers?
Entering the desert, Shannon's prospects are to play behind point guard Steve Nash and alongside incumbent shooting guard Jared Dudley.
Not exactly starter's minutes. 
True, with the snafu over Suns point guard Aaron Brooks being held abroad in China and a potential promise from Suns management for a huge part in Phoenix's run-and-gun style of play, Shannon will get a bump in minutes albeit in a crowded backcourt.
He already had a one-year deal with the Lakers, a championship contender with a wide open backcourt, for $1 million less.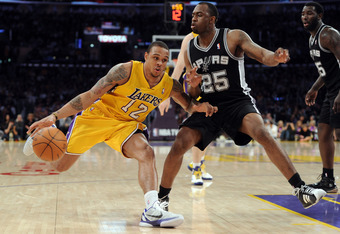 Harry How/Getty Images
Given that Shannon was with the Lakers for three years, Mitch Kupchak could have certainly exercised the Larry Bird exception and re-signed Shannon for this amount and this duration. Money was no problem with the Bird Rights; it was the duration of the contract the Lakers were concerned about.
Wanting to clear salary by 2013-14 to avoid the ramp-up in luxury tax penalties, the Lakers would have easily shelled out an extra $1 million for another year to keep Shannon, preserve their mid-level exception for outside free agents and have Shannon's contract come off the books after next season.
But Shannon instead agreed to sign an average contract with an average team that will expire in one year.
There has to be more to this decision than an extra $1 million and a modest bump in minutes. Shannon didn't get the blockbuster contract he was looking for but took a middling offer just to leave Los Angeles.
Who knows—Shannon could have been prominently featured in Mike Brown's up-tempo, beat-the-shot-clock offense next year.
This was an opportunity he chose to give up in order to jump ship. And for that, on behalf of Laker Nation, I say good riddance.
See you around the Pacific Division.