Los Angeles Dodgers Sign Aaron Harang, Chris Capuano and Jerry Hairston, Jr.
December 8, 2011
Kent Horner/Getty Images
The Los Angeles Dodgers have inked starting pitchers Aaron Harang and Chris Capuano, as well as utility man Jerry Hairston, Jr., to major league contracts.
Harang and Capuano fill out a rotation already consisting of 2011 Cy Young Award winner Clayton Kershaw, Chad Billingsley and Ted Lilly, while Hairston will add strength, depth and experience to a bench that was sometimes unreliable in 2011.
The perpetually inconsistent Harang, 33, joins the club on a two-year, $12 million contract. He is coming off a season in which he went 14-7 with a 3.64 ERA in 28 starts for the San Diego Padres.
After Capuano's former team, the New York Mets, were unwilling to give the left-hander a multi-year deal, the 33-year-old went to the open market looking for a team that would offer such a contract—and he found one. He also signed a two-year deal, worth $10 million.
Capuano appeared in 33 games for the Mets in 2011, making 31 starts and going 11-12 with a 4.55 ERA, tying Dillon Gee for the second-most victories on the squad.
The versatile Hairston has also latched on for two years, inking a $6 million deal. He split last season between the Washington Nationals and Milwaukee Brewers, hitting .270 with five home runs and a .344 on-base percentage while spending considerable time at all three outfield positions, as well as at second base and third base.
Harang and Capuano are both quality mid-to-back of the rotation starters—both are innings eaters who can keep their team in the game well enough.
The former, however, has been rattled with inconsistency throughout his career, leading his squads to wonder which Aaron Harang they will get each season. They may get the 2005-2007 Harang, who averaged 14 wins, 226 innings pitched and a 3.77 ERA each year.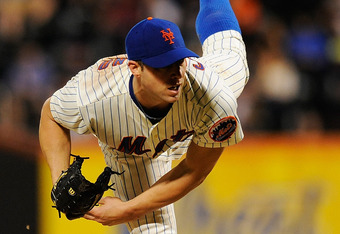 Patrick McDermott/Getty Images
Or the team may be the beneficiaries of the 2008-2010 Harang, who went 18-38 with a 4.71 ERA in that span, leading the league in defeats in 2008.
After three down years, the right-hander rebounded nicely last season, and the Dodgers hope he can parlay that re-found success into a solid 2012.
Doubts and worries also exist for Capuano, who in 2011, pitched his first full season (30 or more starts) since 2006. He missed 2008 and 2009 due to arm injuries and rehabilitation.
His 2011 season was a solid bounce back; however, the questions exist: Will the pitcher's fragile limb have enough strength and endurance to pitch two consecutive, complete seasons after barely pitching at the major league level for three straight years? Will it make it through 2012 unscathed and still be effective in 2013?
The Dodgers, at least, think so.
The defensively reliable and offensively sound Hairston, 35, brings a welcome veteran presence to Los Angeles' bench, which will aid the team both at the plate and in the field.
Nary a bench jockey managed an on-base percentage higher than Hairston's .344 last year, save for catcher A.J. Ellis, so the brother of outfielder Scott Hairston is a welcome addition in that regard.
He also ably plays multiple positions and can run in a pinch—in short, the Dodgers have inked one of the most reliable bench players in the game today.
In other news, the team lost 27-year-old outfielder Jamie Hoffmann to the Rockies in a waiver claim. He appeared in two games for the big club last year, collecting no hits in four at-bats.