Week 14 Fantasy Rankings: Top 40 RBs, Plus Analysis on Each of the Top 10 Plays
December 8, 2011
Donald Miralle/Getty Images
Figuring out who the best running back plays are from week to week is a little easier than doing so for wide receivers, but by no means is it simple. With some of the league's top players injured and a few inter-division rivalries to consider, Week 14 is certainly no walk in the park.
That's why those of us in the fantasy industry put together these lists for you—to give the reader a gauge of what to expect from his or her players on any given Sunday.
With that, here are the weekend's top 40 running backs, along with some detailed analysis on the 10 best plays for the week:
*** If Adrian Peterson plays (very questionable), pencil him in at the No. 8 slot and remove Gerhart from the top 40 ***
40. Ricky Williams (vs. Ind)
39. Isaac Redman (vs. Cle, Thursday Night)
38. Ben Tate (@ Cin)
37. Pierre Thomas (@ Ten)
36. Brandon Saine (vs. Oak)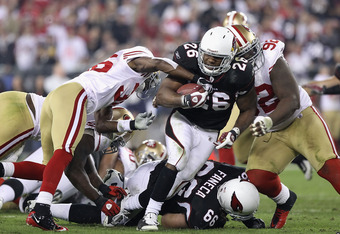 Christian Petersen/Getty Images
35. DeAngelo Williams (vs. Atl)
34. Brandon Jacobs (@ Dal, Sunday Night)
33. Marion Barber (@ Den) 
32. Daniel Thomas (vs. Phi)
31. Peyton Hillis (@ Pit, Thursday Night)
30. Donald Brown (@ Bal)
29. Mark Ingram (@ Ten)—VERY QUESTIONABLE TO PLAY 
28. Mike Tolbert (vs. Buf)
27. Beanie Wells (vs. SF)
26. Cedric Benson (vs. Hou)
25. Jonathan Stewart (vs. Atl)
24. BenJarvus Green-Ellis (@ Was) 
23. Maurice Morris (vs. Min)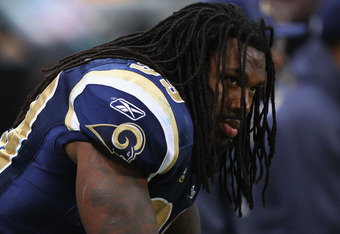 Dilip Vishwanat/Getty Images
22. Toby Gerhart (@ Det)
21. Steven Jackson (@ Sea, Monday Night)
20. Darren Sproles (@ Ten)
19. C.J. Spiller (@ SD)
18.  Ahmad Bradshaw (@ Dal, Sunday Night)
17. LeGarrette Blount (@ Jax)
16. Willis McGahee (vs. Chi)
15. DeMarco Murray (vs. NYG, Sunday Night)
14. Frank Gore (@ Ari)
13. Shonn Greene (vs. KC)

12. Michael Bush (@ GB)
11. Roy Helu (vs. NE)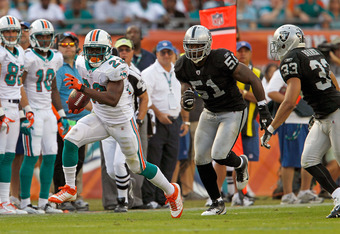 Mike Ehrmann/Getty Images
THE TOP TEN
10. Reggie Bush (vs. Phi)
All different types of running backs have gone off against the Eagles this season—bruisers, speedsters, multi-dimensional backs—it really hasn't mattered.
Bush should have no problem joining that list this weekend.
Reggie is on a bit of a hot streak now anyway, putting up two 100-yard games, five touchdowns and an average of 14.6 fantasy points a game (standard non-PPR Format) in his last six games.
Considering Bush is at home where he's played better so far this season and the Eagles allow the eighth-most fantasy points per game to RBs, it looks as if Reggie could be in line for yet another good game. 
9. Chris Johnson (vs. NO)
Chris Johnson has faced a few cupcake rush defenses in his last four games,  which can partially explain the Jekyll and Hyde routine we've seen from him this season, but not all of it.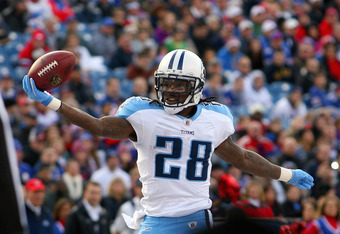 Rick Stewart/Getty Images
The fact is—CJ2K looks like CJ2K again, showing good patience in his runs; hard hole-hitting when the time is right and blinding speed once he's through it. When he's on his game like he is right now, it's both a thrill to watch and nearly impossible to stop.
The Saints usually force teams to play catch-up when facing them, so they haven't given up a ton of rushing yards this season because of it.
However, they DO allow a rather high 4.9 yards-per-carry, so it wouldn't shock me to see Johnson ramble off a long run or two before Tennessee turns to the passing game.
8. LeSean McCoy (@ Mia)
Miami's rush defense has been one of the best units in the league this season,  allowing just one 100-yard rusher and only two touchdowns to opposing RBs on the year.
However, that doesn't mean they can't be beat, especially by a player with LeSean McCoy's skills.
The Dolphins may not give up much in the ground game, but they do give up a lot of receptions and yardage out of the backfield, an aspect of the game that McCoy happens to excel at.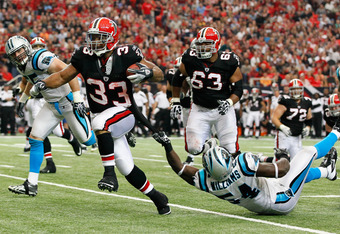 Kevin C. Cox/Getty Images
Michael Vick and his rare breed of athleticism should be distracting enough for LeSean to find some cut-back holes throughout the game, and considering he's failed to notch a TD in a game just once all season, I like his chances to put one in the end zone as well.
7. Michael Turner (@ Car)
As was the case in 2010, Michael "The Centaur" Turner seems to have hit a bit of a wall during the latter part of the season.
In the last five weeks, Turner has just one 100-yard game (after having four in the first seven weeks), two touchdowns (six in the first seven) and a 3.9 yards-per-carry (4.5 YPC in the first seven).
However, this could be the game where he gets back on track with Carolina allowing nearly five yards a rush and the most fantasy points to opposing RBs this season.
Turner rattled off 139 yards and two TDs against them back in Week 6, so there's no reason to think he won't have another fine fantasy day this weekend.
6. Rashard Mendenhall (vs. Cle, Thursday Night)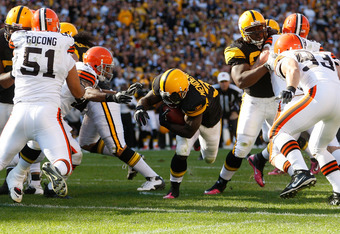 Jared Wickerham/Getty Images
This is the kind of game Mendenhall owners have been waiting for since Pittsburgh became more of a passing team—a game where Mendy should get a good 25 carries and have every opportunity to rush for over 100 yards and a touchdown.
In 2010, Rashard was able to put up those types of numbers (100 yards and a TD) on four separate occasions, but this season, he's only been able to do it once.
With 12 teams already writing the book on how to beat the Browns this season, Pittsburgh will no doubt follow suit and let Mendenhall run wild all game long. And why wouldn't they?
Cleveland has allowed eight different running backs to rush for over 100 yards on them this season with them losing every single one of those games. On the flip side, they didn't allow a 100-yard rusher in any of their four wins.
Expect a nice one from Mendenhall tonight.
5. Ryan Mathews (vs. Buf)
Ryan Mathews is quietly having himself a stellar sophomore season, rushing for 829 yards while accumulating the eighth-most yards from scrimmage (1,215 yards) despite missing one game.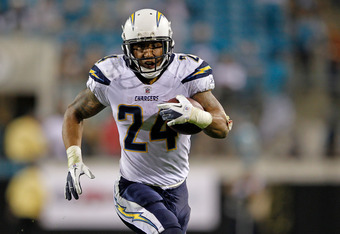 Mike Ehrmann/Getty Images
He's also been pretty hot as of late rushing for over 100 yards in each of his last two games.
This weekend he'll be facing off against a Bills team that has allowed the fourth-most rushing TDs, 4.7 yards per carry and the seventh-most fantasy points per game to opposing RBs.
With the Chargers' passing game back at full force, Buffalo will likely forget about Ryan a bit, thus leaving him open to possibly a third straight 100-yard game. 
4. Marshawn Lynch (vs. StL, Monday Night)
No one in the league has been hotter during the last five weeks or so than Seahawks running back, Marshawn Lynch.
In fact, Lynch has more yards (591), attempts (128) and total touchdowns (6) over the last five weeks than any other RB in the league has. Crazy!
To go back even further, Beast Mode has a streak of eight straight games with at least one touchdown going—a run I don't expect to end this Monday night.
Just three weeks ago, Lynch ran for 88 yards and a TD against this same Rams team that allows the fifth-most fantasy points per game to opposing RBs.
Holla!
Ronald Martinez/Getty Images
3. Arian Foster (@ Cin)
Which running back leads the league in fantasy points per game this season? Arian Foster, that's who.
He may not lead the class in overall points because of his early-season injury, but he's been paying off for fantasy owners on a consistent basis since Week 4, and that's all that really matters at this point.
Speaking of consistency, Foster has put up a rushing touchdown in six straight games while tallying nine total TDs over that time. He's also being used quite a bit more lately with the injuries to both QB Matt Schaub and WR Andre Johnson stunting their offense.
Even though the Bengals have a great defense on paper, they've been hit by a rash of injuries lately, so look for Foster to stay consistent and put up 100-plus yards with another TD or two this weekend.
2. Maurice Jones-Drew (vs. TB)
Maurice Jones-Drew continues to plow his way through the league this season as he now has both the most rushing yards and attempts in the entire NFL.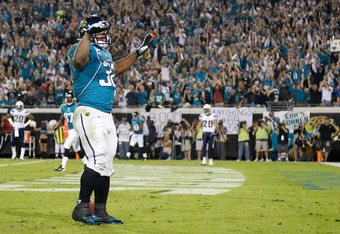 Mike Ehrmann/Getty Images
What's amazing about this is not that he stands just 5'7" or that he's coming back from off-season knee surgery—but that every single defense he plays against knows he's coming and stack the box against him accordingly.
With rookie Blaine Gabbert as the Jags QB and the worst WR corps in the NFL lining up next to him, it's impossible for opposing teams not to focus on MJD.
Whatever the case, Jones-Drew will be going up against a Buccaneers defense on Sunday that allows the second-most fantasy points in the league and nearly five yards a carry against them, so bet the farm on MJD to still lead the league in rushing yards after the weekend.
1. Ray Rice (vs. Ind)
Little Ray had himself quite a fantasy outing against the lowly Browns last weekend, didn't he? It would have been nice to see a second touchdown to go along with his 204 yards rushing, but beggars can't be choosers in this game.
That said, for the second weekend in a row, Ray Rice will again have a dream matchup for fantasy owners as the Ravens take on a Colts team that allows even MORE fantasy points per game to running backs than the Browns do.
Even better news for Rice owners is that Indy's defense has also given up the most rushing TDs in the league this year, so this time, I'm expecting that second touchdown to join Ray's stat-line.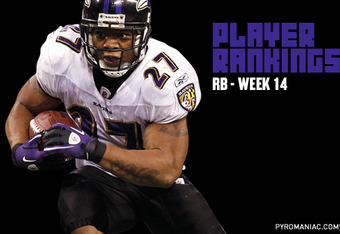 Click here to see the Rankings for QBs, WRs and TEs

Brought to you by pyromaniac.com
Listen and subscribe to our Pyro® Weekly Podcasts: http://pyromaniac.buzzsprout.com
Follow Pyro® on Twitter:  https://twitter.com/pyroman1ac
Follow Pyro® on Facebook:  http://www.facebook.com/pyromaniac