Oklahoma DE Frank Alexander Will Be Draft Day Steal
December 9, 2011
Ronald Martinez/Getty Images
The end-of-year awards are being dolled out as we speak, and one Sooner is rightfully getting his named called an awful lot.
One of six finalists for the Ted Hendricks Award for best defensive end. Big 12 Defensive Lineman of the Year. Big 12 Co-Defensive Player of the Year. All-Big 12 First Team. Big 12 leader in both sacks (8.5) and tackles-for-loss (18 for 76 yards). The All-American lists haven't started coming out yet, but you can bet he will be in the mix.
I'm talking, of course, about Ronnell Lewis, right? The projected first-rounder in the 2012 NFL Draft?
In the now overused, uninspiring words of poor ol' Lee Corso, not so fast my friend!
Senior defensive end Frank Alexander was called upon in the offseason to step up his game, and he more than answered the call. He picked up the phone, screamed "GOT IT, COACH," and then bashed the phone into tiny pieces.
Frank was an absolute terror for opposing offenses all season long, seemingly in the backfield on every play causing trouble. He ran down running backs, smashed quarterbacks and even played the pass well, batting down seven balls at the line and even recording an interception. Alexander did it all, filling the stat sheet.
He was at his best in the big games, displaying pure dominance in important games against Texas and Baylor, combining for 7.5 TFL, four sacks and a forced fumble in the two games.
So, seeing the big news for Alexander today after he was awarded all of the Big 12 honors, I skipped over to ESPN (I know, I know) to check his draft status. I expected to find a pretty good grade, somewhere in the high 70s or even low 80s (depending on how biased the grader was) and a third- to fourth-round grade.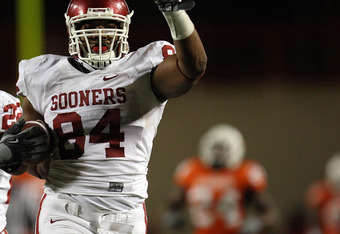 Ronald Martinez/Getty Images
I figured I was being fairly realistic, considering he only had one year of big-time production and was dinged up a few times in the process.
What did I find? A draft grade of 62 and a sixth- to seventh-round grade. I know they haven't had time to update their rankings in the last few days (even though it's their job), but it's not like the guy came out of nowhere! I checked several other draft "expert" sites and found nearly the same grade.
ESPN has him ranked as the 13th-best defensive end in the country. Who is listed above him? Take a look at this list and see if you can make sense of it.
No. 13: Frank Alexander, SR Oklahoma (8.5 sacks, 18.0 TFL)
No. 12: Trevor Guyton, SR California (4.5 sacks, 10.0 TFL)
No. 11: Kyle Wilbur, SR Wake Forest (3.5 sacks, 10.5 TFL)
No. 10: Devin Taylor, JR USC (5.0 sacks, 6.5 TFL)
No. 9: Adewale Ojomo, JR Miami (1.5 sacks, 3.0 TFL)
Not only has Alexander tremendously outproduced this motley crew, but he his taller and/or heavier than each one while running a 4.8 second 40-yard dash. That's tight-end speed! As I'm sure you can imagine, none of these players were on the Hendricks award short list with Alexander, either.
After Ojomo, we get to beasts like No. 8 Jack Crawford of Penn State (6'5", 270 pounds!) and No. 7 Jarred Crick of Nebraska (total freak!) so I would slot Alexander in at the No. 9 spot. This would give him a fourth- to fifth-round grade, which more accurately reflects his abilities. Still, I believe he is vastly undervalued in this range.
His stock will probably rise some over the next few months, but he will likely be lost in the shuffle a bit in a pretty deep defensive end class, making him a prime candidate for a draft day steal.
If you were an NFL general manager in need of some help on the defensive line, would you rather risk a valuable second-round pick on FSU's Brandon Jenkins (who had a huge drop off this year) or make a safer pick in the fourth round for Alexander?
Watch for Alexander to get taken a little ahead of his projection this year by one of the better-drafting teams in the league like the Ravens, Colts or Patriots.